Lego Worlds goes spooky with its Halloween-appropriate new Monsters DLC
And there's a major 'improvements' update too.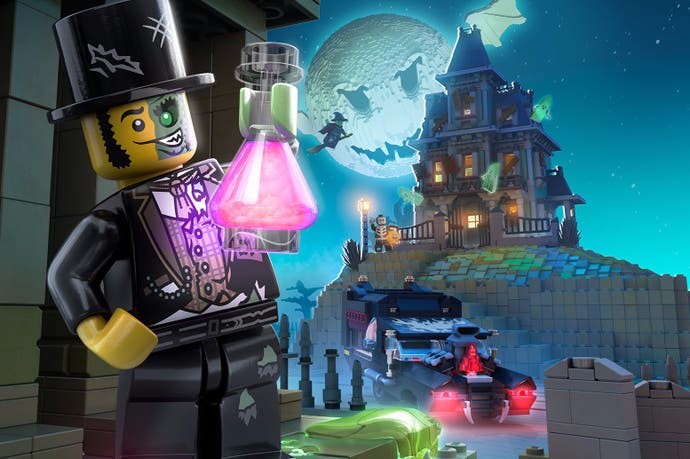 It's all go for charming block builder Lego Worlds today. Developer Traveller's Tales has released the spooky new Monsters Pack DLC on PC, Xbox One, PS4, and Switch, and it's joined by a major new update that significantly overhauls a number of key systems.
The new Monsters DLC is very nifty, and heavily inspired by Lego's superb, but sadly now discontinued real-life Monster Fighters range. The series included the Lego Haunted House, which might well be one of the finest Lego sets (according to me at least) ever made.
The Monsters Pack introduces a new hub world known as Monster Town, and features monsters, mausoleums, haunted houses, new quests, new builds, new music, new characters, and appropriately spooky vehicles. Some of the guest-starring Monster Fighters sets include the Ghost Train, Vampyre's Hearse, and Vampyre Castle. At least some of these are on display in the cheerily macabre Monsters Pack trailer above.
The new DLC isn't the only gift that Lego Worlds brings today, however. All platforms will receive the free (and rather boringly named) Title Update 3, which introduces several major updates for the game's toolset, alongside more general tweaks and improvements.
There are lots of additions here, including a new Planner tool, a new Camera Car, and new landscape tool shapes. I was going to attempt to summarise Traveller's Tales rather extensive patch notes, but it turns out that the studio's new update trailer above does a far better, faster, funnier job of highlighting the key points than I could do with mere words alone.
Lego Worlds' Title Update 3 is available now and free for everyone with the game, while the new Monsters Pack DLC costs an entirely reasonable £3.29 ($3.99 USD).