Lego The Hobbit video game due out next year
UPDATE: Due in spring, but will only feature first two films. UPDATE: Warner Bros. has confirmed Lego: The Hobbit for a spring 2014 release on 3DS, Mac, PC, PlayStation 3, PlayStation 4, Wii U, Xbox 360 and Xbox One.
But unlike other Lego releases, the game will only include action from two films out of a trilogy - Peter Jackson's The Hobbit: An Unexpected Journey and the upcoming Desolation of Smaug.
Jackson has squeezed a third film out of the book too - The Hobbit: There and Back Again, which is due to be released in cinemas in November 2014. Presumably this will in turn be covered by another Lego Hobbit game.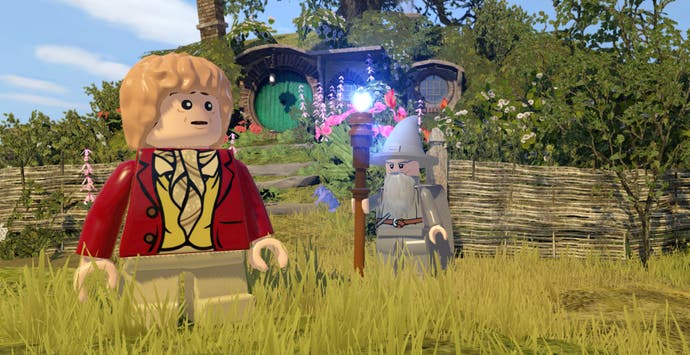 ORIGINAL STORY: A Lego The Hobbit video game will launch in 2014, leaked promo art has suggested. Hobbit-themed Lego sets due to launch next year include the artwork on the back of instruction booklets, Lego fan site TheBrickFan reports.
3DS, PC, PlayStation 3, PlayStation 4, Wii U, Xbox 360 and Xbox One versions appear to be in the works.
"Coming sortie prévue en 2014," the artwork states. "Coming out in 2014." Lego versions of Bilbo, Thorin and Gandalf are shown.
The third and final Hobbit film is due to be released on 17th December 2014, which makes an end-of-year launch likely.
Warner Bros. declined to comment when approached by Eurogamer, but we may hear more at the VGX Awards next month.
Lego Lord of the Rings launched last autumn to high praise. It included an open world version of Middle Earth to roam around in, and a playable Tom Bombadil.