Kill Bill's Copperhead plays chief Hitman: Absolution nun assassin
And you thought they were just in the trailer.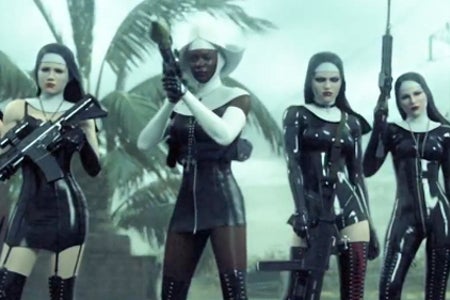 Kill Bill actress Vivica Fox will play the head of Hitman: Absolution's squad of killer nuns.
Fox's character, Lasandra Dixon, was first seen in the game's infamous nun-fuelled CG trailer.
She arrives on a school bus, contracted to help take down Agent 47 with the help of a posse of PVC-clad friends.
"What happens to the head nun in the game?" asks a question in a new behind-the-scenes Hitman: Absolution trailer, which features Fox talking in more depth about the role.
"I've come to take him down. It's kind of sexy, kind of scary," Fox said. "It was really, really fun and physical."
The head nun character was then shot and seemingly killed, along with the rest of her flock. What role she will play in the game itself is as yet unknown.
Hear more from Fox in the new interview, below.
More information on The Saints, the official name for the killer nun troupe, has been revealed in another trailer.
SPOILERS MAY FOLLOW:
The Saints were put together to run "mop-up operations and extractions". Recruits include female kick-boxers, the homeless and pole-dancers. Trained at marksmanship and torture, the unit was then sent to work as assassins, taking out a number of targets.
This is when they're sent to unsuccessfully execute "rogue operative" Agent 47. The end of the trailer shows that Lasandra Dixon survives the encounter.