Humble launches the Heal Covid 19 Bundle to raise funds for charities tackling the pandemic
Help save lives and get a total of 35 games, comics, books and software for £15.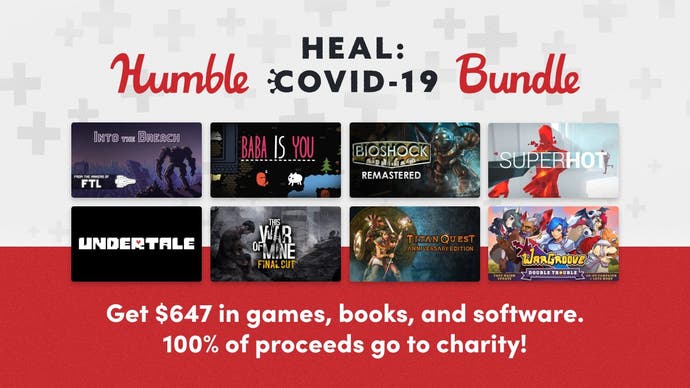 As the world continues to struggle against the coronavirus pandemic, Humble has launched the Heal Covid 19 Bundle to support a number of charities aiding the hardest hit countries such as Brazil and India as well as the global medical effort to save lives.
In total, you can get 35 different games, books, comics and software for just £15. All of the money raised will go to the charities Direct Relief, Doctors Without Borders, International Medical Corps and GiveIndia.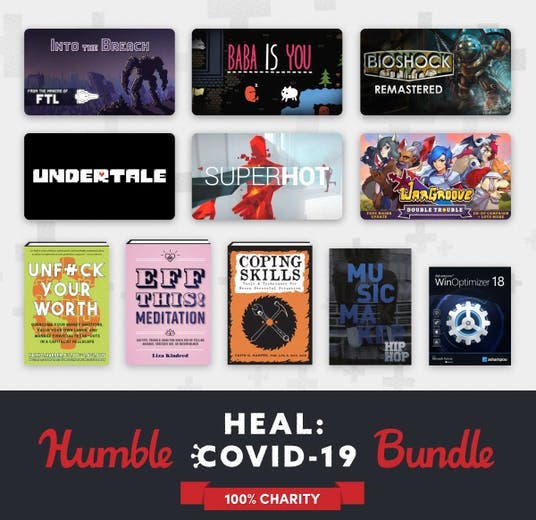 As for the specific contents of the bundle, it's mainly comprised of games that many would consider some of the best indie and AAA releases in recent years. Honestly, if you had someone completely fresh to PC gaming and wanted to show them the impressive diversity of games on offer this would be a terrific place to start.
To get you started, there's the remarkable RPG Undertale, ingenious strategy battler Into The Breach and the underwater FPS opus Bioshock Remastered. And that's without even mentioning the likes of The Witness, Hyper Light Drifter, Crusader Kings and so many more fantastic hits.
Here are all the wonderful games you can get in the Humble Heal Covid 19 Bundle:
Into The Breach
Baba Is You
BioShock Remastered
Euro Truck Simulator 2
Undertale
Hyper Light Drifter
Tooth and Tail
The Witness
This War of Mine
Saints Row: The Third - The Full Package
Titan Quest Anniversary Edition
Superhot
Stick Fight: The Game
Portal Knights
Wargroove
Brütal Legend
Death Squared
Crusader Kings Complete
Pinstripe
Teleglitch: Die More Edition
Dwarfs!?
Dead in Bermuda
Bury Me, My Love
Alongside the games, there are a number of comics, (surprisingly aggressively worded) self-help guides and some PC optimisation software to round it out. Personally, I think we're probably way past whatever advice the Ultimate Shit Hits the Fan Survival Guide can offer but, hey, it all helps.
The launch of this latest bundle follows the backlash Humble has faced over recent weeks for setting a limit on the proportion of each bundle purchase customers can give directly to charities. Previously, you had free reign to split your payment as much you'd prefer between the developers, charity and Humble. The proposed change would have seen each charity's cut default to 5 percent, with the only option to up that to 15 percent.
Humble has since rolled back this decision by returning to sliders on its bundle pages and promised to "review feedback and consider sliders and the importance of customisation for purchases on bundle pages in the long term".
---
Eurogamer is a Humble partner but receives no commission for any sales of the Heal Covid 19 Bundle. 100 percent of the proceeds go to charity.