FTL dev's masterful mech strategy Into the Breach is out now on Switch
Surprise-launched during latest Nindies showcase.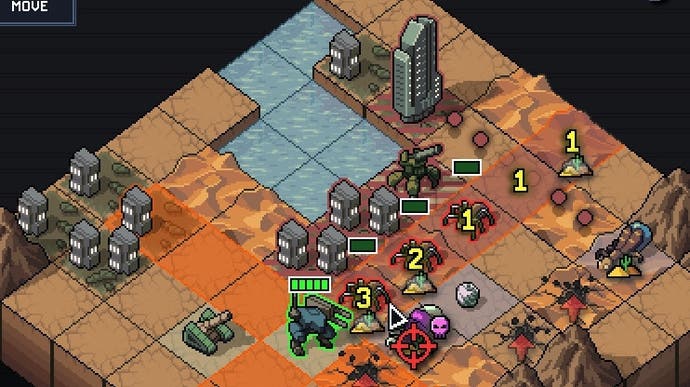 Developer Subset Games' wonderful bite-sized strategy treat Into the Breach has surprise-launched on Switch, and is available to purchase on the eShop right now.
Into the Breach, which was unveiled for Switch during Nintendo's latest Nindies Showcase, is the follow-up to Subset Games' masterful, and hugely influential, spacefaring rogue-like FTL. It's another absolute belter too, delivering more laser-focussed, meticulously honed strategy action in a deceptively pint-sized package.
Into the Breach is a very different game, however, ditching its predecessor's almost perpetually stressful, relentlessly paced real-time strategy action, in favour of something closer to the calmer, more considered turn-based strategy of classics like Advanced Wars and Front Mission.
Subset's latest is about as streamlined as they come though, with each new mission unfolding across a handful of turns, using a handful of units, and all on a cosy single-screen map.
Your ultimate goal is to save humanity from a race of bug-like alien invaders, and while your objectives vary from mission to mission, your tools are always the same: a small, but strategically diverse selection of mechs which can destroy opponents and crucially, adding a whole array of tactical opportunities, nudge them into new positions.
Into the Breach is remarkable for the sheer number of possibilities it manages to pack into its slender frame, finding all sorts of wrinkles and complications and difficult choices to hurl at players as its alien-thwarting action progresses. And each campaign is procedurally generated too, meaning that failure brings an entirely new set of challenges.
Eurogamer's Christian Donlan absolutely adored Into the Breach when he reviewed it earlier this year, calling it "precise and brutal and complex and dizzying and utterly thrilling". In fact, he liked it so much - "FTL is a classic", he said, "and Into the Breach may well be even better" - that he awarded it a shiny silver Recommended badge.
And if that's left you sufficiently intrigued, you can pick Into the Breach up from the Switch's eShop now for an entirely reasonable £11.39.