Here's Predator in Mortal Kombat X, in all his gory glory
If it bleeds...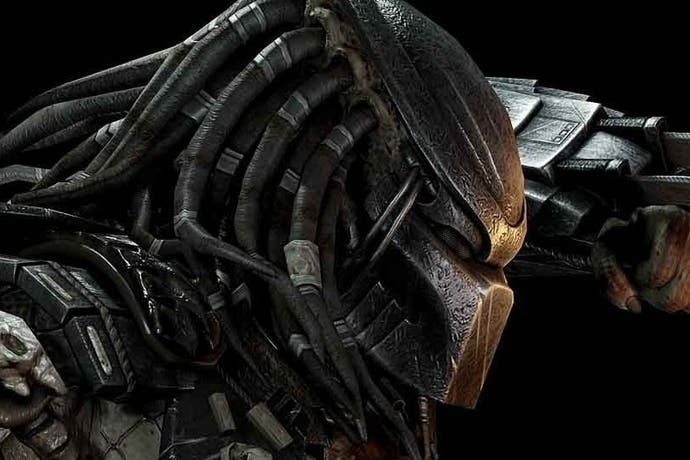 Developer NetherRealm has shown off Predator in fighting game Mortal Kombat X.
In a stream archived on Twitch, below, the developer runs through Predator's special moves, variations, and shows off his Brutalities and Fatalities.
Predator has all of the iconic weapons he uses in the films: the wrist blades, smart-disc, scimitar and the cloaking device, the latter of which negates chip damage.
The Warrior variation sees Predator remove his mask and employ a brawler style based on Predator's fight against Arnie at the end of the first movie. Here, Predator can trigger an explosion on himself that does damage to both players while also juggling his opponent.
The Hish-Qu-Ten variation sees Predator wear his black mask and focuses on a zoning style with the plasma caster.
And finally, the Hunter variation of Predator can lay laser traps and jab himself for a heal.
Predator's intro, which you can see at the 26 minute mark, sees him use his thermal vision.
You can see one of Predator's fatalities at the 31.10 mark. This one sees the big alien use his smart-disc to... shave a bit off the top of his opponent's head. Predator's other fatality involves the plasma caster blowing holes you can see through - a clear nod to the films. And you can see one of Predator's Brutalities at the 34.55 minute mark. They're all gruesome in classic Mortal Kombat X fashion.
Adding to the Predator love in, there's a Carl Weathers skin for Jax, which makes the character look like Dillon from the Predator films. As Netherrealm notes, Mortal Kombat X is the first game ever where Carl Weathers can Power Bomb The Predator.
Predator is a new playable character that comes as part of a new DLC bundle that also includes new skins Commando Johnny, Infrared Scorpion and Carl Weathers as Jax.
The Predator Bundle is part of the Mortal Kombat X Kombat Pack, which costs £24.99. It's out today.
Otherwise, you can buy the Predator Bundle separately from Tuesday, 14th July for £6.49. Or Predator on his own for £3.99.
Meanwhile, from today, all Mortal Kombat X players get the Klassic Fatality Pack, which includes four classic fatalities from the original Mortal Kombat. Remember Johnny Cage's head punch? And Sub-Zero's spine rip? Check them out in Mortal Kombat X in the video below.