Hello Games debuts first-person action adventure No Man's Sky
UPDATE: 1080p version released.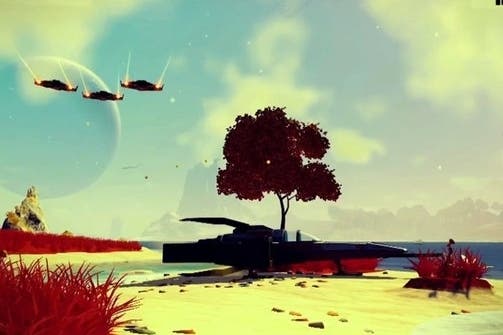 UPDATE: Developer Hello Games has released a high resolution version of its eye-catching trailer for No Man's Sky.
The Guildford-based indie developer stole the show at the VGX awards on Saturday night with the debut video for its ambitious procedurally-generated science fiction game.
"Every planet procedural. Every planet unique. Every planet unexplored," reads the video's description.
The video below is embedded from YouTube. Be sure to select the 1080p version to see it in all its glory.
ORIGINAL STORY: Joe Danger developer Hello Games has revealed its upcoming first-person sci-fi action adventure No Man's Sky.
Based on the trailer revealed at VGX, you switch between walking on land, swimming, and most excitingly, flying - both in the planet's atmosphere and in outer space via various types of ships. You can even blow holes in asteroids then zoom through them, like a boss. And don't forget the giant sandworms, because they're there too.
Made by only four people, No Man's Sky looks insanely ambitious. The planets will have their own ecology and ecosystem, according to Hello Games' Sean Murray, who noted "We're all playing in the same universe." So the stars you see in the sky are actually other planets that other players are playing on. Madness!
Check out the mammoth undertaking in No Man's Sky debut trailer below.