Halo Infinite teaser confirms the bad guys from Halo Wars 2 are back
Believe.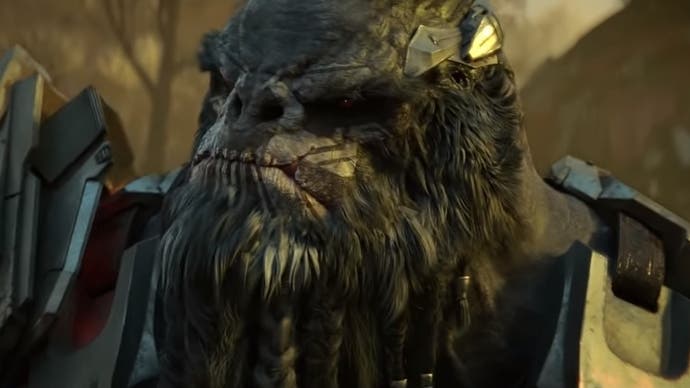 343 released a teaser for upcoming Xbox Series X launch title Halo Infinite that confirms the return of a popular villain.
The teaser, below, features a low voice from someone who says "we are The Banished".
The Banished are back for Halo Infinite, then. But who are they? They're the bad guys from real-time strategy spin-off Halo Wars 2, a group of aliens made up of familiar Covenant races (brutes, hunters, elites etc) who ditched the Prophets (don't blame them) and that whole Great Journey thing Master Chief got caught up in.
THERE MAY BE HALO 2 SPOILERS AHEAD
The boss of The Banished is a brute called Atriox, who battles against the UNSC in Halo Wars 2 and ends up unleashing the Flood (aren't they cute!). But he manages to contain the threat, kill a Proto-Gravemind before sentinels turn up to clean up. The video below shows the final cutscene:
So what's The Banished doing in Halo Infinite? Let's turn to the transcript of the audio message:
"The hour approaches. Forces occupy the ring, within hours it will be under our control and humanity will burn. Their brazen defiance will be all but a memory. No more prophets, no more lies. We stand together, brothers to the end. We are his will, we are his legacy, we are the Banished."
From this we know The Banished occupy a Halo ring - or will do soon. Is it Atriox speaking in the video? The "we are his will, we are his legacy" line could suggest Atriox is dead and someone else is in charge. Either way, the tease is setting up The Banished as one of Halo Infinite's antagonists, so expect to fight them a bunch in the game.
As a reminder, here's the Halo Infinite cutscene Microsoft released at E3 2019. It shows Master Chief turning up near a Halo ring. The one The Banished are talking about? Perhaps.
All eyes are on Microsoft as it prepares to show off a raft of first-party Xbox Series X games at some point in July. Not long now.