Halo 4 Majestic Map Pack out next week, details revealed
Three maps, two playlists and Infinity Rumble.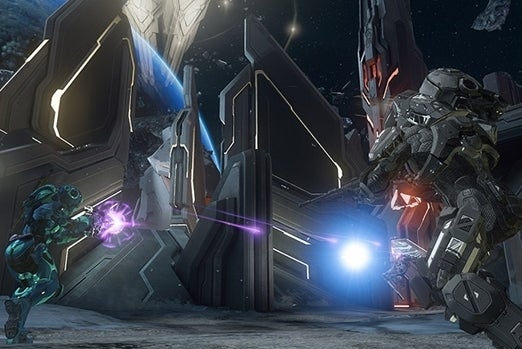 The Halo 4 Majestic Map pack releases on 25th February, Microsoft has announced.
The map pack was developed in collaboration with external developer Certain Affinity, which has a long history of working on Halo content for Microsoft.
Majestic includes three new small-to-medium sized maps designed for close-quarters gameplay, specifically small-team and free-for-all modes. The maps are Landfall, Monolith and Skyline.
Meanwhile, Majestic adds two new Majestic DLC playlists and a new free-for-all game type called Infinity Rumble. In this game type all special medal and style kills help you earn ordnance faster. You can also earn assists off of enemy players for more medal points. Microsoft advised players: "you must carefully conserve and use your ordnance at just the right moment, or combine power-ups with power weapons in the race to be first". Every kill and every death counts, and this is reflected with a slower spawn time in the free-for-all matches. Infinity Rumble will be exclusive to the Majestic DLC playlist for a limited time.
The two new playlists are Majestic FFA DLC, for eight players, and Majestic Team DLC for four versus four players. There are 10 new Achievements for a total of 250 Gamerscore on offer, too.
The new maps will also be integrated into existing Infinity Slayer, Capture the Flag, SWAT, Regicide, Doubles, Team Objective and Team Throwdown playlists. DLC maps will appear in a playlist if all members of the match have the content purchased or the War Games Map Pass, Microsoft said.
Majestic costs 800 Microsoft Points, but if you buy the Halo 4 War Games Map Pass or bought the Halo 4 Limited Edition you get access to the Crimson and Majestic Map Packs as well as the final map pack when it releases in April for a saving of 15 per cent versus buying them individually.