Gears of War 3 Forces of Nature DLC announced
5 maps, Easter Egg weapons and new Achievements.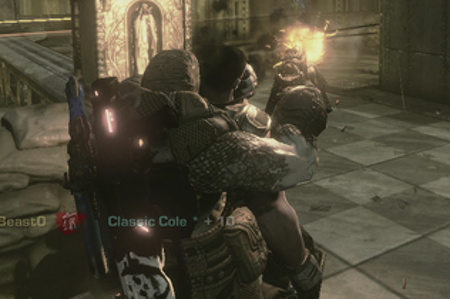 Epic has announced Gears of War 3 DLC Forces of Nature, due out on 27th March.
Forces of Nature is a collection of three new maps, each set during a natural disaster, and two remakes from previous Gears games. The new maps are Aftermath, Artillery and Cover. The remakes are Jacinto (Gears of War 2) and Raven Down (Gears of War 1).
Gears executive producer Rod Fergusson announced the DLC on GameTrailers, explaining how they work.
Aftermath is a government park after a tsunami. The map floods and quakes during gameplay, making it difficult to aim. And stealth is reduced due to players splashing through water.
Artillery is a military base ravaged by a storm during gameplay. Dust and debris makes it difficult to see, but winds can mask your approach.
And Cove is a small port the Stranded have taken over and turned into a village. A heavy layer of fog masks "just about everything". Epic described the map as very open, with long lines of sight with a "really nice" sniper nest.
Fergusson said the DLC will include Easter Eggs in the form of four special weapons hidden in the maps called Elemental Cleavers. The snow cleaver can gust an icy breeze, stunning players from a distance. The emulsion cleaver explodes on impact, doing a small amount of AOE burning damage.
There are new Achievements tied to these weapons for anyone who can find them and get 25 kills with them in Horde or Beast mode. In total the DLC adds ten new Achievements for 250 Gamerscore.
Additionally, buy the DLC and you get four new character models: Commando Dom, Mechanic Baird, Savage Grenadier Elite and Savage Hunter; and seven new weapon skins (two of which are designed based on community feedback), which can only be unlocked through gameplay in the Forces of Nature DLC.
Epic is yet to announce a price, but we expect it to follow previous Gears of War 3 DLC and go for 800 Microsoft Points. Forces of Nature brings to a close the DLC that forms a part of the Gears of War 3 Season Pass.