Gabriel Knight: Sins of the Fathers is getting remade by Jane Jensen
Due next year on PC, Mac, iPad and Android.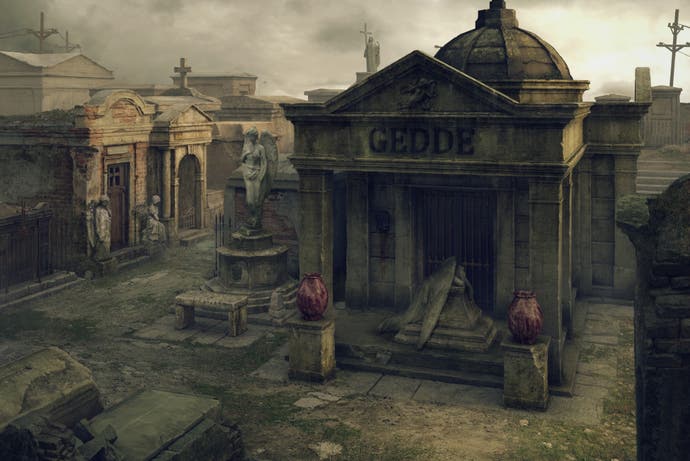 Gabriel Knight creator Jane Jensen will be remaking her classic 1993 point-and-click adventure, Gabriel Knight: Sins of the Fathers, the developer announced on Twitter.
Due in 2014 on PC, Mac, iPad and Android, the Sins of the Fathers: 20th Anniversary Edition is being developed by Jensen's indie studio, Pinkerton Road, while Activision - the parent company of the now defunct Sierra - holds the rights and will be handling publishing duties.
The remake will stay true to the original game's roots as a 2D point-and-click adventure about macabre happenings in New Orleans. There won't be any 3D exploration, for example. "We didn't want to completely change the formula and break it!" Jensen said in an interview with GameTrailers. "The game deserved to be remade lovingly, just as it was. We are adding in a few new things here and there, but I wanted the original to be fully represented."
When asked if there will be any new content this time around, Jensen replied. "One of my goals going in was to pump up the New Orleans flavour and also the spookiness where possible, so there are a couple of new backgrounds and puzzles that aim to do that. But that's on top of the original content, not replacing it."
One thing that will be replaced is the audio, which unfortunately means the protagonist's voice-over by Tim Curry is no more. Why is that, you ask? As it turns out, the original audio files simply weren't available. "We didn't have the original audio files, and at the time Gabriel Knight: Sins of the Fathers shipped, the audio was pretty compressed. So to just strip it out of the original game didn't yield a good quality. We had to rerecord," Jensen explained. While Pinkerton Road can't simply track down all the original game's voice actors two decades later, it's instead opting to use Bay Area Sound, the company that worked with Telltale to provide the voices for The Walking Dead, Tales of Monkey Island, and the recent Sam & Max titles.
The soundtrack is likewise being rerecorded, though unlike the voice-acting, Jensen has been able to produce the original game's composer. In fact, she's married to him. "Like the art, the original music is being redone with all the modern tools and it sounds amazing!" she said of her husband Robert's rerecorded score.
While Pinkerton Road is working on the Sins of the Fathers remake, it hasn't forgotten about its Kickstarter for an all new adventure, Moebius. Jensen explained that since Sins of the Fathers is only a remake, all her writing is effectively completed, so she's still able to devote most of her time to Moebius, which is on track for a December or January release.
Excitingly, Jensen is hoping this Sins of the Fathers remake will launch a line of all new Gabriel knight adventures. "I think there's a strong chance that if we create a good game that does well with the critics and in sales, we can persuade Activision to allow us to do a new GK game," she told GameTrailers. "After all, there'd be no point in remaking the first Gabriel Knight game if not to relaunch and rejuvenate the series. Also, this is the first time since leaving Sierra that I've been able to do anything with the GK license holder, so that's huge! I hope it's the start of a beautiful friendship."
She later added that she has "two fairly developed game ideas" for future Gabriel Knight titles just sitting on her hard drive, waiting to be developed.