Five Nights at Freddy's brings horrifying animatronic animals to Steam
Imagine if the Weeping Angels looked like Critter Country dwellers.
Finished P.T. and need more scares in your life? Well you're in luck as the wonderfully creative horror game Five Nights at Freddy's has just arrived on Steam.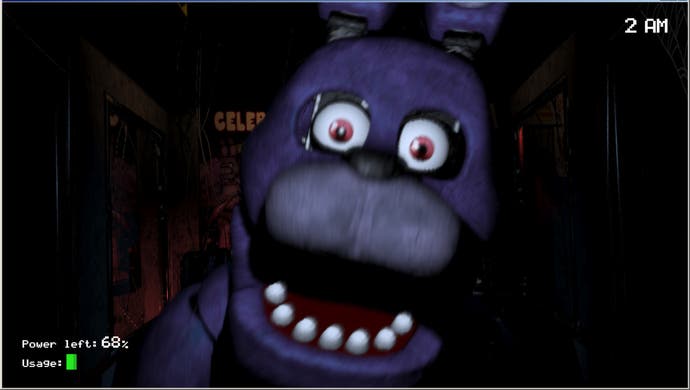 The peculiar title puts you in the role of a night watchman at a children's entertainment center where animatronic animals spend their days playing instruments and performing jigs for their young audience. By night, however, they come to life. If they see you, they'll think you're out of costume and try to mush your body into a mess of wires.
To prevent this, you need to switch between your monitor feeds to try to keep track of these unholy abominations as they move when you're not looking at them, ala Doctor Who's fan-favourite nemesis the Weeping Angels. The problem, aside from these horrible beings actually existing, is that your employer is super friggin' cheap and you're low on power. As such, your ability to use the camera, flip on the lights outside your office, and - most importantly - close the doors to your station, will drain electricity all too fast. So you'll have to be diligent in how you manage your resources as these robotic monstrosities slowly creep towards you. Survive until 6 am and you can go home with all your organs intact.
Five Nights at Freddy's is going for £3.99 / $4.99 on Steam. It's also available on Desura, where it premiered earlier this month.