FIFA 15 patch addresses shooting and goalkeepers
Also fixes a bunch of bugs.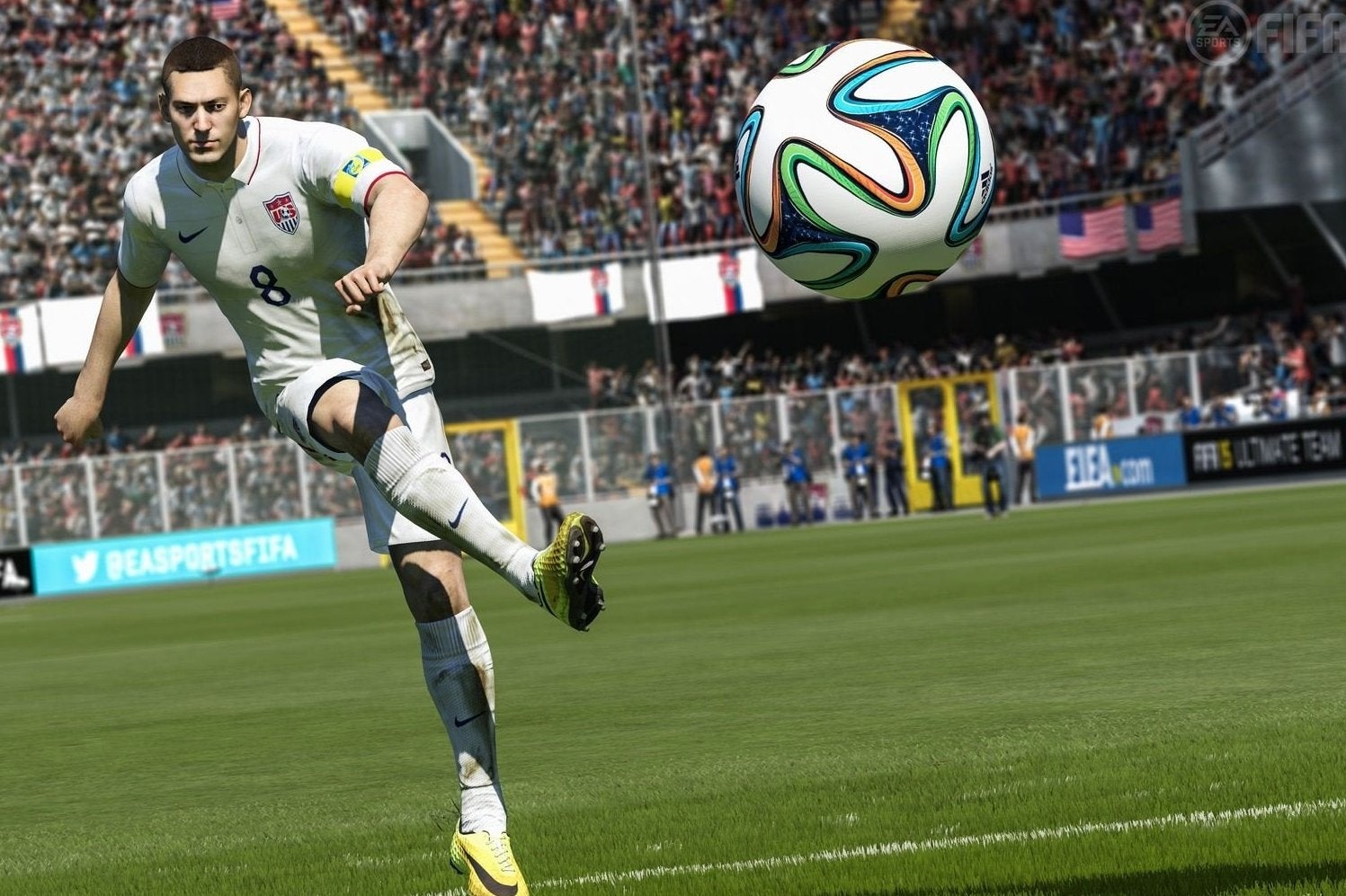 EA Sports has issued a patch for FIFA 15 that promises to improve shooting and goalkeeper behaviour among a host of other fixes and tweaks. According to the official forum, the patch is out now on PC and PS4 and coming soon to Xbox One.
The FIFA rebalancing patch, released once the game has been out in the wild for a few weeks, has become a bit of an annual tradition and usually seeks to address the most prominent complaints from the series' dedicated community.
For them - and for critics who raised similar concerns - the headline changes should come as little surprise. Shooting, in particular, felt underpowered in the shipping game in all but the most talented attackers, leading to all sorts of wayward shots in situations where it felt strange not to at least test goalkeepers.
Speaking of whom, goalies were one of EA's back-of-the-box talking points for this year, but their majestic new animations and situational reactions weren't enough to prevent players lobbing them from near the halfway line, while their propensity to spill the ball into the path of onrushing attackers was also irritating.
We haven't had a chance to check out the patch yet, but hopefully some of these things have been addressed. A rebalanced gameplay engine might also breathe some new life into Ultimate Team, which was a bit stale for my liking this time, by encouraging different approaches.
Elsewhere, the latest patch also fixes various bugs, as you can see in the patch notes:
Adjustments and improvements to shooting and goalkeepers.
(PS4) Fix for fans experiencing stuttering during online and offline gameplay.
Added ability to call out the keeper in Pro Clubs.
Fix for instances where Player Instructions in Seasons mode were not carrying over into gameplay via Team Management.
Further improvements to Player Search in Career Mode.
Adjusted Legendary difficulty in gameplay.
Improvements to Goal Line Technology.
Fix for match length issues in FIFA Ultimate Team Single Player Seasons matches.
Updated real-world injuries and suspensions in Match Day Live.
Improvements to 'Looking Ahead' audio in Career.
Fixes to Player selection in Team Management in multiplayer matches.
Tuned player specific audio speech in all modes.
(XB1) Improvements to motion blur effects.
(XB1) Fix to the display of FIFA Ultimate Team Legend players in the EA SPORTS Football Club widget.
"Our commitment to improve the FIFA 15 experience is ongoing, and regular feedback from our fans helps us prioritise and identify future improvements," the developer added. "Thanks again for your continuous feedback on Twitter, Facebook, and the EA Forums. We appreciate this feedback and encourage you to record and share with us of any aspects you'd like to give your opinion on."