FIFA 15 Ultimate Team: time for a shake-up?
Our resident obsessive is still playing, but gradually losing interest.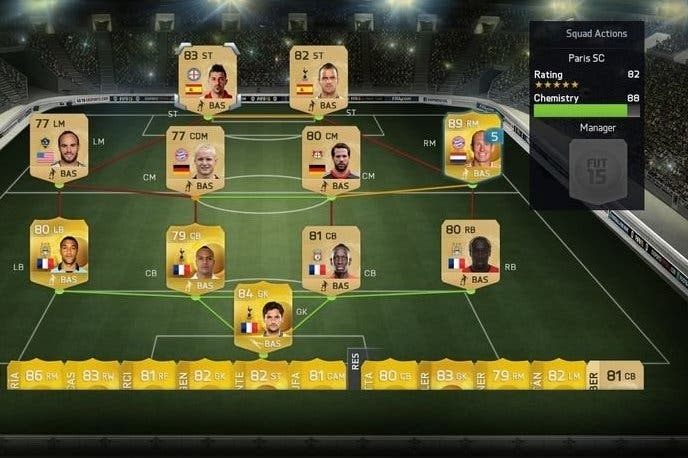 If you're a football fan, then you probably spent last summer reading about Gareth Bale, Neymar and Luis Suarez. Would they move? How much for? It's all part of the fun of the sport. Me though, I was busy getting excited about another transfer entirely. Because at the start of July 2013, Pierre-Emerick Aubameyang ended his two-year spell at Saint-Etienne and signed for every football hipster's second club, Borussia Dortmund.
Aubameyang was a legend in Ultimate Team, and news that he was moving from French Ligue 1 to the German Bundesliga was significant. Thanks to Ultimate Team's chemistry system, which uses nationality to help determine the quality of interplay between squad members, it had always been difficult to integrate the young Gabonese striker into a team of real class. Now he was off to Germany, where he could be surrounded by superstars.
This elevation of a relatively obscure player to stardom is not unusual in Ultimate Team, and it's down to a mixture of economics and gameplay balance. Aubameyang is in the sweet spot for both: he plays for a less glamorous club than Bale, Messi and Ronaldo, so he finds himself less in demand and his transfer price is more reasonable, while his lightning pace is serially useful in FIFA games, where matches often play out in a hyperactive frenzy of end-to-end-football. It may not make the bulletins on Sky Sports News when he moves in real life, but it's a big deal in Ultimate Team.
If you've ever looked at EA's famous game mode from the outside and wondered where the appeal lies, this stuff is a large part of it. Like a lot of good sports games, Ultimate Team isn't just fun to play, but actually enriches your appreciation of the sport itself, and it's for this reason that it's become one of the most popular games in the world - the basis of a subculture where fans build and discard fantasy teams week after week, poring over the minute details of obscure footballers, then throwing too much money away on blind packs of items in the hope of obtaining the rarest players.
FIFA 15 Ultimate Team does nothing that actively jeopardises any of this, but in combination with a gameplay engine that is arguably losing direction, this conservatism is also becoming a problem.
If this is your first time in Ultimate Team, the opening few hours can be a little confusing as you're greeted by chalkboard overlays on top of complex screens advising you about player stats, fitness, contracts and so on, but knuckle down and you get the idea: it's about building a fantasy squad and playing matches, accumulating wealth through match earnings and transfers to upgrade your team.
FIFA 15 Ultimate Team is the slickest in the series to date. With so many attributes to worry about, half your time playing the game is spent fiddling with players and formations, applying consumables and browsing the market, so the quality of the interface is critical. This year EA has been busy cracking down on bots that fuel the real-money grey market for Ultimate Team's in-game currency. These bots clog up the transfer system with automated database requests, which became such a big issue last year that the market become borderline unusable. At the time of writing, the effort seems to have paid off - whether you're searching for players in the game, on the web app or on the smartphone companion app, it's fast and responsive.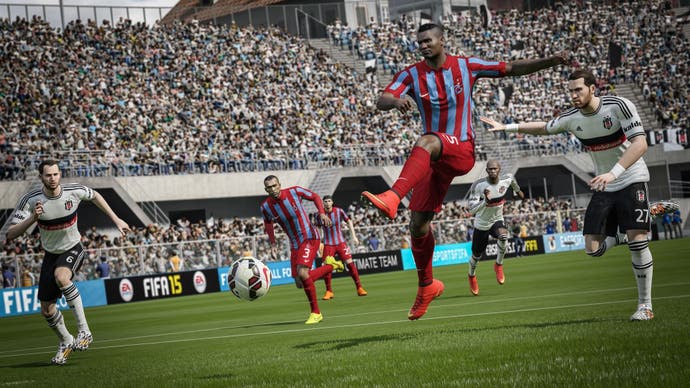 The slickness also means you can concentrate on important stuff, like building a squad with amazing chemistry. Chemistry is the secret sauce that makes Ultimate Team so tasty. The idea is that players in your squad don't have to come from the same league, country or club, but there needs to be a strong enough connection between enough of them that their chemistry - individually and collectively - is more or less maxed out, otherwise they misplace passes during games or you find them out of position in the moments that matter. It's not an exact science, but a good rule is that you are better off with a high-chemistry team of limited players than a low-chemistry team of superstars, and as you can imagine, cobbling an effective unit together - especially a hybrid drawing on entertaining players from different leagues and nations - is a little... moreish.
One historical issue with Ultimate Team has been the difficulty of anticipating how well certain players would combine without buying them first, which was rarely practical, and over the years this has given rise to well-maintained fan sites like Futhead and Futwiz, where players can build theoretical teams and explore the game's database in search of hidden gems. EA supports these sites, but this year Ultimate Team tries to bring a bit of that theorycrafting metagame into FIFA 15 itself with the addition of Concept Squads.
Concept Squads makes it easy to stitch conceptual teams together, filtering players by things like position, nationality and home league and then letting you examine chemistry links to see what works. You can't play any matches with a concept squad (there seems to be a bug at the moment letting a few people do this - expect it to be fixed), but as you gather funds you can start searching the transfer market for the players you covet, gradually adding them until your dream team is complete.
Don't delete your Futhead and Futwiz bookmarks just yet, though, because there are a few drawbacks. The feature currently lacks the immediacy and at-a-glance qualities of those sites and doesn't give you an insight into the more detailed in-game stats of the players, only the ones on the face of the card, so there's no way to identify, say, the best free-kick takers in the game without searching online or buying and testing players. It's also a single-screen experience, whereas I often want to browse players on my phone or laptop while I play - something you can't even do with the companion apps, which don't let you log in on more than one device at once.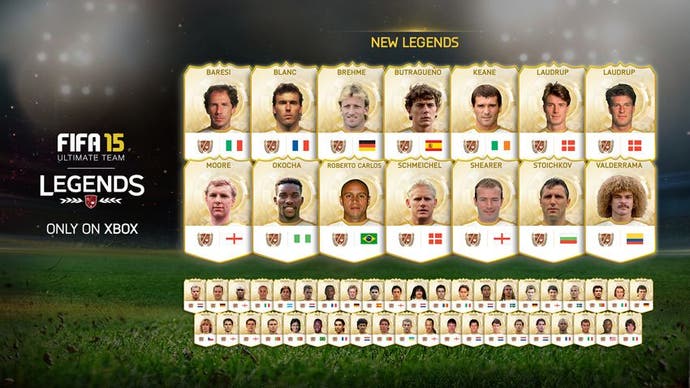 Concept Squads is a semi-useful feature, then, but the addition of loan signings is genuinely ace. One of Ultimate Team's perennial issues is that it's a trudge to start with as you play a succession of games with a team full of journeymen before you can buy anyone decent. Loan players give you something fun to play with while you accumulate match earnings - Leo Messi is provided for five matches if you buy the Ultimate Team Edition of FIFA 15, while players with existing EA Sports Football Club experience points can unlock players like Gareth Bale and James Rodriguez from the Football Club Catalogue. Considering that I played hundreds of matches and spent embarrassing amounts of money chasing coins in FIFA 14 and never got within a mile of Messi or Bale, the novelty of having them in my team at all was quite something. (Ronaldo isn't available on loan, sadly.)
There are some good ideas this year, then - and the bot-smashing infrastructure changes probably represent a mountain of expensive work, so respect is due - but overall FIFA 15 Ultimate Team still feels a bit flat. In many ways, it's the best it's ever been and yet somehow I find myself losing interest in it quicker than ever.
Partly this is because the gameplay rebalancing seems to have narrowed the range of genuinely useful attacking options. This year the emphasis is on pace and dribbling skill, while everything else feels weak and underpowered. Heading, for example, was obviously too potent last year, but in FIFA 15 it's so feeble that it rarely feels worthwhile putting a cross into the box. Finesse shots are OK inside the penalty area, but it's difficult to achieve much from outside, so creative players tend to swivel and jink around trying to get closer instead. And shots in general, whether close to the goal or further out, are a lot harder to get on target unless you're using a very expensive player.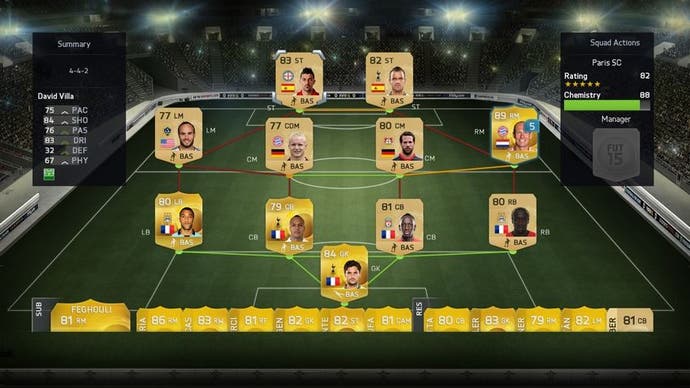 However, FIFA 15 has also de-emphasised the muscularity of last year in places - despite "Physical" replacing "Heading" as a base attribute - so it's harder for defenders to contain attackers just by tugging on their shoulder, while laying a hand on anyone in the penalty area results in a foul. These things, in combination with the way shooting and heading have been stifled and dribbling has been enhanced, mean that the most common approach by far is fast, technically capable teams. A typical XI usually includes two really fast attackers along with midfielders who can play quarterback to runners further downfield, and while that results in intense, end-to-end football, it is so much more effective than anything else that it also quickly becomes repetitive. Perhaps things will change over time as we learn the game better (and, I suspect, as EA issues the traditional balancing patch), but for the moment it feels like Ultimate Team isn't encouraging much variety in play style.
While these limitations influence the technical composition of a team, meaning you face a lot of opponents with the same strengths and gameplan, the other issue facing Ultimate Team is that you're still facing the same specific combinations of players, and this is down to chemistry. Chemistry may be the secret sauce, but it's been slathered over a handful of games now, and regardless of the directions the gameplay pushes people, it's still prompting us to build the same teams, with only slight differences in personnel and player positions based on transfers and redesignations. This year Aubameyang is a right midfielder, for instance, while Philipp Lahm is a defensive midfielder rather than a full-back. For all the investments EA has made, these subtle tweaks feel like the biggest changes in my Ultimate Team experience - and they are products of changes in real-world football anyway, not the game-makers' thinking. It would be nice to have a different set of restrictions to work within at some point.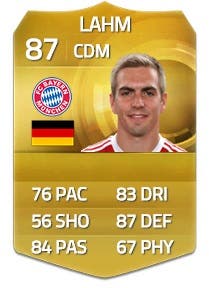 Where next, then? Well, first of all I suspect EA will rebalance the attacking side of the game slightly in a post-release patch. That might make a difference to the usefulness of creative players, which would encourage us all to create more varied squads. Longer term though, it feels like the core Ultimate Team set-up is getting a little long in the tooth. There are small things that could be done to improve the variety of teams you encounter (like allowing us to use players from different generations of the game, something already being offered in free-to-play PC title FIFA World), but really I suspect we need to break free of chemistry and try something fundamentally new.
I will still play FIFA 15 Ultimate Team, then, and probably all year round at that, because the zippy passing and dribbling is quite satisfying, while chopping and changing teams in response to real-world football developments is an addictive pastime, and I still feel a sense of community with the many other people who love the mode. But I also hope EA doesn't take our ongoing interest for granted, and is paying attention to the growing weariness of some of Ultimate Team's most dedicated fans. It would be nice to see a rejuvenated experience in seasons to come. Otherwise, sooner or later, we may stop coming back at all.