Fall Guys just added a wonderful Untitled Goose Game outfit
Try-on Gosling.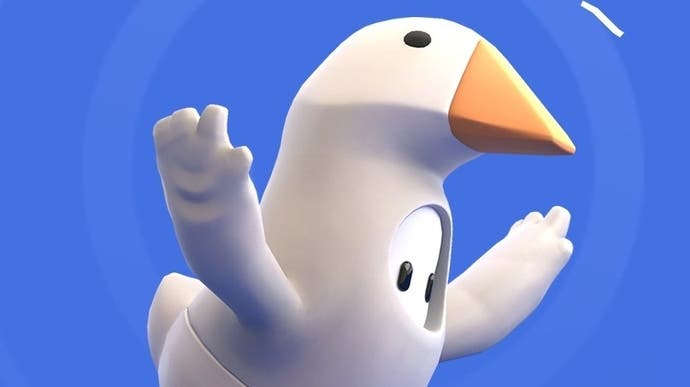 Developer Mediatonic's knock-out smash Fall Guys - a game that isn't shy of the odd inter-brand synergy opportunity, after its crossover dalliances with the likes of Sonic the Hedgehog and Godzilla - is joining forces with true evil from today, 13th November, in a new collaboration with angry avian indie hit Untitled Goose Game.
Unsurprisingly, the centrepiece of Fall Guys' latest collaboration is an entirely wonderful new goose outfit, split into a top and bottom half (as is customary), and purchasable for five crowns apiece. And speaking as someone who's yet to earn a single crown in Fall Guys, despite my very best repeated efforts, this slightly makes me weep.
Goose Head and Goose Butt, as the official Fall Guys Twitter feed likes the parts to be known, are available now via Fall Guys' in-game store and will remains so "for the next few days".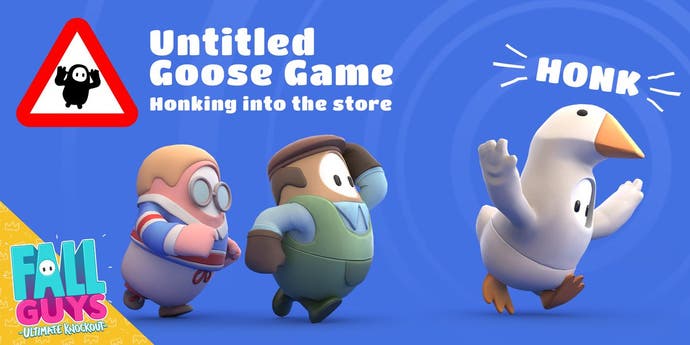 That's not quite the end of the collaboration, however, and two additional costumes - the put-upon Groundskeeper and the Wimp - are set to arrive in the store at a later date. And for those keen to pledge their allegiance to the goose in a more dramatic fashion, there's also a HONK emote, complete with sound effects, on the way too.
Fall Guys is currently in the midst of its second season of content, which this time introduces a medieval theme to its chaotic core multiplayer action, and that's just received a bit of a shake-up in a special mid-season update. This aims to enliven things at the halfway point with remixed challenges and a brand-new strange known as Big Fans.