Facebook ditching PC-only Rift VR development, Oculus Quest 2 priced and dated
Out next month for £299.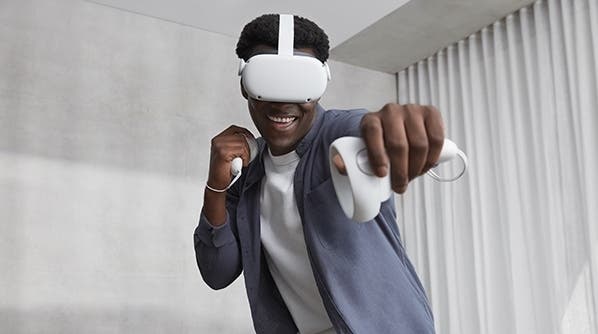 Following the official reveal of Oculus Quest 2 earlier this week, Facebook has shared price and release date details for its latest all-in-one virtual reality effort, while also confirming it will no longer be focussing on PC-only hardware, meaning an end to sales of Rift S in 2021.
Starting with Oculus Quest 2, it'll launch next month on 10th October with a price tag of £299, making it £100 less than the original model, despite its beefier specs.
It features a single panel display offering a resolution of 1832 x 1920 pixels per eye (capable of supporting 90 Hz), built-in IPD adjustment with three settings, 6GB Ram, 3D positional audio, a Qualcomm Snapdragon XR2 processor, and 64GB of built-in storage. A model with 256GB of built-in storage is also available for an extra £100.
All this comes in a headset said to be 10% lighter than its predecessor, and packaged in with new Touch controllers claiming to deliver an improved ergonomic design.
Facebook has also announced a number of optional accessories for Quest 2, including the £149 Elite Strap with Battery and Carrying Case (capable of delivering double the usual playtime), and the £39 Fit Pack containing swappable facial interfaces to fit wider or narrower face shapes.
Alongside today's Quest 2 news, however, Facebook has confirmed it will no longer be continuing development of its PC-only Rift headsets, instead focussing on its popular range of all-in-one models such as Quest. As a result, the company will be ending the sale of Rift S in 2021, but does say its Rift platform of PC software "isn't going anywhere", and that it will continue to support PC VR via Quest and Oculus Link.
Early impressions of Facebook's Oculus Quest 2 are starting to disseminate across the internet following today's news, and those still eager to get onboard after giving them a read can pre-order now. Facebook says sales of the original Quest will cease come launch 10th October, but that it will continue supporting the headset through updates and improvements.