Eurogamer iPhone app launches!
Ad-free text and video content.
Eurogamer is excited to the point of sexual nirvana to announce that we've just launched our very own iPhone application.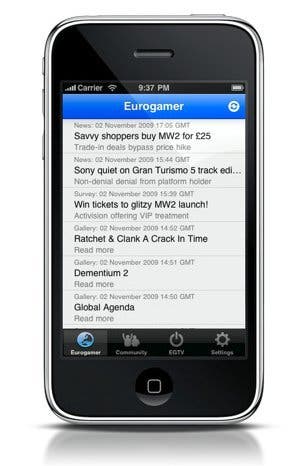 Available now from the iTunes App Store, the Eurogamer application allows you to browse all our content on the go without being bothered by pesky adverts.
You can read news, reviews, previews, interviews and articles, participate in comment threads, view screenshots, go on the forum and even watch the latest videos on Eurogamer TV - in landscape and everything.
Plus, the app has been developed with all the iPhone features you would expect: slidey finger-controlled screens, that page-flipping animation, and an unmistakeable air of sophistication.
"Are you seriously talking to me after those tweets this morning," said proud Eurogamer boss Rupert Loman. "Get out of my office," he added.
Exciting features of the Eurogamer application according to the iTunes App Store:
Frequent/intense horror/fear themes
Frequent/intense profanity or crude humour
Frequent/intense cartoon or fantasy violence
Infrequent/mild simulated gambling
Infrequent/mild sexual content or nudity
Frequent/intense mature/suggestive themes
Frequent/intense realistic violence
Frequent/intense alcohol, tobacco, drug use or reference to these
The Eurogamer iPhone application is available for £2.39 / €2.99.
You can discuss the app and its future development over on the forum. For the ultimate feedback loop, why not discuss the Eurogamer app on the forum using the Eurogamer app? Frequent/intense good times!