Early Assassin's Creed concept art reveals cut features
Prince of Persia cross-over, co-op options shown.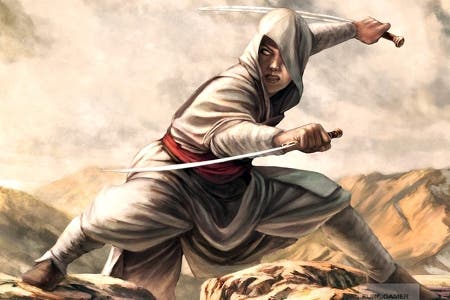 Ubisoft has published a gallery of early concept art for the original Assassin's Creed, showing off features cut from the final game.
One image shows an assassin rescuing a child - designed to the prince from Ubisoft's Prince of Persia.
"We were all under the illusion that we were making a Prince of Persia: Sands of Time spin-off," artist Khai Nguyen explained. "The assassin was supposed to be the little prince's bodyguard."
Another image shows two assassins riding horses side-by-side. "We debated whether or not co-op was going to make it into the first game," Nguyen added. Co-op play has yet to materialise within the series, although is expected to make an appearance in this year's Assassin's Creed 3.
The images date from November 2004, three years before the game's original launch on PlayStation 3 and Xbox 360.
One design explores a more "fantasy orientated" version of the series, while another features the first ever concept of the series' iconic hidden blade weapon. A image of a female Assassin character - not used in the final game - is also included.