EA Sports announces FIFA 14 Ultimate Team: World Cup
UPDATE: It's live!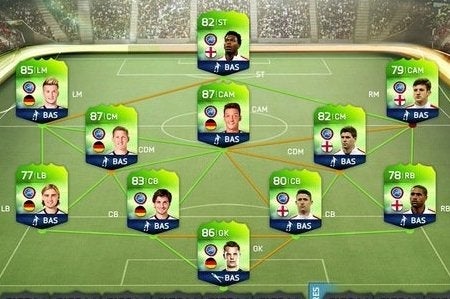 UPDATE 30/05 18:30 BST: FIFA 14 Ultimate Team: World Cup should now be live on all formats, according to EA Sports.
UPDATE 30/05 10:40 BST: FIFA community manager Rob Hodson has just tweeted to say that updates for PS4, Xbox One, PC, PS3 and Xbox 360 are now live, enabling the offline version of World Cup Kick-Off mode.
However, there's still no word on when the online side - including the Ultimate Team World Cup mode - will be available. "As per the announcement there will be news by 7pm at the latest."
Xbox One: Update live, Kick-off available, online unavailable. | 360 Update live, no menu change until online is available.

— Rob Hodson (@RobHodson_) May 30, 2014
PS4: Update live, Kick-off available, online unavailable. | PS3 & PC Update live, no menu change until online is available.

— Rob Hodson (@RobHodson_) May 30, 2014
UPDATE 30/05 08:00 BST: EA Sports has said it hopes to launch FIFA 14 Ultimate Team: World Cup today, Friday 30th May.
"Our team is making good progress on the FUT World Cup & World Cup Kick Off update for FIFA 14," the publisher said in a forum update yesterday evening. "We're doing everything we can to launch it tomorrow, with World Cup Kick Off likely launching earlier in the day.
"Be sure to keep an eye on @EASPORTSFIFA and we'll provide another status update on FUT World Cup tomorrow [Friday 30th May] by 7pm UK time."
UPDATE 29/05 12:00 BST: EA Sports has delayed the release of FIFA 14 Ultimate Team: World Cup due to "unforeseen issues" encountered during the testing phase. This will also apply to the World Cup Kick-off mode destined for PlayStation 4 and Xbox One.
"To ensure the best possible experience, we have decided to delay the launch of FIFA 14 Ultimate Team: World Cup (PC/PS3/PS4/360/XB1) and the World Cup Kick-Off mode (XB1/PS4)," the publisher wrote on the EA forums.
"Knowing that our players have been so excited for these new modes made it a tough decision. However, as we progressed through final testing we encountered unforeseen issues that would affect all users who downloaded the update, so it's important to address them first before release.
"Our team is currently working hard to have the update ready to release in the coming days.
"On Thursday evening (EU time) we will keep you updated on our progress. Be sure to follow @EASPORTSFIFA for further updates on FUT World Cup and World Cup Kick-Off."
UPDATE 27/05 10:30 BST: EA Sports has revealed how much the FUT World Cup packs will cost and a couple of other little details.
"The FUT World Cup Store features a single pack that costs 5000 coins or 100 FIFA Points, similar to a regular Gold Pack in the regular FUT 14 game mode," an EA spokesperson told Eurogamer.
EA has already revealed that each FUT World Cup pack includes a regular FIFA 14 Ultimate Team gold pack for use in the main game. These usually cost 5000 coins or 100 FIFA Points, which means at these prices you're essentially buying a regular gold pack and getting any FUT World Cup content free.
That also softens the blow of the other news we received: "Since items in FUT World Cup are untradeable, duplicate items will have to be discarded." A bit of a shame, but obviously less of a problem if your investment is covered by the regular Ultimate Team gold pack you receive, which will be full of items you can trade in regular Ultimate Team.
We also asked whether FUT World Cup would support online single matches and were told that it would not. "We only have online and offline tournament modes."
FIFA 14 Ultimate Team: World Cup goes live on Thursday, 29th May.
ORIGINAL STORY: EA Sports plans to release a free FIFA 14 Ultimate Team: World Cup mode for FIFA 14 next Thursday, 29th May. The update will be available for PlayStation 4, Xbox One, PlayStation 3, Xbox 360 and PC from that date.
Rather than slotting into the existing Ultimate Team setup, however, FUT World Cup is a separate entity. You still build a fantasy squad out of players from around the world, but you can't use players from your existing Ultimate Team squads and there will be no way to trade the players you unlock in FUT World Cup.
So how does it work? Well, first of all you select a supported nation and then you are given a starter pack containing players, a badge and kits to start building your team. Players from the 32 nations competing at the real World Cup this summer can then be added to your squad by purchasing FUT World Cup packs from a dedicated store using either FIFA Points (bought with real money) or coins.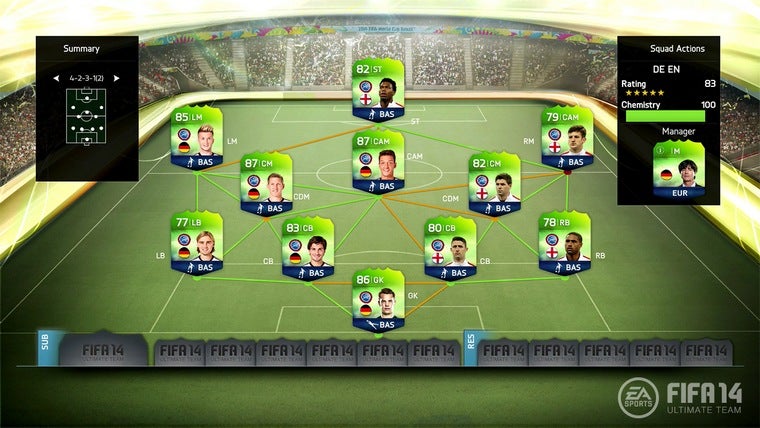 Additional packs and coins can then be earned by playing through the FUT World Cup mode, and while you can't ship any players or items you unlock back into regular Ultimate Team, you will be able to use any coins you've earned in the other mode to buy additional FUT World Cup packs.
To sweeten the deal a little bit, EA has said that FUT World Cup packs will all include a free gold pack that can be used in regular Ultimate Team.
Ultimate Team veterans may be wondering how the squads will work. Regular Ultimate Team squads depend on an attribute called chemistry in order to really gel. Players have to be from the same team, country or league to get on with one another. Obviously in the World Cup that will be much harder to achieve, so EA has changed the way chemistry works, so now it depends on country and governing confederation.
In other words, whereas England and Liverpool midfielder Steven Gerrard wouldn't necessarily dovetail well with Bastian Schweinsteiger of Germany and Bayern Munich in regular Ultimate Team, the fact they are both from nations governed by UEFA means they will understand each other better on the pitch in FUT World Cup.
FUT World Cup is licensed up to the nines, of course, so the whole mode will be lavished in officially sanctioned interface graphics, logos, kits, emblems and so forth, while you'll even get to play games at the Estadio do Marcana.
You will be able to take part in matches online and offline in a tournament setup that reflects the one going on in Brazil next month, all the way from the group phases to getting knocked out on penalties in the quarter final.
There is a bit more detail and an FAQ on the official site if you're still struggling to get your head around everything. Alternatively, the trailer below does a good job of picking through the details.
The video also offers a glimpse of some of the new ratings given to players at the tournament. EA has confirmed that some players will have different stats to regular FUT players.
Oh, and if you're a real Ultimate Team nerd, you might also like to know that EA has said Man of the Match players (one-offs released into Ultimate Team packs on occasion) will be released during the real-life tournament outside of the FUT World Cup mode so they can be incorporated into regular FUT squads. When these are released, those players' stats will then be boosted in FUT World Cup as well.
So what do you reckon, Ultimate Team fans? Is this a better alternative to dedicated FIFA World Cup games, such as the 2014 FIFA World Cup Brazil game released last month? Let us know what you think in the comments. I'm off to theorycraft a squad built around Jordan Henderson.