FIFA Team of the Year players in Ultimate Team packs now
Goalkeeper and defenders now, midfield and forwards to follow.
In addition to crowning Cristiano Ronaldo its world player of the year last night, football's governing body FIFA also named its Team of the Year, prompting EA Sports to update FIFA Ultimate Team with special one-off in-form versions of each of the players selected.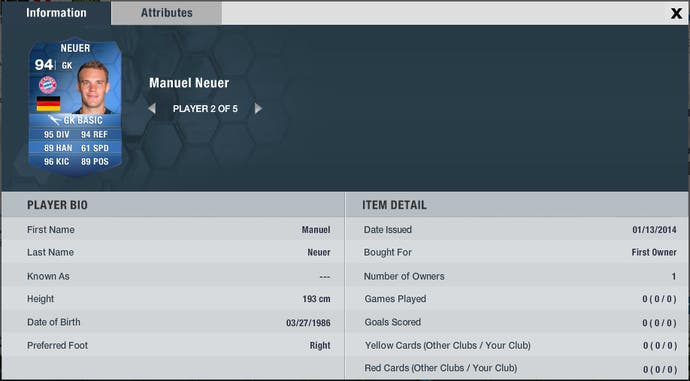 This is an annual tradition for the FIFA series and means that blue TOTY cards for each player boasting increased stats will make their way into Ultimate Team packs over the next few days. First up are the goalkeeper and defenders, available in packs until 6pm GMT Wednesday night. Midfield and attack will presumably follow in short order.
The TOTY world XI, then, lines up like this (I've included the full stats we know about so far and left the others as just midfield and forwards, and yes FIFA did choose two right-backs):
GK: Manuel Neuer - 94 OVR - 95 DIV, 89 HAN, 96 KIC, 94 REF, 61 SPD, 89 POS
RB: Philipp Lahm - 94 OVR - 85 PAC, 64 SHO, 92 PAS, 88 DRI, 92 DEF, 75 HEA
RB: Dani Alves - 91 OVR - 95 PAC, 78 SHO, 88 PAS, 91 DRI, 86 DEF, 80 HEA
CB: Sergio Ramos - 93 OVR - 86 PAC, 68 SHO, 81 PAS, 79 DRI, 92 DEF, 94 HEA
CB: Thiago Silva - 94 OVR - 87 PAC, 68 SHO, 81 PAS, 79 DRI, 95 DEF, 91 HEA
MF: Franck Ribery
MF: Xavier "Xavi" Hernandez
MF: Andres Iniesta
FW: Lionel Messi
FW: Zlatan Ibrahimovic
FW: Cristiano Ronaldo
If that list makes your head spin, FUThead has images of the cards released so far arranged in a neat 4-3-3.
So yes, FIFA's Team of the Year consists of four players from Barcelona, three from Bayern Munich, two from Paris Saint-Germain and two from Real Madrid. The Barclays Premier League, England's "best league in the world", was presumably unavailable for comment.
Exciting stuff, but what are they like to play with? Well, you and I will probably never know, because the volume of TOTY cards in circulation will be small and the price on the in-game auction house is likely to be prohibitive to the vast majority of players. However, we should start seeing player review videos popping up on the usual YouTubers' channels soon.
If you do fancy trying your luck and picking up a TOTY player in a pack, though, it's a good idea to keep an eye on the EA Sports FIFA Twitter to see when "happy hour" promotions are running, which increase your chances of netting in-form players.
On the plus side, at least, the spectre of Team of the Year has already driven down the second-hand price of many of the most expensive players in Ultimate Team, and may bring the non-in-form versions of the TOTY XI players into range of people who haven't got millions of FUT coins to play with. Well, in theory anyway. Let us know how you get on.