Final Team of the Season squad available in FIFA 14 Ultimate Team
UPDATE: EA Sports' own top XI available until the weekend.
UPDATE 29/05 12:15 BST: FIFA 14 Ultimate Team: World Cup may have been delayed, but you can always console yourself by trying to pack the final Team of the Season, which was released last night and is available in packs until this Friday at 6pm BST.
The final Team of the Season squad is one of EA Sports' own concoction and features heavyweights in every position. These cards have already been released in previous TOTS updates, then, but this is the first time they've all been available in packs at the same time. You still won't get one, obviously, although if you do it will be someone like Toprak, not the Ronaldo you crave.
So, did you get anyone from this year's Team of the Season squads? I didn't, but I managed to build a nice BPL squad around TOTS Gerrard and TOTS Sterling using coins I've been saving up since the transfer market prices crashed a while back.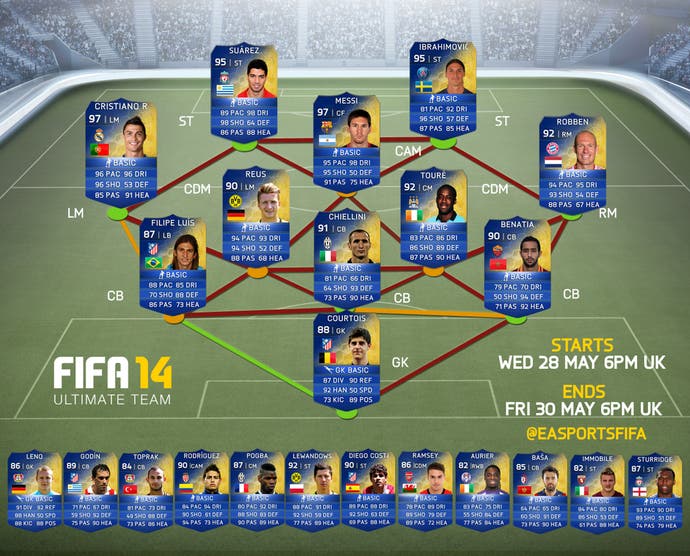 UPDATE 23/05/2014 17:25 BST: It's a busy old day over at EA Sports. Not content with announcing FIFA 14 Ultimate Team: World Cup, the developer has now unveiled the "Rest of the World" Team of the Season squad.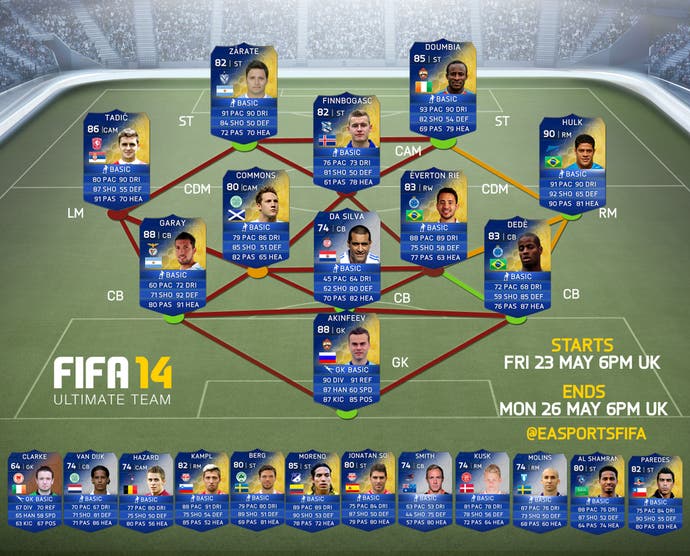 The eye is obviously drawn to that 90-rated Hulk, whose shooting, dribbling, passing and pace are all in the 90s. But this is a squad with hidden depths, by the looks of it, including some interesting options for people who fancy building Portuguese and Russian league squads among others.
One thing to note, though: the ROTW TOTS squad will only be in Ultimate Team packs from tonight until Monday evening, although as usual the cards will show up on the transfer market pretty quickly.
UPDATE 21/05/2014 16:15 BST: It's the one they've all been waiting for! Having spent the last few weeks teasing us with the Barclays Premier League, Serie A and so forth, EA Sports has finally unveiled the Liga BBVA Team of the Season for FIFA Ultimate Team. Check it: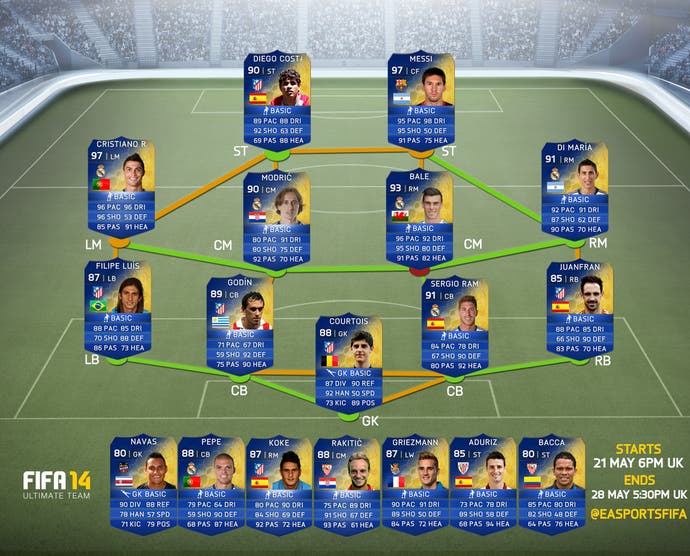 Predictably there is room for Cristiano Ronaldo (97 overall rating), Lionel Messi (97) and Gareth Bale (93), along with Diego Costa (90), Angel Di Maria (91) and a host of others who have enjoyed strong seasons in Spain. Thibaut Courtois and Keylor Navas are the goalkeepers, which means neither Barcelona or Real Madrid have a man between the sticks.
As with the other TOTS releases so far, these cards will go into packs starting tonight at 6pm BST and will disappear from packs a week later. The top ones ought to be pricey second-hand on the transfer market, but anyone who strikes it rich tonight will be well placed to make a few coins.
As a footnote, if you're not already intimately familiar with Ultimate Team, then you might be interested to know that those amazing Ronaldo and Messi cards aren't the most powerful versions of those players currently available. Those would be the 98-rated Team of the Year editions released a few months ago, which are among the most expensive cards in the game due to their rarity and ridiculous stats. Still, you will not be complaining if you pack a 97-rated version instead.
UPDATE 14/05/2014 16:30 BST: EA has put out another couple of Team of the Season squads this week - Serie A and Ligue 1. Cards will appear in Ultimate Team packs from 6pm BST today until next Wednesday evening.
Predictably, a 95-rated Zlatan Ibrahimovic leads the way in Ligue 1, but there's no place for his team-mate Edinson Cavani, nor Monaco's Falcao. There's an abundance of midfield talent to choose from, though, including a 90-rated James Rodriguez in the CAM position, while Thiago Silva is the pick of the defenders.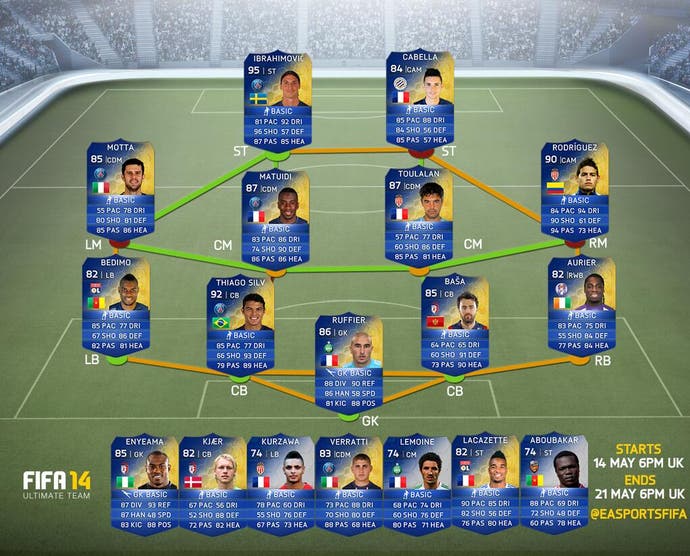 Serie A is also light on out-and-out strikers, with an upgraded Carlos Tevez up front, although former Arsenal man Gervinho also makes Team of the Season after he revived his career at Roma. For me, though, it's all about Paul Pogba - his card boasts a modest 87 rating overall, but his spread of stats is consistently high, making him extremely versatile.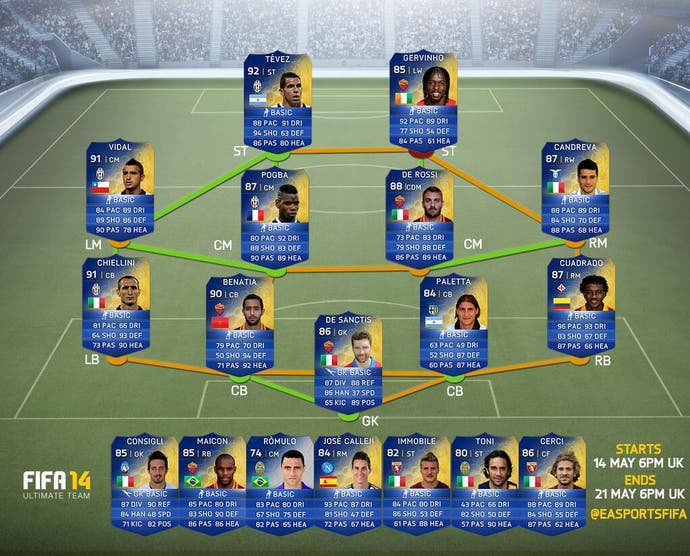 That's eight down, then, with three more to go. Liga BBVA next week? Ronaldooooooooooooo?
UPDATE 13/05 15:00 BST: EA Sports has pumped out Football League and Bundesliga Team of the Season squads since we last updated you, with the latter still available in Ultimate Team packs - at least until 5.30pm BST on Wednesday.
Highlights of the Bundesliga team include fearsome-looking new takes on Borussia Dortmund pair Marco Reus and Robert Lewandowski (who is off to Bayern Munich this summer), while Philipp Lahm's new card reflects his shift into midfield this season.
However, there is as no place on the list for a few other prominent Bundesliga stars, notably goalkeeper Manuel Neuer and midfielders Bastian Schweinsteiger and Franck Ribery. Neuer and Schweini will console themselves by winning the World Cup.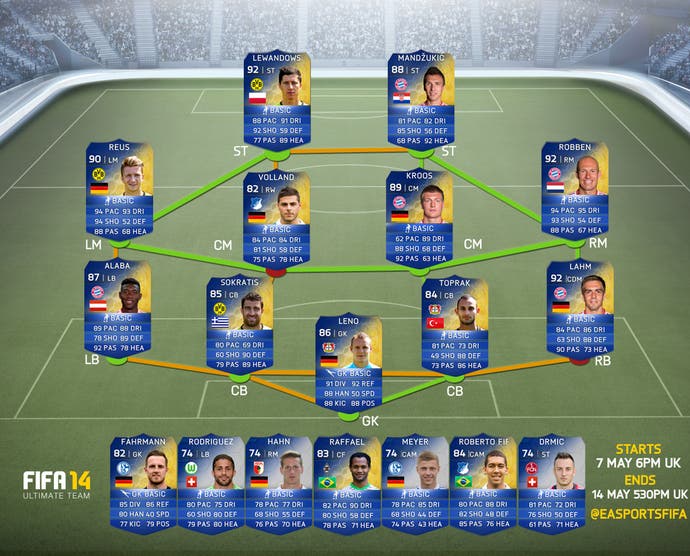 The Football League Team of the Season was issued a little while back (sorry I missed it - I was on holiday and I am the only one here who cares) and includes an 82-rated Ross McCormack (yikes) and Danny Ings with 92 pace. Meanwhile, Kasper Schmeichel's new card has the same overall rating (74) as his normal silver card despite a total stat increase of 26. Work that one out if you can.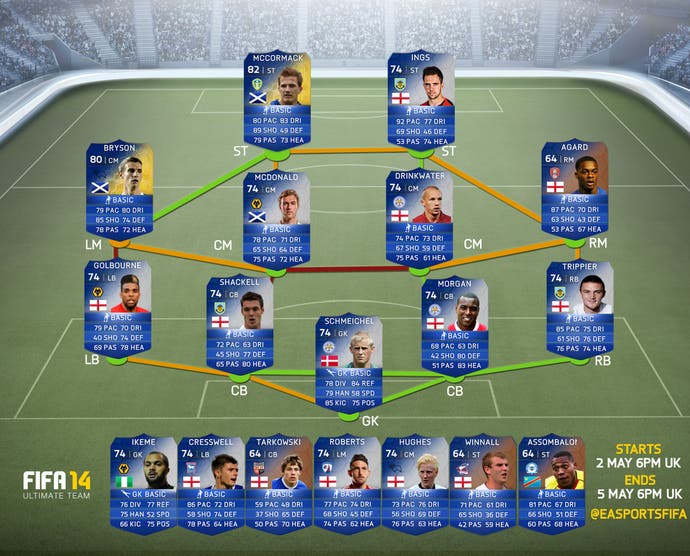 Both squads - and the others detailed in previous updates - are now out in the wild, so you can snap them up on the transfer market if you have the coins, but you might want to let the prices settle a little first.
Or, given that the good ones are going to be hideously overpriced whatever the scenario, you might be better off admiring them in videos instead. Here's YouTuber Itani having a good time with TOTS Lewandowski, for example.
We're still waiting on Team of the Season squads for Liga BBVA and Serie A, among others, but hopefully another will be along this week. We're expecting 11 squads overall, with six already announced.
UPDATE 30/04 16:33 BST: One week on from the initial squads, EA Sports has announced the Barclays Premier League Team of the Season line-up for FIFA 14 Ultimate Team and HUBBA HUBBA.
As you might imagine, the likes of Man City, Chelsea, Liverpool and Arsenal are strongly represented, while Everton's lauded full-backs Leighton Baines and Seamus Coleman also make the 18-man squad. There's also room for Adam Lallana and David Marshall, who has performed heroics in goal for Cardiff City throughout the 2013/2014 season.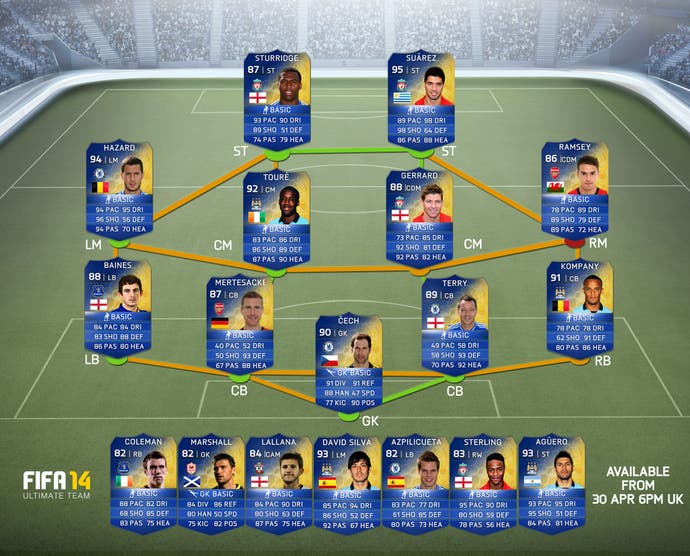 Players will be available in Ultimate Team packs from 6pm BST today, although as usual you will have to be sensationally lucky to get your hands on one that way. The second-hand Transfer Market is probably a better bet, although you can expect most of these players to command ridiculous premiums, at least in the short term. You are more likely to encounter them in YouTuber videos than anywhere else.
If you do get your hands on one, enjoy.
ORIGINAL STORY 24/04 09:04 BST: Time to cash in those coins? EA Sports has begun naming its Team of the Season players and inserting them into packs in FIFA 14's version of Ultimate Team.
Similar to Team of the Year, Team of the Season is an annual tradition that gives Ultimate Team players another range of boosted player cards to lust after. EA unveils a bunch of squads, then sticks a small number of them in random packs that you can buy from the in-game store in exchange for coins earned playing or FIFA Points bought with real money.
They also quickly make it onto the in-game transfer market as users who bag them in packs seek to cash in, allowing you to buy them off other users using in-game coins if you're sitting on a fat stack. There are way more Team of the Season players than TOTY, too, so the prices for these don't get quite so crazy.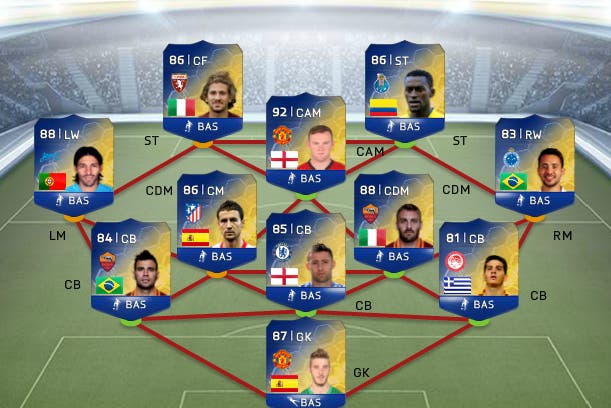 Last year, Team of the Season was split up into a range of different squads covering most of the major global leagues as well as players who have performed consistently in the previous year without ever earning a coveted in-form card in Team of the Week. (In-forms are usually given out for outstanding performances by players in real life - for example, Raheem Sterling got one this week after getting two goals, an assist and the Man of the Match award against Norwich at the weekend.)
EA likes to tease us with this stuff, so we don't know exactly which squads it will be releasing this year (although apparently there will be 11 total), but so far we have Most Consistent squads for Gold, Silver and Bronze-level players (three vs last year's two, which is nice), and standouts in the gold squad include a 92-rated Wayne Rooney and an 86-rated Nemanja Matic. There's also an 85-rated Thiago Motta for Ligue 1 hipsters.
A quick survey of the in-game transfer market throws up predictably insane prices for the top players (one of the Rooney cards is currently at 799,000 coins with four minutes remaining), but if you set your sights lower than you may have enough loot to get some blue in your team. If you have a soft spot for Southampton's Morgan Schneiderlin, for instance, then I can see one of his 82-rated blue cards listed for 115,000 coins at the time of writing.
The excellent Futhead has a summary of each squad so far and EA's FIFA community manager notes that they will be available in packs from now until 5.30pm (presumably BST) on Wednesday 30th April. The Most Consistent squads were announced at 4pm BST yesterday, an hour after the regular Team of the Week, so we can probably expect more squads to be unveiled on subsequent afternoons. Obviously the BPL team will simply be the Liverpool first XI. Just kidding! (They'll also throw in Fabio Borini.)
Remember though: stick to coins. Friends don't let friends chase blue cards with FIFA Points.