Has EA Sports broken FIFA 14 by trying to fix it?
The latest patch promises balance but strips out fun in the process.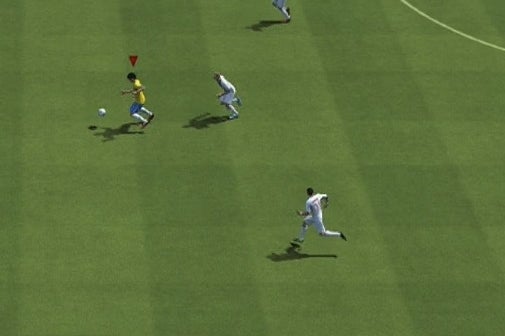 In this age of games we play and pump money into all year round, developers have to be more careful than ever about how they handle change. Tweak things too little and fans may grow restless and hitch their wallet to another post. Tweak them too much, however, and those same fans may feel the rug has been pulled out from under them and reconsider their options anyway.
This challenge must be particularly acute for the developers of FIFA. Whereas games like Dota 2 and League of Legends can evolve constantly and in measured fashion to keep players interested, EA Sports still ships a new edition of FIFA every September and charges a whole new cover price for it. The existing audience of players is then expected to move onto the new game and keep playing.
As FIFA 14 demonstrates, however, that transition can be messy.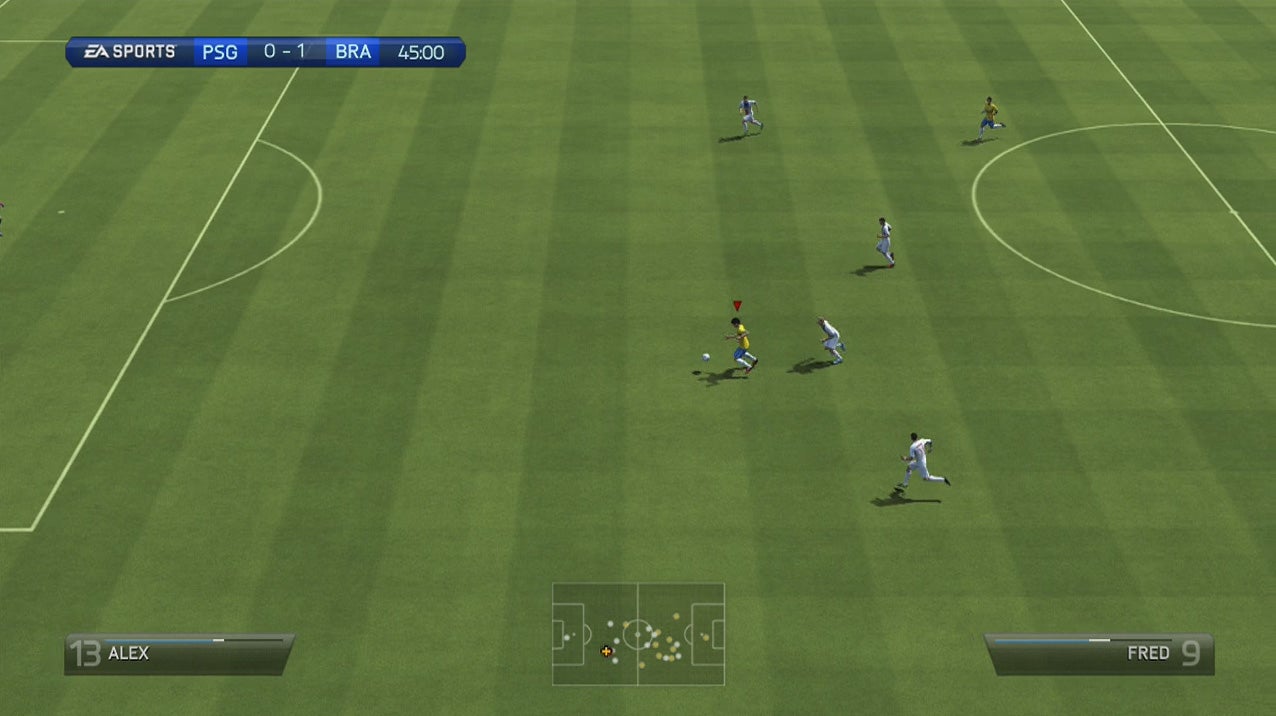 As soon as the demo was released in mid-September, fans pointed out that several attacking styles were startlingly effective. Headers from crosses and corners resulted in goals far more often than anyone anticipated, while curled 'finesse' shots were extremely accurate and outwitted goalkeepers from unlikely distances. On top of that, strikers were sprinting onto passes lofted over the last line of defence using the through-ball button with surprising frequency.
These attacks should all work now and then under the right conditions. If a striker is well-placed in the penalty area and evades his marker, while a winger with the ball has created enough space to cross it comfortably into his path, he should be able to direct it to an unguarded area of the goal. Similarly, a player with enough space in front of him and a clear line of sight to goal should be able to flight a finesse shot towards the top corner, and a defender or midfielder spotting the run of his team-mate should be able to send a lofted through-ball over the top to meet him. The individual stats of each player - such as the curve shot stat for people using finesse - and timing should play a part, but these attacks are not fundamentally out of place in the game.
The problem arose because it was far too easy to take advantage of these tactics and there was very little an opponent could do about them. It was easy to cross the ball during the run of play and head it into the goal, with a defending player unlikely to be able to shut down every cross and virtually impotent when it came to corner kicks. Defending against finesse shots near the penalty area was a little easier - it gets congested there - but the issue was that they could be fired in from further out where space was easier to come by.
Worst of all, lofted through-balls could be fired blind from deep in defence as soon as the ball was recovered from the opposition. EA had boasted ahead of the game's release of the increased intelligence of team-mates in FIFA 14, meaning they would make more instinctive attacking runs when you retrieved possession, but now it was coming back to bite them. As hundreds of thousands of players piled in, they quickly discovered their team-mates were too smart for everyone's good. Not every aerial through-ball was a success, but enough were, and there was almost no way to defend this.
Reviewers - myself included - encountered the same issue EA Sports presumably did: it was hard to identify this stuff without the help of millions of players. I played FIFA 14 for around 25 hours before reviewing it, largely in isolation or in offline multiplayer games, and although I noted that some of these elements were more successful than they had been in FIFA 13, where driven shots and pace brought the most success, I didn't realise they would skew the online experience completely. As the game went into the Early Access pre-release period, though, the stats and YouTube compilation videos piled up. Suddenly everyone you played was sprinting down the wing, worming their way into five yards of space 40 yards from goal or falling back and then launching the ball over the top.
I'm slightly grumpy with myself about that review. On balance, I think the conclusions are mostly sound: FIFA 14 is a remix of existing elements designed to keep people happy without disrupting their experience too much, and if we're still expected to pay full price for it every year then I would like it to be more bold. But I feel annoyed at myself for not trusting my instincts more. Having seen first-hand how pace distorted FIFA 13, I should have realised it would happen again.
Chastened by the response online, EA started promising a patch to rebalance FIFA 14 gameplay before the game had even launched in Europe. Thrown together at speed, that patch went live last week, and the top four items on the changelog made its priorities pretty clear:
Balancing lofted through-balls.
Balancing attacking headers.
Balancing finesse shots.
Improved defender switching during crosses.
After a few days playing around with the updated FIFA 14, it's fair to say that all these elements have been tweaked, although whether the changes count as balancing is an open question. As the YouTuber Itani pointed out on Twitter yesterday, the main problem with finesse shots is that the AI-controlled goalkeepers are poorly positioned, allowing the ball to fly over their heads, but the patch does nothing about this - it simply makes finesse shots less accurate. That's not balancing - that's just fixing something that's broken by breaking something else.
Lofted through-balls, meanwhile, continue to be fired blind with surprising levels of success - it's become the go-to tactic for impatient players - so it's not clear what if anything has been done there. If switching between defenders during crosses is improved (I can't really tell) then that's a better example of rebalancing, and it's certainly true that headers result in fewer goals than before the patch, although it's still quite a high proportion in the games I've played. With finesse lower in the mix, though, that may just be because it's harder to score in general.
"The patch simply makes finesse shots less accurate. That's not balancing - that's just fixing something that's broken by breaking something else."
The result is a game that feels closer to FIFA 13 again but with fewer goals - probably because the strength of players is more pronounced while pace is stifled to the extent that even slow defenders can rein in speedy players like Neymar with embarrassing ease. With options limited, I find myself resorting to FIFA 13 tactics: a 3-5-2 formation with three robust defenders, two tough-tackling defensive midfielders and a creative quintet operating around and in front of them; difficult to break down, while using a lot of one-two passing moves to break through defences and driven shots when the right angle presents itself. When I run out of ideas, I fall back on crosses and lofted through-balls.
I feel the loss of the finesse shot more than anything else. It was slightly overpowered, but not ridiculously so - you still needed to create space to fire that beautiful, soaring shot over the goalkeeper and I never got tired of watching it hit the net. It gave the game character and it directed my experience in positive ways. As games became more high-scoring, I found myself trying out new formations and going shopping for different players in Ultimate Team, sacrificing a defensive midfielder to accommodate a deep-lying playmaker with a killer curve stat, confident that even if I conceded more goals I could still score more in response. It was a comic, exaggerated vision of real-life football, but it had a great sense of spectacle.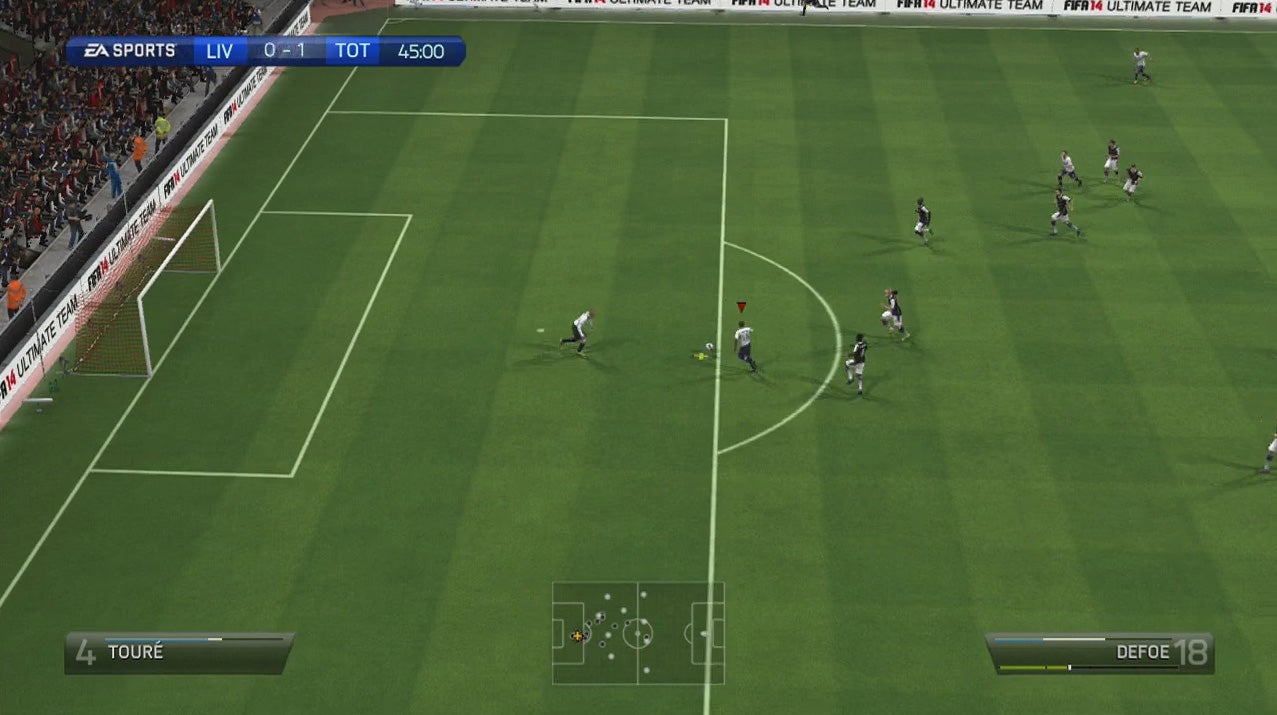 It's not clear whether EA sees this patch as the final word on FIFA 14 gameplay. If past games are anything to go by then there may be more balancing patches to come, and there are also big bugs still to squash - including a freeze bug that seems to affect Xbox 360 players disproportionately, which must be embarrassing for all those Microsoft guys with "Football has a new home" on their bumper stickers - while the launch of next-generation versions of the game provides additional impetus to keep refining things. If the rebalancing is to continue, however, then I hope the developers focus their attention on things that enhance the game's attacking character.
Longer term, EA Sports may want to think about how it handles these annual transitions, too. If the last few weeks prove anything, it's that the developers could do with more data: if hundreds of thousands of people had been playing a version of the game a couple of months before release and all began gravitating towards the same dominant, unpreventable tactics, it would have given the developers more time to smooth them out while maintaining the potency of certain play styles like the sweet, sweet finesse shots. Given that FIFA has a huge audience all year round, why not bring more of those players into the development process earlier?
Some things to think about, then. In the meantime, um, I'm off to build a bronze MLS team. As Darth Vader once put it, it is too late for me.
Become a Eurogamer subscriber and get your first month for £1
Get your first month for £1 (normally £3.99) when you buy a Standard Eurogamer subscription. Enjoy ad-free browsing, merch discounts, our monthly letter from the editor, and show your support with a supporter-exclusive comment flair!