EA says it'll be easier to get Icons in FIFA 20 Ultimate Team
How Ruud.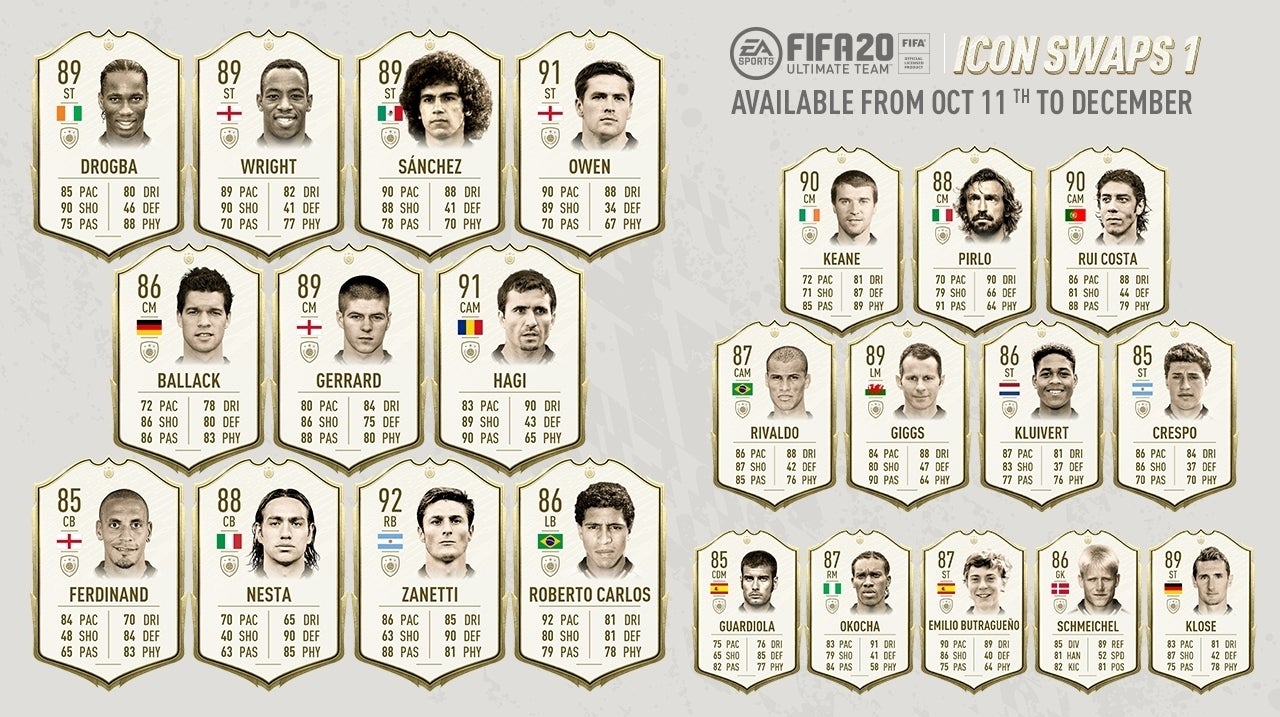 EA has said FIFA 20 improves the accessibility and availability of Icons in Ultimate Team.
Icons, introduced to Ultimate Team with FIFA 18, are some of the most coveted cards in the game. The likes of Ronaldo (Brazilian Ronaldo), Ruud Gullit and Patrick Vieira were among the best cards in FIFA 19, but there were incredibly difficult to obtain - and for many players fuelled spending on loot boxes.
An additional issue was Icons considered to be "bad" would go for big prices on the in-game auction house because they were reserved for Squad Building Challenges that would reward "good" Icons.
To combat this, there will be four versions of each of the 89 Icon cards in FUT 20, and their release will be staggered.
Base reflects a time in the player's career when they were still developing and had not yet reached their full potential. These Icons are in packs from the start of the EA and Origin Access trial, which kicks off this Thursday, 19th September, until mid-December 2019 only.
Mid Icons reflect an Icon later in their career when they had to adapt their playstyle to stay near the top of their game. Mids are available in packs from this thursday until mid-February 2020 only, EA said.
Prime Icons reflect an era where an Icon was consistently at the height of their skills and abilities. These are in packs from mid-December 2019 until the end of FUT 20.
And finally, Moment Icons focus on "a truly memorable, historic performance" in an Icon's career that "elevated them to one of the all time greats". Primes, which are the highest-rated versions of Icons in FUT 20, come online in February 2020 and stick around until the end of FUT 20.
Yahsir Qureshi, live producer on FIFA Ultimate Team, said in a blog post that he hopes this system will "encourage greater variety in squad building throughout FUT 20", and it certainly sounds like it should do that, given the best versions of the Icons - the Moments - won't be available until nearly half a year after the game comes out.
"With this release of the different Icon versions in and out of packs throughout FUT 20, we have sought to not only encourage greater variety in squad building throughout FUT 20 but also ensure that there is greater availability of Prime and Moments versions of Icons on the transfer market once they are released in packs," Qureshi said.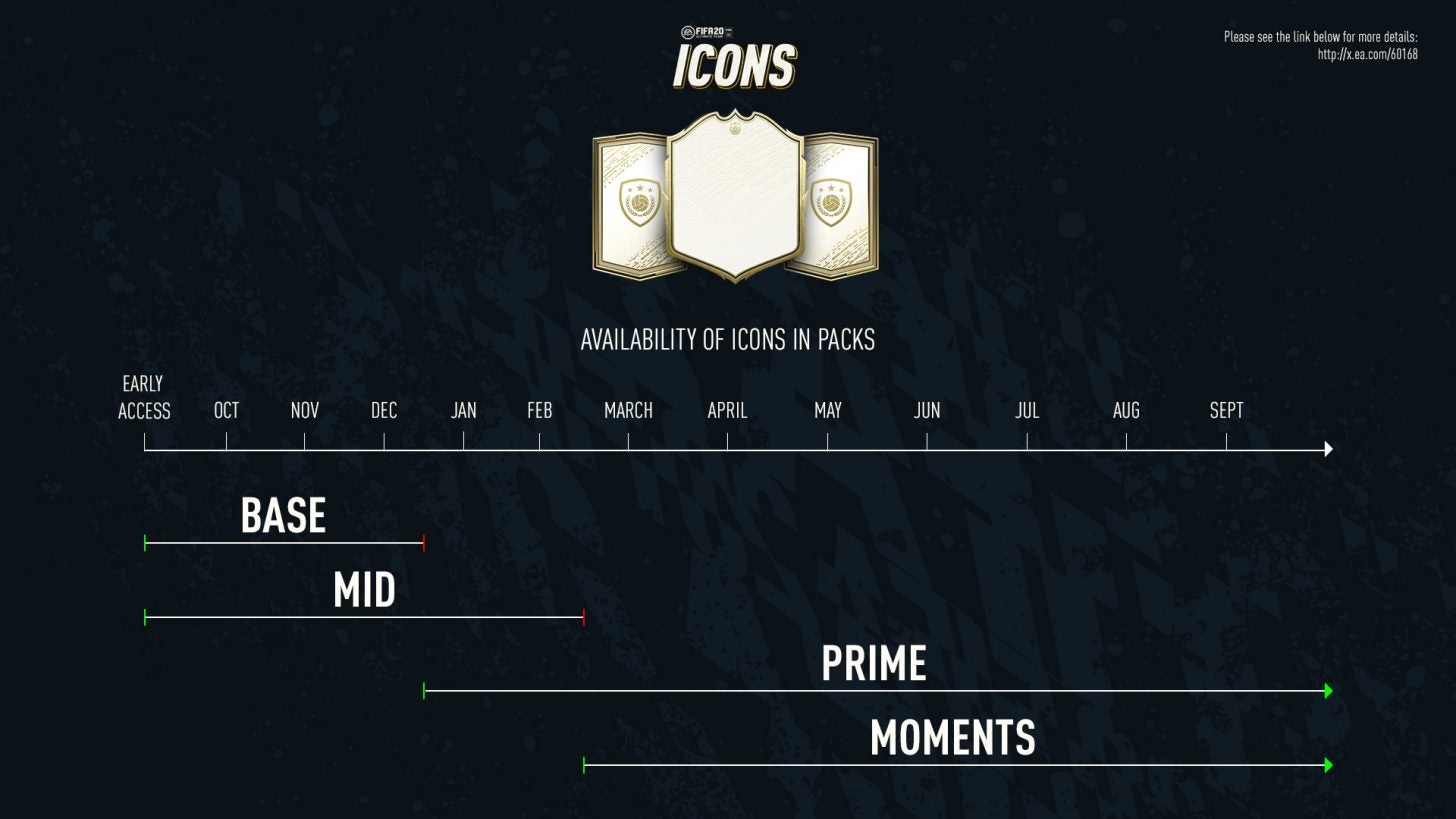 Now onto the Icon SBC rework. SBCs are seen as a reliable method for players to get the best cards in the game (and don't rely on packs), but in FIFA 19, the Icon SBCs had a huge amount of problems, reduced Base Icons to SBC tools as opposed to players you'd want to use in your team, and impacted transfer market prices.
"Since FUT 18, we released Individual Icon SBCs that required Icons to complete," Qureshi explained.
"We used Icon requirements in order to keep SBC requirements from being overly lengthy and also to help alleviate other pinch points in the market. However, what we saw was that many Icons (especially Base Icons) were being viewed and valued more as tools to complete SBCs rather than as players in your squad. That was not the experience we wanted to create.
"Turning our attention to Individual and Player Pick Icon SBCs, there were significant challenges. Throughout the cycle, many of the top Icons, as well as the Icon SBC requirements, fluctuated considerably in Transfer Market Price. When combined with the goal of allowing players to build towards these Icons over an extended period, this added considerable difficulties. This made it difficult to design Individual Icon SBCs to be consistent with Transfer Market prices and other Player SBC releases, highly complicated."
EA Sports has completely reworked SBCs so Icons are not be used as requirements, which should ensure most FUT players aren't priced out of buying Base Icons on the Transfer Market. Plus, the minimum quick sell price of an Icon will be lowered from 102,000 FUT Coins to 63,750 FUT Coins. Now Icons aren't SBC requirements, players should be more willing to enjoy playing with Icons just for fun, which is kind of the entire point of the game.
EA Sports still plans to release specific guaranteed Icon Pack SBCs throughout FUT 20, but there will be no individual or player pick Icon SBCs released in FUT 20.
In the place of individual Icon SBCs are the new Icon Swaps system. This lets you exchange player tokens (yes, FUT is getting yet another virtual currency it seems), which you earn by completing objectives, for Icon rewards available in Swaps. There will be three Icon Swaps released throughout the year, and each contains at least 20 individual untradeable Icons.
This system should, in theory at least, make obtaining Icons a lot easier. Although we don't know exactly how many tokens will be required for each Icon, nor the nature of the objectives that reward the tokens. Expect Icon Swaps 1 to run from 11th October to December. Here are the Icons included: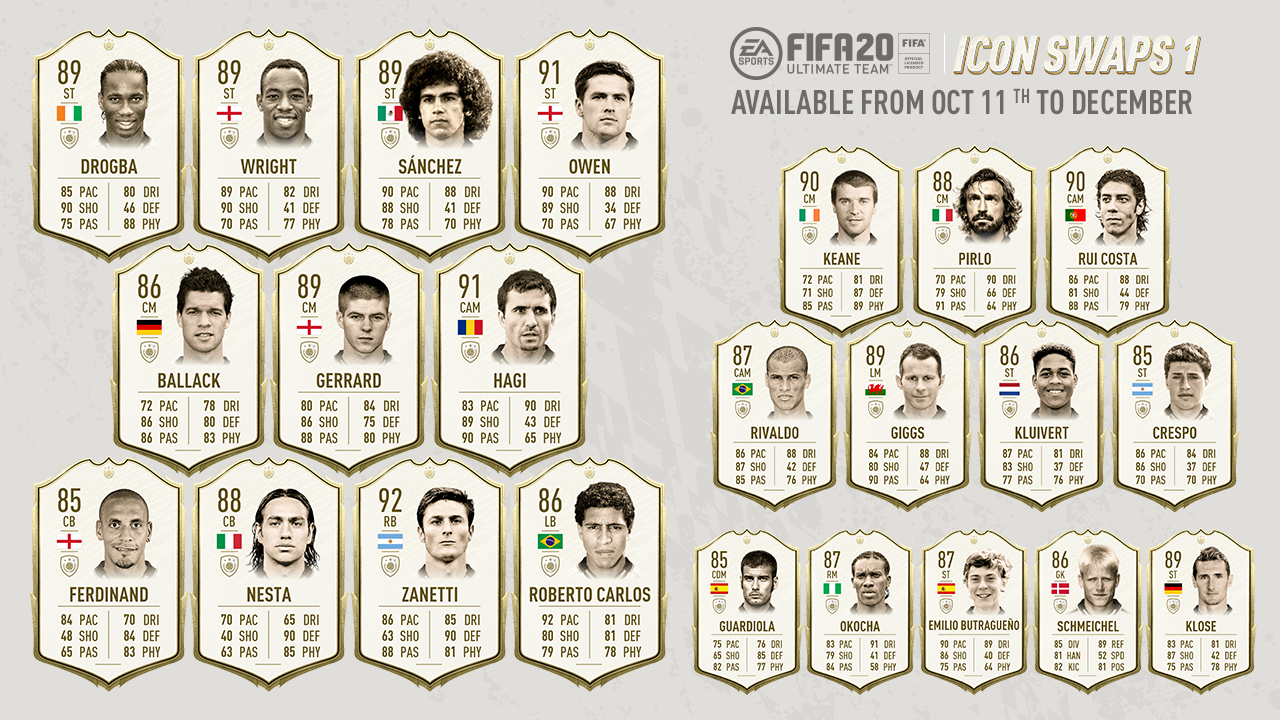 All in all, this sounds like good news for FUT fans who want to get their hands on Icons in FIFA 20. It doesn't address the shockingly bad odds of packing an Icon, and of course FIFA stubbornly clings on to the controversial loot box system for FUT 20, but it's a (tiny) step in the right direction.
Will you support Eurogamer?
We want to make Eurogamer better, and that means better for our readers - not for algorithms. You can help! Become a supporter of Eurogamer and you can view the site completely ad-free, as well as gaining exclusive access to articles, podcasts and conversations that will bring you closer to the team, the stories, and the games we all love. Subscriptions start at £3.99 / $4.99 per month.