EA admits it "got it wrong" over Star Wars Battlefront 2 loot boxes
And "can't afford to make similar mistakes" again.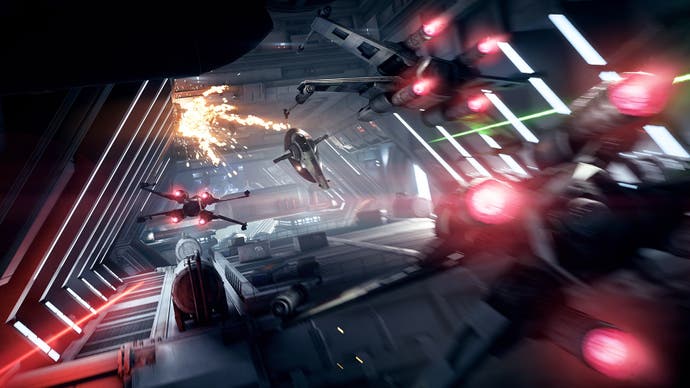 EA's chief design officer Patrick Söderlund has addressed Star Wars Battlefront 2's highly controversial implementation of loot boxes, saying that the publisher "got it wrong", and "can't afford to make similar mistakes" in the future.
Söderlund's comments came during a conversation with The Verge, in which he offered some insight into the company's original thinking behind Battlefront 2's loot boxes. "We had the intent that was designed for us to have more people play it over a longer period of time," Söderlund explained, "and like a lot of other games on the market, to be able to afford to do that we had an idea of getting returns from that. But at the same time, we got it wrong."
In fact, Battlefront 2's implementation of microtransactions, which many cited as pay-to-win, was so "wrong" that EA directly linked the furore surrounding the game's loot boxes to its lower-than-expected sales during its January earnings call. At the time, the publisher noted that Battlefront 2 had sold 7 million units, significantly below its initial estimates of 8 million.
During the call, EA boss Andrew Wilson described the response to Battlefront 2's microtransactions as "definitely a learning opportunity", insisting that the publisher "never intended to build an experience that could be seen as unfair or lacking clear progression".
To address the significant, sustained of criticism of Battlefront 2's loot boxes, EA disabled in-game microtransactions shortly after launch. Developer DICE, meanwhile, set to work on a new progression system, which was finally implemented last month.
According to Söderlund, that work is netting positive results: "People seem to appreciate what we've done, players are coming back, and we're seeing stronger engagement numbers. People seem to think that for the most part, we got it right".
However, Söderlund is keen to stress that a positive response to Battlefront 2's reworked progression "doesn't mean we will stop. We'll continue to improve the game, we'll continue to push on these things". And crucially, he says, "we'll have to be very cautious with what this means for future products."
"I'd be lying to you if I said that what's happened with Battlefront and what's happened with everything surrounding loot boxes and these things haven't had an effect on EA as a company and an effect on us as management," Söderlund explained.
"We can shy away from it and pretend like it didn't happen, or we can act responsibly and realize that we made some mistakes, and try to rectify those mistakes and learn from them."
To that end, Söderlund says that EA has "taken significant steps as a company to review and understand the mechanics around monetization, loot boxes, and other things in our games before they go to market [...] For games that come next, for Battlefield or for Anthem, [players have] made it very clear that we can't afford to make similar mistakes. And we won't."
EA finally reintroduced microtransactions to Star Wars Battlefront 2 in an update at the end of last week. This adds Appearances - strictly cosmetic character skins that can be purchased using either in-game currency or real-world money.