Dwarf Fortress coming to Steam
Simple.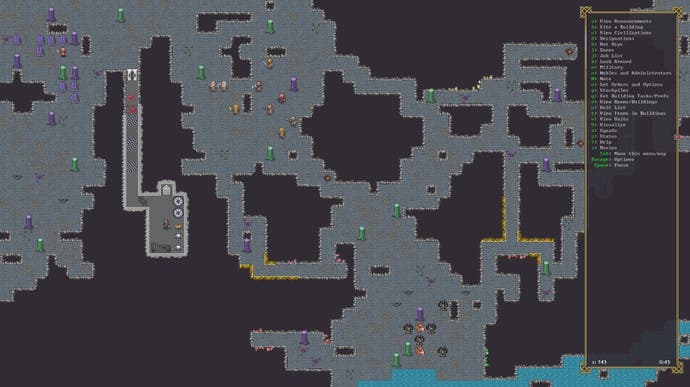 Dwarf Fortress is coming to Steam.
The infamously complex but brilliant "infinite possibilities" simulation game, which has been worked on for over 16 years, finally launches on Valve's platform as a lifetime "living" project by brothers Tarn and Zach Adams.
Why Steam now? "Dwarf Fortress is going premium because we want more people to encounter the game, grow the community, and some of the creator's close family members have developed serious health issues within the past six months, and money to support them is tight," reads an FAQ.
"As it's a sensitive and difficult matter, please respect Tarn and Zach's privacy about this, but keep some well wishes in your hearts for them.
"Due to these rising healthcare costs, as well as the uncertain structure of Patreon, they decided it was time for them to have additional means of support."
The Steam version has a custom premium tileset with graphics enabled by default, new music and auto-updates. And, of course, Steam Workshop integration.
Dwarf Fortress Classic won't change, the developers reassured, and it'll be updated alongside the new premium versions, just without the new art, music, and Steam features. Tarn and Zach will continue working first on the major villains update for Dwarf Fortress Classic. After the villains update is out and stable, Tarn and Patrick Martin "Meph" Schroeder will work on the Steam Workshop pipeline to make sure anyone who wants to can easily bring over their mods, if they want to.
The Steam version is published by Kitfox, but Dwarf Fortress is still owned by Bay 12 Games. Kitfox will get a 20 per cent cut of revenue from the Steam version after Valve takes its standard 30 per cent cut.
"Tarn and Zach wanted more people to know about Dwarf Fortress, and also want to spend their precious time focusing on developing the game," reads the FAQ.
"Kitfox has no access to the source code, and will have no influence on the design, programming, or updates to Dwarf Fortress."
If you're unfamiliar with Dwarf Fortress, be sure to read Dan Pearson's wonderful feature, Learning to love Dwarf Fortress, gaming's deepest simulation. And of course ex-Eurogamer video person Chris Bratt did an episode of Here's A Thing about Dwarf Fortress and cats, which is well worth a watch.