DuckTales: Remastered is being delisted on digital stores starting tomorrow
And there's 75% off until then.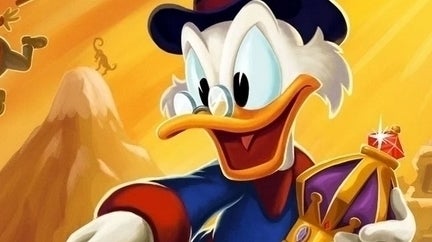 Capcom has offered a warning to all potential purchasers of DuckTales: Remastered; the game is being delisted on digital storefronts, starting tomorrow, 8th August.
Of course, interested parties haven't exactly been short of time to take the plunge previously. Developer WayForward's gorgeous reworking of Capcom's beloved 1989 NES platformer initially launched for PC, Xbox 360, PS3, and Wii U all the way back in 2013.
For those still on the fence, however, Capcom has one last offer up its sleeve as DuckTales: Remastered enters its twilight hours. A 75% discount is in play prior to the game's removal, and it's currently £3.95 on the Wii U eShop, £2.99 on Steam, and £2.49 on the Xbox Store (this version will work on Xbox One via backward compatibility support, as well as Xbox 360). Those hoping for a PS3 discount currently appear to be out of luck on the PlayStation Store.
If you do opt for a purchase, you'll need to move quickly. The exact times of DuckTales: Remastered's removal differ considerably across platforms - with full details available in Capcom's blog post. The publisher notes, however, that anyone that purchased the game previously, or that buys it prior to the times listed, will still be able play - and re-download, if necessary - their copy once removal occurs. Disc-based version will continue to function too.
Capcom hasn't offered an explanation for DuckTales: Remastered's imminent removal, but it seems reasonable to assume that licensing issues are to blame.
It's far from the only game to stride off into the digital sunset this year, of course; back in January, Warner Bros pulled Lego Lord of the Rings and Lego The Hobbit from storefronts, and June saw Minecraft: Story Mode and Alpha Protocol vanish into the ether. And up next? That'll be PS4's DriveClub, which will be removed from the PlayStation Store at the end of this month, prior to its server shutdown next year.