DuckTales Remastered is now on mobile devices
Woo-oo!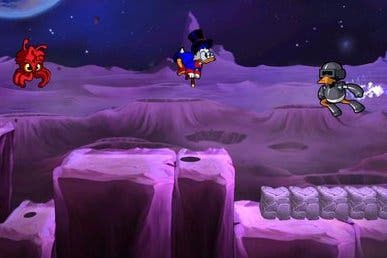 DuckTales Remastered is now available on iOS and Android devices along with Windows Phone, Capcom has announced.
Priced at £7.99 / $9.99, DuckTales Remastered is WayForward's modern remake of the classic 1989 NES game. It captures the old game's design and marries it with slick, contemporary presentation and new bonuses like Easy and Extreme difficulty settings. Amazingly, it reunites the cast of the beloved cartoon with the then 93-year-old Alan Young reprising his role as Scrooge McDuck.
Eurogamer contributor Craig Owens found DuckTales Remastered to be charming in some ways, but ultimately a little shallow with archaic design and a bizarre over-reliance on story and handholding. "The impact of WayForward's high-purity dose of old-fashioned platforming has been diluted by the new wrapping," he wrote in his DuckTales Remastered review. "For the Pixar generation, meanwhile, there's just a quaint, old-school platformer here, starring a character of whom they've never heard."