Dragon Quest XI Definitive Edition now has a free 10-hour demo on PS4, Xbox One, and PC
And progress will transfer to the full game.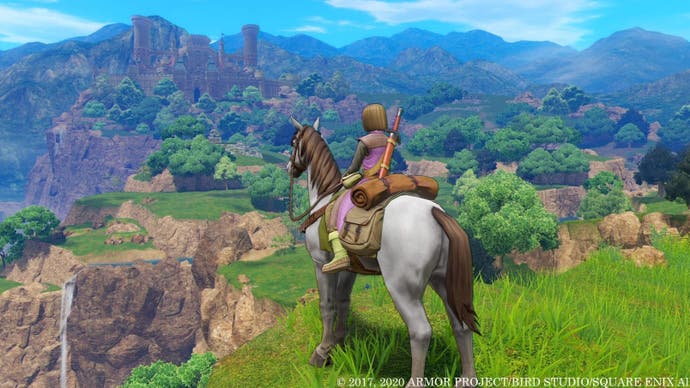 Square Enix will soon be unleashing the interminably titled Dragon Quest XI S: Echoes of an Elusive Age - Definitive Edition on PS4, Xbox One, and PC, and ahead of its 4th December release, a substantial free demo is now available on all platforms.
Dragon Quest XI Definitive Edition (as I shall be referring to it from here on in, to save my fingers and your eyes) is, of course, a port of the game that released on Switch last year, which was, in turn, an expanded and enhanced version of 2017's Dragon Quest XI - a game that eventually made its way west via PlayStation 4 and PC in 2018.
The original release's tale of a young boy forced out of his idyllic existence to thwart an age-old evil was about as traditional a J-RPG offering as its sounds, albeit entirely charming, and frequently breathtaking its lavish presentation.
The game was entertaining enough in its initial guise, but the enhanced version's tweaks and additions - including new stories, speedier battles, a 2D mode cribbed from the Japan-only 3DS version, a photo mode, and a new orchestral soundtrack - helped raise the experience still further, impressing Eurogamer's Martin Robison enough to award it a Recommended badge.
Those enhancements will now be making their way to PS4, Xbox One, and PC on 4th December, and - as was the case on Switch - interested parties can sample a massive chunk of the early experience in a newly available free 10-hour demo.
Those that play the demo - available on PS4, Xbox One, and Steam - will be able to transfer their progress over to the full game, and those that finish the demo will earn a "little treat" to help them on their way in the main adventure.