Dark Souls Remastered's network test puts the spotlight on Xbox One X
And the leap over PS4 Pro isn't quite what we thought it would be.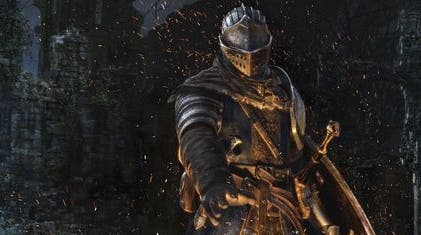 Dark Souls Remastered's network test was conducted last weekend, giving our firs look at how the game operates across all consoles. We've already had a sizeable chunk of PS4 Pro preview footage to look at, of course. Running at a native 1800p and with something very close to a locked 60fps, first impressions are of a conservative, but satisfying remaster. What the network test finally gives us is a sense of perspective: how does the more powerful Xbox One X compare to the PS4 Pro? And equally, where does that leave the two base consoles?
Well, first things first - the code offered to users really is an early and unique build, put together just to test the PvP invasions and using a restricted segment of Lordran. Even though the client weighs in at 3GB - almost the size of the full game on last-gen systems - we were blocked off from a lot of the best bits. So there was no opportunity for a trip to wyvern on the bridge, or to explore Sen's Fortress, for example. All those were hidden by impassable fog doors, or untouchable levers.
Instead, the network test build honed purely on the Undead Parish area, leading up to two Bell Gargoyles on the rooftop. Short as it is, there is enough here to prove that the new netcode is generally holding up; I struggled to summon Solaire a couple of times, but in terms of the online invasion mechanic it doesn't seem like there's much to complain about. It clicks together, and for the online play at least, it's in a good place.
And yes, Xbox One X does seem to offer the highest spec release for this remastered release, but to my surprise it's not blowing the doors off the hinges in comparison to PS4 Pro. What you get is a native 3200x1800 image, just like Sony's enhanced machine - and visually speaking, the feature-set is identical. Textures, effects, ambient occlusion quality and motion blur are exactly like-for-like between the two. The only difference is in performance, where we could not budge the frame-rate from the target 60fps no matter how hard we pushed. It's true that the available content was limited, but small hits to performance were present on every other platform.
But the lack of native 4K support is puzzling bearing in mind some of the resolution differentials we've seen between Xbox One X and PS4 Pro. Additionally, the X has proven itself as more than capable of delivering a 4x resolution boost over the base console. Dark Souls Remastered operates at full HD pixel-counts on both the standard Xbox One and PlayStation consoles - meaning X's improvement here is in the order of 2.7x instead. Again, this is a special build designed for testing network play, and things could change. But if this stands for the full release, the sense that is this is a situation made out of convenience, rather than to cater to each system's power profile. 1080p on base hardware, 1800p on enhanced machines - and that's your lot.
Any tweaks or additions beyond additional pixels are limited, to say the least. Past the 1800p upgrade, these machines are pushing identical settings to the base models. It doesn't do the presentation much harm; surprisingly these ageing textures hold up quite nicely on a 4K TV. And combined with the refreshed alpha work for bloodstains, smoke and fire, the overall presentation still looks crisp. The only exception is the rather messy haze transparency that kicks in when activating a bonfire - it doesn't hold up well close-up, but otherwise, the game looks fine.
There is one catch for PS4 Pro and Xbox One X - a small discrepancy, if you like. It may be a glitch, but curiously, lens flare is missing on both enhanced consoles. Meanwhile, the two base machine most certainly have it. It's odd, and the obvious suspicion is it has something to do with running at a higher 1800p resolution - causing a conflict with the way that effect renders. However, on the flipside, bloom is running at a higher resolution on X and Pro, giving it a more precise blend around objects. During the action, it's barely noticeable but the absent lens flare will need some attention for the final game - as things stand, the base machines are getting a neat little extra.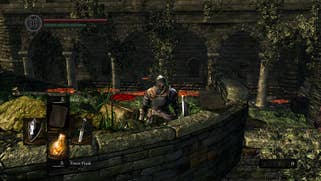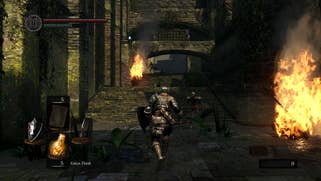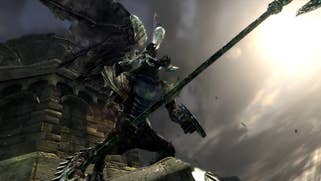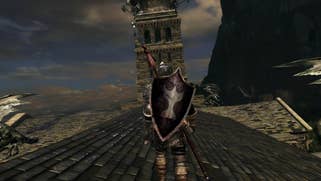 That's the visual side of things ticked off in terms of the comparisons, then. Even back in 2011 on PS3 and 360, Dark Souls was slightly undervalued at the time for its visuals. From the shader-work to world complexity, the game represented a big leap up over Demon's Souls before it. Of course, all of that ambition came at a serious cost to performance - notoriously landing single-digit numbers in some areas.
With that in mind, it's a relief to get this game in full flow at 60Hz on consoles, and while we don't have the absolute extreme stress tests here, there are signs we'll see some variation here between the systems in final code. On the limited sample we have, the base Xbox One drops the most frames, followed by PS4, then Pro and then at the top-end, Xbox One X is essentially flawless. How this translates to the final game and notorious areas like Blight Town remains to be seen, but we hope to have the answers on this one sooner rather than later.
Looking ahead, we'll be interested to see how Dark Souls Remastered is received. Based on the outlook offered by the network test, it seems that Xbox One and PS4 are evenly matched in terms of resolution and feature set, suggesting that more could have been on the Sony console. And by extension, with both enhanced machines delivering the same 1800p, there is the argument Xbox One X is perhaps being underutilised. Any overhead available seems to be dedicated to marginal gains only, and it'll be down to the PC build to scale any higher. We'll report back with more details once final code is available.