Digital Foundry: Hands-on with Destiny 2 PC at 4K 60fps
Bungie's PC return looks exceptional - and we've got the video to prove it.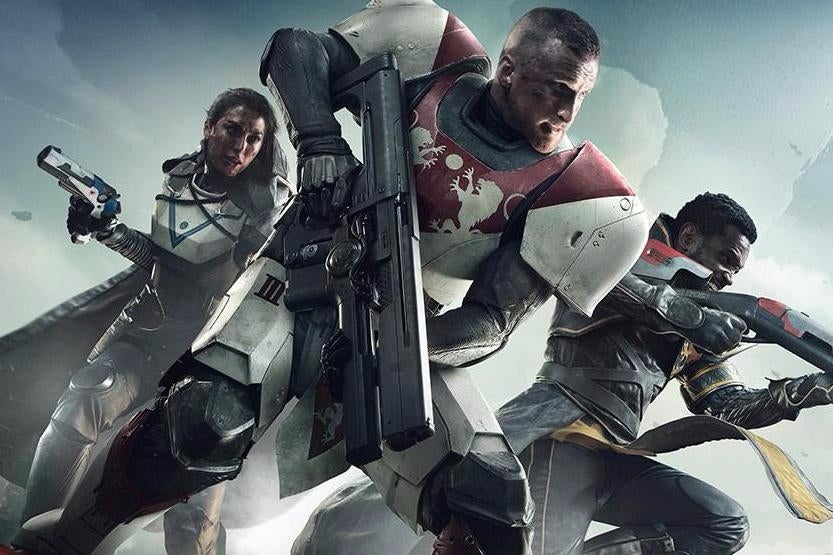 We've seen it, we've played it, and it's beautiful. Nvidia is proudly displaying the PC version of Destiny 2 at its E3 booth, running on a system powered by the GTX 1080 Ti graphics card. All quality settings are pushed to the max, resolution is set to full-fat 4K and the action is completely locked to 60 frames per second. Paired with precision mouse and keyboard controls, it's safe to say that we're looking at a very different experience to the standard console versions of the game.
Digital Foundry's John Linneman had the chance to hands-on with the title, recording full frame-rate 4K gameplay simultaneously using Nvidia Share, and the results of his session are embedded below. Of course, visual comparisons with the console builds will have to wait - in particular, we're curious about how the PC version stacks up against PS4 Pro and Xbox One X - but it's hard to complain about any aspect of the presentation. The game scales beautifully to UHD, detail and VFX pops, and in selecting areas of the campaign bathed in fiery effects and driving rain, we're looking at the kind of workloads that traditionally work well as a thorough stress test for the GPU.
Stacked up against the base Destiny 2 PlayStation 4 footage we ran a while back, the upgrade is immense. There's the sense that the game's core artwork is targeting the ultra HD standard, which is good news not just for PC owners, but also for PS4 Pro and prospective Xbox One X users, whose versions are both aiming for a 4K output. What they won't have is support for unlocked frame-rates - that will remain entirely the preserve of the PC game.
Beyond resolution and frame-rate bumps, it's currently unclear to what extent the PC version of Destiny 2 scales beyond console-level settings equivalents, beyond obvious aspects such as anisotropic texture filtering. John did take a quick look at the options menu, but Bungie representatives quickly steered him away, explaining that the presets are not final and that all tweakables were hard-set to ultra-level anyway [UPDATE 16/7/17 7:42am: Activision were in touch this morning to say that this build wasn't actually running at ultra settings and there's more to come - we look forward to seeing it]. What is confirmed over and above unlocked frame-rate support is 21:9 display compatibility, custom key mapping, text chat and adjustable field of view. Console fans used to playing Destiny with their controllers will find that joypads are still supported, but will face a big disadvantage against keyboard/mouse users in PvP play.
What excites us the most about the session is the optimal level of performance seen in the PC build. Yes, the expectation is that a GTX 1080 Ti will get you to 4K resolution at 60 frames per second, but in our experience, this usually involves some settings tweaks to ensure sustained, locked frame-rates. Without a Game Ready driver, and running unfinished code, Destiny 2's unfaltering 60fps is seriously good news, boding well for similarly smooth performance lower down the stack at reduced resolutions. Also worth noting is that Destiny 2 held its frame-rate even though we were capturing 4K video at 60fps directly from the GPU. Now, in theory, performance shouldn't be impacted as the GeForce cards have bespoke media encoder/decoder blocks, but in practice we have found that using Nvidia Share can cause issues when capturing while playing some titles. It all suggests that there's overhead here - and possibly plenty of it.
In terms of negative points from the playthrough, we have only one. The original Destiny didn't rely so much on video sequences for story-telling - instead, engine-driven cut-scenes got the job done, and they scale according to your chosen settings. We've only played a small section of Destiny 2, but the indications are that pre-rendered video sequences are used more frequently in the sequel. This is fine if you're gaming at 1080p - as we believe that this is the resolution they're mastered at - but for higher resolutions, the sudden jump to lower quality FMVs is really quite jarring. As we transition into the 4K gaming era, we hope to see higher quality video assets as standard, similar to what we see in Horizon Zero Dawn, where both base PS4 and Pro draw upon the same ultra HD video sequences.
Overall though, Destiny 2 is just as good as we'd hoped it would be at 4K60 - though unfortunately, PC users will have to wait a little longer to get access to the game. It's out on October 24th, a month after the game's console launch on September 6th. In the meantime, if you're considering a high-end GPU upgrade, Nvidia is offering a free copy of the game if you buy a GTX 1080 or GTX 1080 Ti before June 27th, and this also grants users early access to the beta, due some time in August.
Will you support the Digital Foundry team?
Digital Foundry specialises in technical analysis of gaming hardware and software, using state-of-the-art capture systems and bespoke software to show you how well games and hardware run, visualising precisely what they're capable of. In order to show you what 4K gaming actually looks like we needed to build our own platform to supply high quality 4K video for offline viewing. So we did.
Our videos are multi-gigabyte files and we've chosen a high quality provider to ensure fast downloads. However, that bandwidth isn't free and so we charge a small monthly subscription fee of £4.50. We think it's a small price to pay for unlimited access to top-tier quality encodes of our content. Thank you.
Support Digital Foundry