Nvidia unveils GTX 1080 Ti: 'faster than Titan X Pascal'
And the biggest leap in performance from a Ti product yet.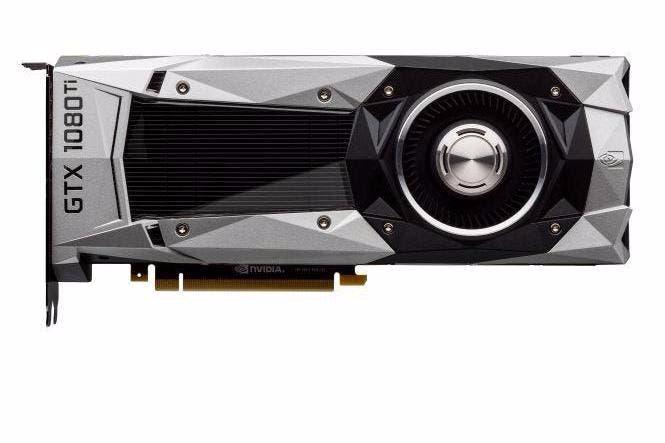 Nvidia has finally confirmed its most worst-kept of secrets. The GeForce GTX 1080 Ti is coming next week and the firm claims that the $699 card is actually faster than the $1200 Titan X Pascal. If you're looking for a more affordable PC GPU capable of delivering graphically rich 4K gameplay at 60fps, this is the product for you.
In producing a Ti spin-off of a Titan product, Nvidia has historically chosen a number of approaches - culling CUDA cores and/or dropping the amount of VRAM included on the board. These downgrades usually have a fairly minimal impact on performance but regardless, GTX 1080 Ti actually has the most minimal cuts we've seen. Essentially, the 12GB of GDDR5X is reduced to 11GB - a very odd compromise, it has to be said - which means that the memory interface is bumped down from 384-bit to 352-bit, ROP count drops from 96 to 88, while 256K of the Titan X Pascal's L2 cache is also omitted.
It's highly unlike that we're going to notice the missing gig of RAM and Nvidia has mitigated the effects of the drop in memory bandwidth by using higher speed GDDR5X - 11gbps vs the 10gbps modules found on the Titan X Pascal. The end result is that GTX 1080 Ti actually has marginally more bandwidth than Titan X Pascal. From our perspective, the question is how far it can be overclocked further - we already run our Titan X memory at 11gbps with a rock-solid overclock. With 4K gaming, memory bandwidth really is at a premium and needs to be pushed as far as it can go.
The really good news is that Nvidia hasn't felt the need to compromise the CUDA core count of the GTX 1080 Ti at all. It still features the same 3584 shaders as the Titan X (there's still more GPU power left untapped on the GP102 processor - the full chip actually features 3840 cores in total). Nvidia has also tweaked boost clocks on the GTX 1080 Ti to run the chip slightly faster than its Titanic stablemate. Taking all of this into account, a stock GTX 1080 Ti should indeed match or marginally outperform Nvidia's current top-tier $1200 GPU, at less than 60 per cent of the price.
| | Titan X | GTX 1080 Ti | GTX 1080 | GTX 1070 | GTX 1060 |
| --- | --- | --- | --- | --- | --- |
| CUDA Cores | 3584 | 3584 | 2560 | 1920 | 1280 |
| Base Clock | 1.42GHz | Unknown | 1.6GHz | 1.5GHz | 1.5GHz |
| Boost Clock | 1.53GHz | 1.58GHz | 1.73GHz | 1.68GHz | 1.7GHz |
| Memory | 12GB GDDR5X | 11GB GDDR5X | 8GB GDDR5X | 8GB GDDR5 | 6GB GDDR5 |
| Memory Bandwidth | 480GB/s | 484GB/s | 320GB/s | 256GB/s | 192GB/s |
| TDP | 250W | 250W | 180W | 150W | 120W |
| Processor | GP102 | GP102 | GP104 | GP104 | GP106 |
| Transistors | 12bn | 12bn | 7.2bn | 7.2bn | 4.4bn |
| US Price | $1200 | $699 | $499 | $379 | $249 |
In terms of comparisons to the previous GeForce GPU halo product - GTX 1080 - Nvidia says we're looking at a 35 per cent increase in performance, which it says is that largest bump to frame-rates ever seen from a Ti product. This is something we're looking forward to testing. In the meantime, the arrival of the $699 Ti sees the GTX 1080 retail price drop by $100. On top of that, card manufacturers are going to start shipping 1080s and 1070s with faster memory. The 11gbps G5X modules found in the new Ti will also be available in select GTX 1080s, while GTX 1070 receives the option of 9gbps GDDR5. It should be stated that in our experience, existing versions of both GPUs can have their RAM overclocked by the user to match this throughput with zero effort. Again, from our perspective, the question is to what extent this new memory can be overclocked safely still further.
Returning to the GTX 1080 Ti, this is an exciting release for many reasons, but principally because the raw GPU power is there to provide native 4K gaming at 60fps with only minimal tweaks on the majority of titles. If you take a look at this benchmark run, you can see Titan X performance at 4K relative to the same content being tested at 1080p on a GTX 970 - which for many remains the quintessential card for 1080p60 PC gameplay. Let's just say that the results are very, very close. Titan X Pascal was also our chosen hardware for running Forza Horizon 3 at a pretty much locked 4K 60fps. The experience is simply incredible, and based on the specs, GTX 1080 Ti should offer equivalent performance.
GTX 1080 Ti is set for a worldwide launch next week (UPDATE: New PR we've just received says that the card launches on March 10th, but there's no UK pricing yet) and our sample should be arriving imminently. There'll be Founders Editions with enhanced cooling compared to the GTX 1080 (and no price premium) and third party cooling solutions from the likes of MSI, Asus and others should allow for some interesting overclocking results. In our testing, Titan X could be pushed further, but excessive heat was definitely a limiting factor. We'll have a full review next week.