Project Cars boosts visuals - and runs faster
Patch 1.04 sees impressive enhancements for PS4 and Xbox One.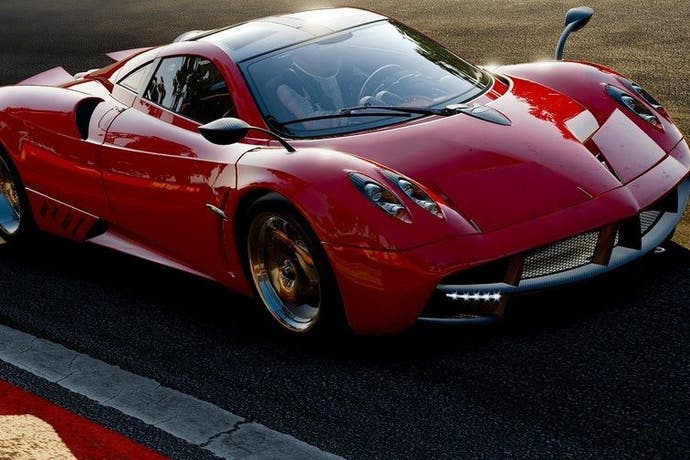 A month on from Project Cars' original release, update 1.04 brings a number of enhancements to both PlayStation 4 and Xbox One that may surprise. Weighing in at 500mb, the update addresses a few of the qualms we had on PS4 specifically - such as the temporal anti-aliasing technique that caused ghosting behind moving objects that wasn't present on Xbox One. But above and beyond that, it's a solid, all-round performance boost for both consoles too, introducing new visual features previously only seen on PC.
To rein in our expectations, races involving rain and 20 cars or more still gives us a sub-60fps experience with tearing - but it is improved. Based on Slightly Mad Studios' patch notes, patch 1.04 sets out to optimise for each console's CPU, and comes equipped with a broadly reworked shader compiler. In effect, this claws back a maximum of 5fps during our Imola and Azure Coast stress-tests on both PS4 and Xbox One. That said it's not consistently that high in some areas, and it can dip below the earlier results, but it's a definite improvement on aggregate.
Comparing PS4 and Xbox One still puts Sony's platform ahead though. Even with upgrades to both platforms, the margin is still as wide as 12fps in favour of PS4 at points, and rarely does the twain meet in terms of the frame-rate read-outs between the two. If the PC version isn't an option for those eager to try Project Cars ambitious racing sim, PS4 remains the best performer in the console space.
In terms of visual accomplishment, Slightly Mad has worked hard to improve a key issue we had with the PS4 version of the game. The launch code used a temporal anti-aliasing filter, that set out to reduce pixel crawl when the game was in motion. The idea here was to blend the current frame with the previous one to clean up jagged edges, but it's fair to say the implementation in Project Cars was too heavy and often produced a noticeable double image. In play, it meant the game had ghosting artifacts not seen on the Xbox One release.
Alternative analysis:
With patch 1.04 in place, the issue is basically solved. We now get a temporal level slider in the Visual FX menu to adjust the effect's intensity for ourselves, or turn it off outright. The range goes from 0 to 100, but as a default Slightly Mad Studios has set this to 20. If you keep it at this number, the results are far less intense than before the patch - and on hindsight it's apparent the game used this effect at the maximum 100, which may explain why it was so overbearing to start with.
So what's the difference? As you can see in the PS4 comparison video above, the lower the number on the temporal slider, the less of a double image you get. We've slowed the footage down so you can get a good idea of how this changes the image overall, comparing the effect when it's switched off, set to 20, and also set to 100. It must be said it's a big improvement at 20, and in motion you'll barely notice any trails behind objects at normal speed on this setting.
Lowering this setting to zero has an interesting side-effect though. The lower you go on the temporal AA slider, the higher the intensity of the velocity-based motion blur on the camera. Essentially, the slider affects two settings at once: temporal AA and motion blur. If you turn temporal AA off entirely you remove the double-image, but the motion blur effect increases to maximum behind the scenes. This brings results closer to Xbox One, which never had the temporal AA filter but used the full extent of the motion blur effect. At an in-between number like 20, you get a mixture of the two.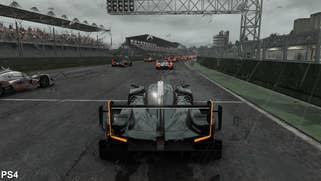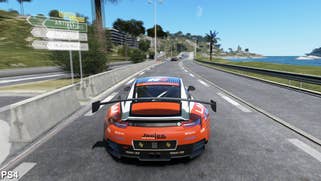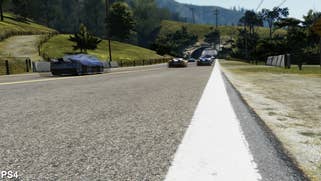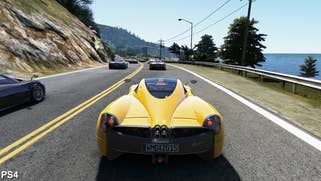 However, you may want to avoid dropping it all the way to zero: doing so causes the PS4 to take a frame-rate hit. Based on our analysis, you get better a frame-rate so long as the temporal filter is enabled at any value - whether that's one, 20 or 100. In one test on the Azure Coast track with 20 cars and clear weather, keeping the temporal filter at 20 gives us a clear frame-rate advantage of 3-4fps across the race when compared to a race with the effect switched off. Overall, the takeaway here is you're better off with this effect enabled, even if it is just set one notch above zero. It's not clear exactly why the frame-rate is impacted, but on a low setting you get slightly superior performance, and avoid the double image you see at the temporal AA slider's highest point.
As a bonus we also see graphical effects added, such as brake-light reflections on the floor during rainy conditions. On PC this setting is called 'stretched headlight reflections' - an effect that comes at a small performance penalty, even on budget GPUs, and we're pleased to see it added to both PS4 and Xbox One. Sadly, texture filtering on PS4 remains largely unimproved on in the conditions we've tested, and in fact, floor texture filtering sees a downgrade in clarity when in chase cam mode at the starting grid. Once a race is in full flow, it's not noticeable enough to impact the visual experience, but it's a surprising result given the improvements elsewhere.
Needless to say we're still impressed by the progress this game has made since launch. As with its day one state, it's not a locked 60fps experience on either PS4 or Xbox One when really pushing the engine, but it is a step forward for the optimisation effort on console and there's a sense of genuine progression on what was already an impressive title.