DICE leaves Star Wars Battlefront behind for multi-era Battlefront 2
"No future Skirmish content is planned," sadly.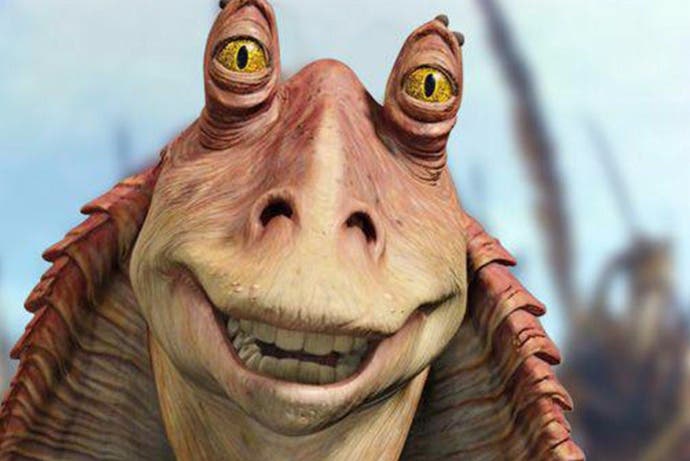 That's it for ongoing Star Wars Battlefront 1 development, it sounds like. "The team has shifted its focus to creating the next great Star Wars game," EA DICE said.
It means, as the EA DICE post pointed out, "no future Skirmish content is planned", which is a shame.
Skirmish makes the game's big multiplayer maps available offline, to play alone or in split-screen, and fills the remaining 20-person teams with bots. All guns are available and the bots are wimps, which means massive killstreaks for you. My son and I love it.
But Skirmish, introduced last July, only offers Walker Assault and Fighter Squadron modes and associated maps. I'd love to play the DLC modes Battle Station (on the Death Star), Extraction, Infiltration and Sabotage in Skirmish. Heck I'd love the other eight modes - Blast, Cargo, Drop Zone, Droid Run, Heroes vs Villains, Hero Hunt, Supremacy, Turning Point - as well.
But as EA DICE appears to be excusing itself from significant future Star Wars Battlefront support, it seems unlikely Skirmish will ever offer anything more.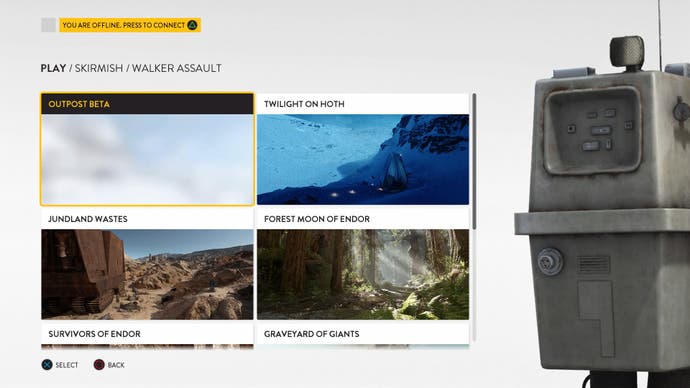 The "next great Star Wars game" referred to is of course Star Wars Battlefront 2, due this autumn, which will feature a single-player campaign from the off. It will also draw from multiple Star Wars eras, meaning dreams of prequel content may come true. Oh come on, you know you want it.
"Our next Star Wars Battlefront will be even bigger, taking players into more locations and allowing them to play with more heroes and characters across multiple Star Wars eras," said EA boss Andrew Wilson in a financial call last night. "There will be new ways to play, including an all new single-player campaign and much, much more that we are excited to share with our players in the months ahead."
Later in the call, Wilson repeated: "This is going to be a big game. The first game was very well received. It was widely regarded as a game that fulfilled people's Star Wars fantasies in ways they could never imagine. But it was also a game where people asked for a lot more, and a lot more depth and a lot more of the greatness of the game kind of embodied.
"This game, again, is going to be in more locations, more game modes, more eras, including a full single-player campaign which is very, very exciting. So, we have every reason to believe we're delivering fans exactly what they're asking for with respect to a Star Wars game."
In order to achieve all this, Star Wars Battlefront 2 will be the product of three studios: DICE, Motive and Criterion. Should be a big year, what with the release of the eighth Star Wars film, The Last Jedi, in December.