Detroit: Become Human tweet swiftly removed after poking fun at Xbox
Quantic Dream faces dilemmas.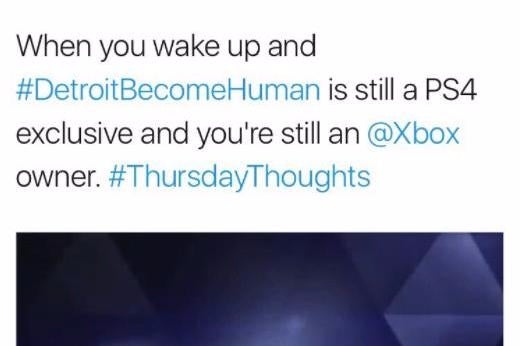 Detroit: Become Human's marketing team has quickly had a change of heart after posting a tweet ribbing Microsoft.
Quickly removed, but screencapped below, the tweet read "When you wake up and #DetroitBecomeHuman is still a PS4 exclusive and you're still an @Xbox owner. #ThursdayThoughts"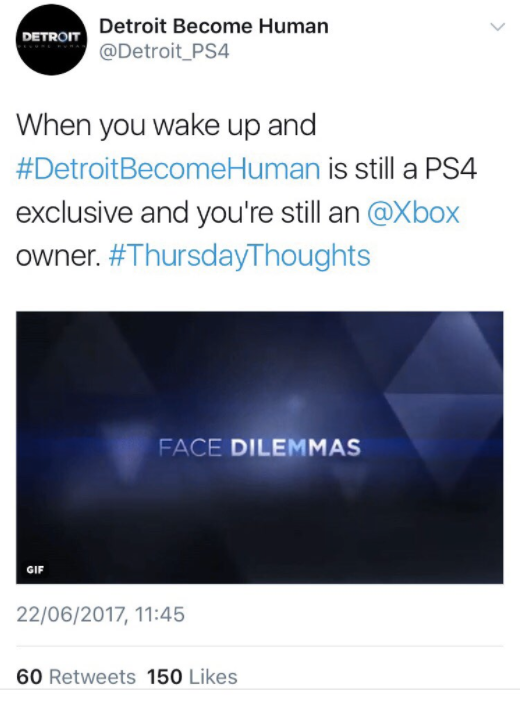 Initially we questioned if this was an official account as it lacked the blue "verified" marker that offers credibility for famous people and projects. However, Detroit developer Quantic Dream's official Twitter account plainly stated "Make sure you follow @Detroit_PS4 for the latest news on #DetroitBecomeHuman!"
Reaction to the Detroit promo was not kind, with replies tending to follow along these lines:
The questionable tweet was only available for less than three hours before being removed. We've asked Sony for comment on it and will update should we hear back.
For more on Detroit: Become Human, we recently saw David Cage's upcoming android opus at E3, but came away with concerns that its messaging seemed muddled. "What I suspect is Detroit will be an android resistance game with nothing to say," our Wesley Yin-Poole wrote in his Detroit preview.