Destiny 2 teaser suggests new expansion is called Forsaken, returns to The Reef
Fillion in the details tomorrow.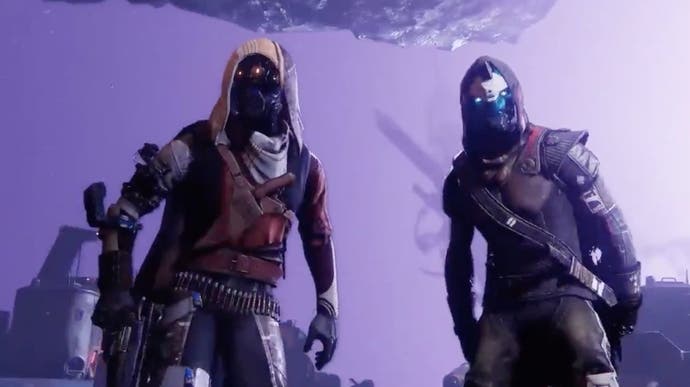 Bungie has unleashed a brisk new Destiny 2 teaser trailer, offering a few clues regarding the game's upcoming Year 2 expansion - ahead of its full reveal tomorrow.
The teaser video weighs in at all of 13 seconds, over half of which consists of the title card at the end - and the end seems as good a place as any to start. Here, we learn, based on the large letters emblazoned across the screen, that Destiny 2's next expansion is almost certainly called Forsaken.
That's not quite all though! Just below is a small yellow symbol, strongly reminiscent of the insignias belonging to the various houses of Destiny's insectoid enemy race, the Fallen. Could, as the game has hinted at previously, a new Fallen house be on the way?
Skip back a little in the video and there are more minuscule hints of import to be found; seconds in, two strapping spacefolk plunge clean out of the sky - one, the player character doing their best nonchalant stride toward the camera, and the other, beloved NPC Cayde-6, played by everybody's favourite Nathan Fillion, Nathan Fillion.
And finally, rewinding all the way back to the start, the teaser's establishing shot of purple space ambience and lumpy asteroids suggests that P. Tagonist and N. Fillion have made their way to The Reef, home of Queen Mara Sov and her brother Prince Uldren. The Reef was briefly visited, if not fully explored, in the original Destiny - so is ripe for a return in Destiny 2.
"The Queen of the Reef and her brother Prince Uldren were seemingly killed off in the opening to Destiny 1 expansion The Taken King, as they protected humanity from Oryx," Eurogamer's news editor and Destiny lore sponge Tom Phillips furiously explained over text chat, "but nerd lore found in Grimoire cards suggests they both somehow survived.
"In fact, you find Uldren's ship in the latest DLC, Warmind. Grimoire lore points to him allowing himself to be captured by the Fallen to further investigate their motives."
If you'd like more than mere teases, Destiny 2's full expansion reveal takes place tomorrow, June 5th, at 9am PDT/5pm in the UK. You can watch it on Twitch and YouTube.