Delayed Crysis Remastered gets revised September release date, tech trailer preview
Coming to Xbox One, PS4, and PC.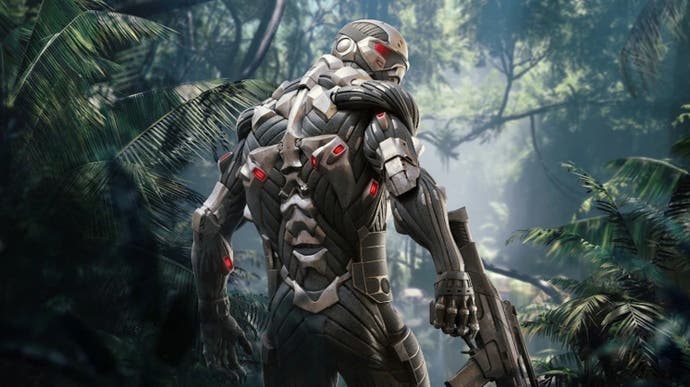 Crysis Remastered will, following its original delay back in June, now come to Xbox One, PS4, and PC on 18th September - and developer Crytek has released a fresh trailer, offering the sneakiest of peeks at the new tech featured in its enhanced first-person shooter.
Cast your mind back a few months and you might remember Crysis Remastered's unofficial debut via a leaked trailer, which, it's fair to say, wasn't particularly well-received by the Crysis community, with many coming away disappointed by the "improvements" they saw.
Crytek quickly sprang into action, telling fans, "We've seen all the reactions - the good and the bad - and we're listening!". It also said it had taken the decision to delay Crysis Remastered "by a few weeks" on all platforms, in order to get the experience "up to the PC and console-breaking standard you've come to expect from PC games."
Switch owners received their version of the game in July - and it was a remarkable bit of work, according to Digital Foundry - but Xbox One, PlayStation 4, and PC players were offered no indication of when Crysis Remastered might finally re-emerge from its cave of correction.
Now, however, that lingering question has now been answered in a new tweet from Crytek, which confirms all remaining platforms will now see the game on 18th September. Additionally, the company has released what it's calling a "tech trailer preview" showcasing some of the enhancements - such as ray tracing on PS4 and Xbox One, plus hardware ray tracing and DLSS on PC - that it's been beavering away on during the delay.
Have a glance and you'll find at least a few glimpses of Crysis Remastered's makeover, which, as detailed in the accompanying press release, includes "high-quality textures up to 8K, HDR support, temporal anti-aliasing, Screen Space Directional Occlusion (SSDO), Global Illumination (SVOGI), state-of-the-art depth fields, new light settings, motion blur, parallax occlusion mapping, Screen Space Reflections and Shadows (SSR & SSS) as well as new and updated particle effects and more." If nothing else, I'm now hankering for sun-kissed climes.
Presumably a full tech trailer will arrive ahead of Crysis Remastered's September release on PS4, Xbox One, and the Epic Games Store, where it'll cost $29.99 USD (around £22).