Crysis Remastered trailer and release date leaked
UPDATE: Crytek delays game after fan feedback to leaks.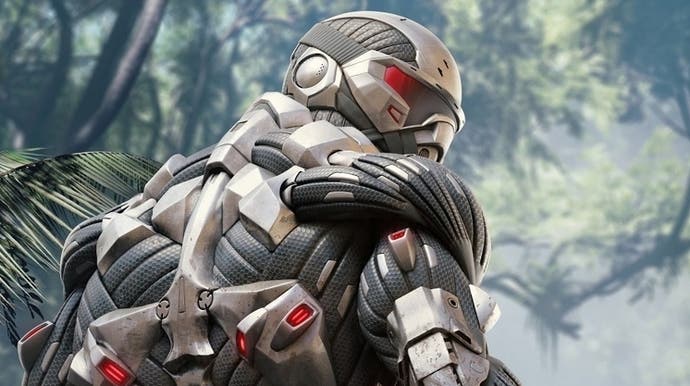 UPDATE 1/7/20 4.05pm UK: Crytek has delayed the gameplay reveal and release date of Crysis Remastered following feedback to yesterday's leaks.
The game's launch (leaked yesterday as 23rd July) will be pushed back several weeks as Crytek polish the game further.
"Your passion for the Crysis franchise deserves an undeniably high-quality game, and we are committed to delivering just that," Crytek wrote in a statement posted to Twitter this afternoon. "To ensure we meet that commitment, we will need to delay the launch date (all platforms) and trailer premiere by a few weeks.
"You might be aware of the leak yesterday, and we want you to know: we've seen all the reactions - the good and the bad - and we're listening! We're still working on a number of things in game as well as the storefront. Please keep the love coming, and rest assure, you'll have the game you love shortly!
"This extra time until release will allow us to get Crysis Remastered up to the PC and console-breaking standard you've come to expect from PC games. We hope you understand what we're up to - and that you stay with us while we take the time to make a few more improvements."
The full statement lies below:
---
UPDATE 1/7/20 3.45pm UK: Today's official Crysis Remastered gameplay reveal video has been set to private on YouTube.
The trailer had been due to go live within the next hour or so this afternoon, and had been counting down until then.
A leaked version of the trailer and various screenshots received a mixed reaction from fans after popping up online yesterday.
Eurogamer has contacted Crytek for comment. ---
ORIGINAL STORY 30/6/20: There's still 26 hours to go until Crysis Remastered is officially revealed to the world via a YouTube gameplay premiere, but you can see how the game looks right now - and find out its release date - via the Microsoft Store.
Crysis Remastered will launch on 23rd July and weigh in at 7.01GB on Xbox One, according to its Microsoft Store listing. HDR and 4K visuals will be supported.
As previously announced, the game's multiplayer portion does not appear to be making a return.
Here's tomorrow's trailer:
"The classic first person shooter from Crytek is back with the action-packed gameplay, sandbox world, and thrilling epic battles you loved the first time around - now with remastered graphics optimized for a new generation of hardware," its description reads.
This is the third time in six weeks the Microsoft Store has leaked details on an upcoming unannounced game - following the early release of info on Star Wars Squadrons and Mafia Trilogy.
Crysis Remastered is coming to PC, PlayStation 4, Switch and Xbox One. Expect a shinier version of the above trailer in around 26 hours.