Dead or Alive 5 Last Round launches with plenty of issues
UPDATE: PS4 edition out tomorrow, but PS3 version delayed.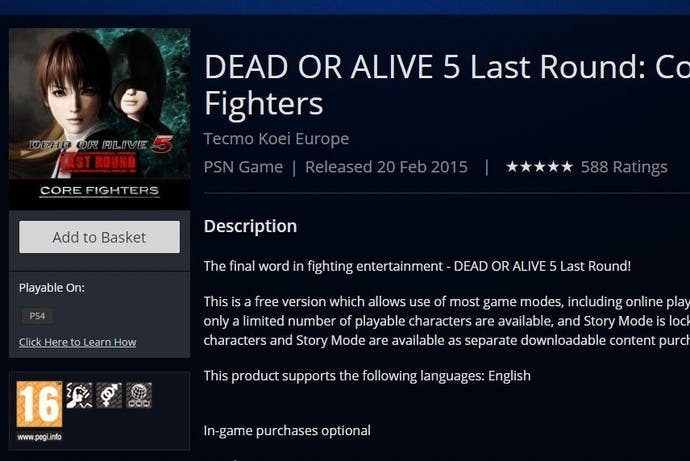 UPDATE 24/02/15 11.05am: Sony has explained that the PlayStation 3 version of Dead or Alive 5 Last Round will take a little while longer to appear on the PlayStation Store.
The game's PS4 edition will arrive tomorrow as previously promised, however:
"We are pleased to confirm that Dead or Alive Last Round for PlayStation 4 will be available on PlayStation Store from Wednesday," a Sony UK spokesperson told Eurogamer. "We will provide an update for the PlayStation 3 version shortly. We apologise for any inconvenience caused."
UPDATE 23/02/15 2.30pm: Publisher Koei Tecmo has told Eurogamer that the full version of Dead or Alive 5 Last Round will be available to buy from the PlayStation Store this Wednesday, 25th February. So, probably best to hold off on buying all the characters individually if you're going digital only.
UPDATE 20/02/14 6.49pm: Mad Catz has confirmed that its Xbox One Tournament Edition 2 Arcade FightStick doesn't work with Dead or Alive 5 Last Round, but that it's working on a fix. Unfortunately, it says the onus lies primarily with the developer on this one, though it's happy to work with Team Ninja on a solution.
Here's the Mad Catz statement in full:
"Mad Catz have been made aware that our Xbox One Tournament Edition 2 Arcade FightStick is not currently compatible with the Xbox One version of Dead or Alive 5: Last Round. Mad Catz would like to assure the fighting game community that we have contacted Koei Tecmo and Team Ninja, and we are all working to find a solution. It should be noted that controller compatibility is something that is largely out of our hands and needs to be implemented on the developer side. Now that this issue has been brought to all our collective attention, we will do everything we can on our side to ensure that our FightStick will offer full compatibility with the game. It is our understanding that at this time NO specialty controllers / arcade FightSticks from other manufacturers will work on the Xbox One version of DOA5: Last Round. Please continue to check Mad Catz social media for further updates."
ORIGINAL STORY 20/02/2014 3.01pm: Team Ninja's fighting game Dead or Alive 5 Last Round launched in the UK today, and it's off to a pretty poor start.
A number of readers got in touch to let us know the digital version of the full PlayStation 4 game failed to pop up on the PlayStation Store.
The fighter has a free-to-play version, subtitled Core Fighters. This is designed to allow people to buy characters and features piecemeal, rather than the full game. However, given the £31.99 full game isn't on the Store, you have to buy characters individually. Currently, if every piece of content in the full version were to be bought in this way, the total spend would be three times more expensive.
On Xbox One, the Core Fighters version costs £7.99, but it's currently on sale at £3.99. The full version is there, as expected, for £31.99.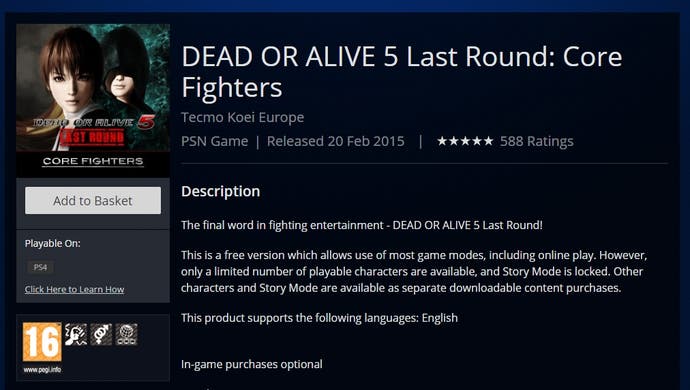 On PlayStation, Core Fighters is free to download and includes most game modes, as well as online play, but only a limited number of playable characters are available, and Story Mode is locked. Story Mode is a separate download, and costs £11.49.
An additional problem is that the Core Fighters version of the game does not let you earn trophies. So, even if you bought all of the add-ons so that you had the content included in the full version, you wouldn't be able to play it as if it were.
It goes on. On the PlayStation Store the "Honoka character plus debut costume set" costs a whopping £36.99. Clearly, this is a mistake (it should cost around £7). Don't download it. Individual character unlocks are £3.29. There are many available, and even more costume packs, each priced £1.69.
According to Dead or Alive fans who got in touch with Eurogamer, the situation with Last Round is yet another in a string of failures for the series on PlayStation.
Players we spoke to said the last two iterations of DOA5 (the original game and the Ultimate upgrade) would repeatedly suffer missing or incorrectly-uploaded DLC on a fortnightly and monthly basis, before being quietly uploaded a month or two later.
"The feeling of injustice is compounded now that users are obliged to pay for a PlayStation Plus subscription in order to play online multiplayer on PS4," Mike Jackson, one customer affected, told Eurogamer.
"Where is all this extra money going? Certainly not to ensure the quality of service of the EU PS Store."
In an email a representative for Dead or Alive publisher Koei Tecmo suggested to Eurogamer that the problem had more to do with Sony's systems than the game itself. We've asked Sony for comment.
Meanwhile, the Xbox One version of Last Round is having problems of its own, with many customers reporting game crashes. Koei Tecmo is working on a patch, it's said.
Even more worrying, it turns out Mad Catz's TE2 fightstick does not work with Dead or Alive 5 Last Round for Xbox One, irritating many who had bought one of the company's costly peripherals to play the game. Koei Tecmo said it was checking with Mad Catz on this now.
Mad Catz TE2 fightstick is not workable with DOA5 Last Round Xbox One. We are checking with Mad Catz at this moment. #DOA5LR

— Team NINJA (@TeamNINJAStudio) February 17, 2015
Not a great start for Dead or Alive 5 on PS4 and Xbox One, then.