Deactivated Ubisoft game keys were bought from EA's Origin using stolen credit cards
UPDATE: Kinguin refunding £110K, claims a Russian bought the keys.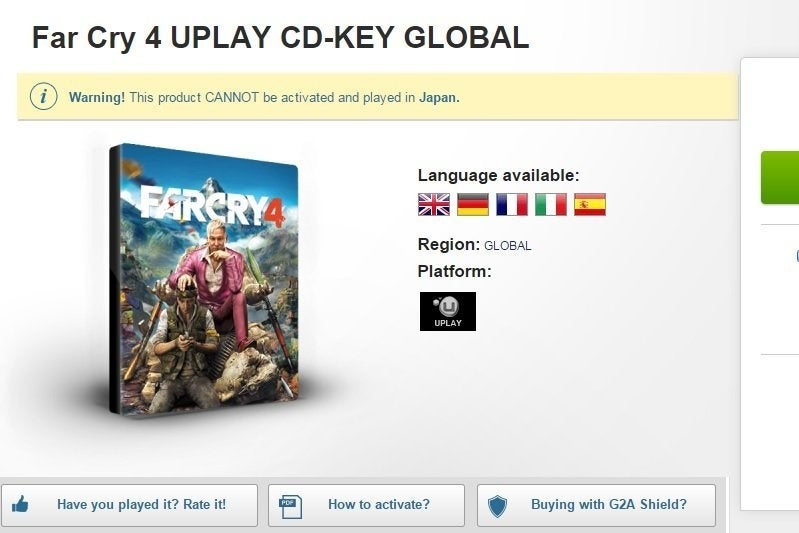 UPDATE 16.17 28/01/2015: There's been a new development in the ongoing Ubisoft key deactivation saga, with third-party key seller Kinguin claiming an unidentified Russian is to blame.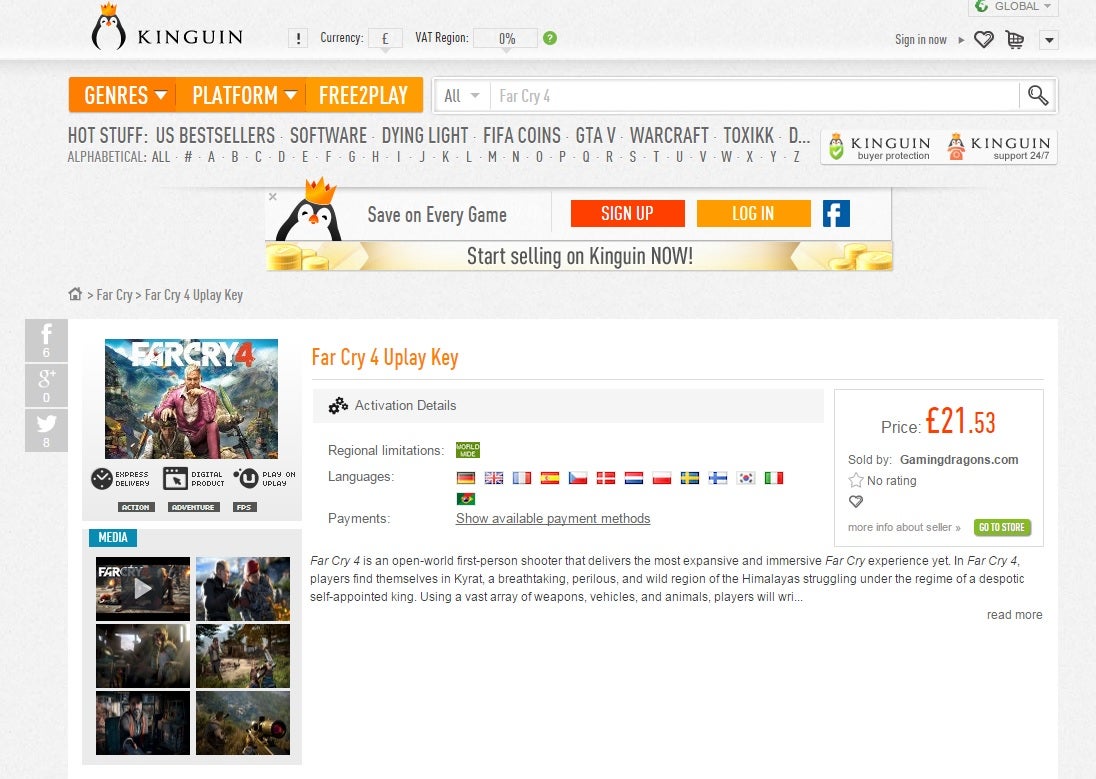 This afternoon, Kinguin said it had received over 4600 customer tickets during the last 72 hours as those who found their games had disappeared from Uplay demanded refunds.
The games affected are Far Cry 4, Assassin's Creed: Unity, Watch Dogs and The Crew.
Kinguin, which acts as an eBay for game keys, reckons 148,377 euros, or £110,720, will end up being refunded as a result of the requests. 35 out of 3400 Kinguin merchants were affected, the company said.
Earlier today we reported that Ubisoft and EA discovered that the keys in question had been bought from Origin using stolen credit cards.
Kinguin claimed an unidentified Russian bought the keys, which were then offered to merchants. "35, mostly minor, merchants from Kinguin accepted the offer," Kinguin marketing chief Bartłomiej Skarbiński wrote in a post on the Kinguin website.
"These merchants now claim that their 'source' disappeared and that they were left hanging. All merchants with no exception declared full will to cooperate and refund all affected customers. We as Kinguin would like to thank them for that."
It's unknown how many gamers have been affected, but Kinguin estimates it could reach tens of thousands across a number of platforms.
Many will wonder how an individual was able to buy so many keys from Origin without flagging some kind of alert. "We at Kinguin do not claim ourselves technologically more advanced than Ubisoft or Origin however we do verify big or unusual purchases," Skarbiński said.
"We believe these platforms must have access to anti-fraud e-commerce tools that should raise alarm flags in such cases."
But Skarbiński added merchants who sell keys on sites like Kinguin should do more, too. "Merchants must pay bigger attention to who their business partners are and avoid risk transactions with new entities," he said.
ORIGINAL STORY: Earlier this week Ubisoft caused a stir when it deactivated a number of keys for its games, such as open-world first-person shooter Far Cry 4, without telling players first.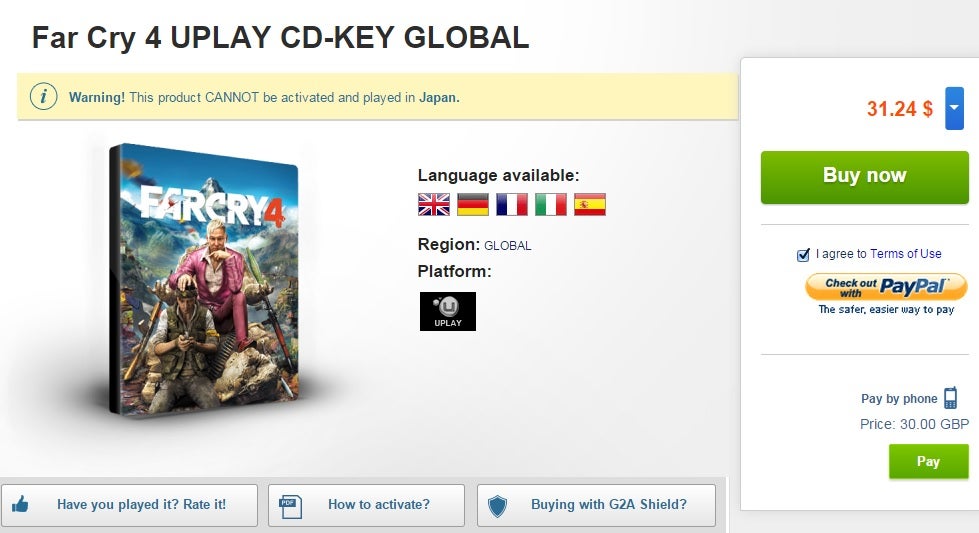 The move meant many found some games had disappeared from their Uplay libraries - and they were quick to express their anger on the Ubisoft forum.
At the time Ubisoft said it had targeted keys fraudulently obtained and resold. Now, it's added to that statement, saying the deactivated keys were bought from EA's Origin platform using stolen credit cards. In fact, it was EA who notified Ubisoft of the situation.
"We strongly recommend that players purchase keys and downloadable games only from the Uplay Store or their trusted retailers," a Ubisoft spokesperson said in a statement issued to Eurogamer.
"We regularly work with our authorised resellers to identify and deactivate fraudulently obtained and resold keys.
"In this case, we confirmed activation keys were recently purchased from EA's Origin store using fraudulent credit card information and then resold online. These keys may have been deactivated. Customers who may have been impacted should contact the vendor where they purchased the key for a refund."
Ubisoft's statement points the finger of blame squarely at third-party key sellers, such as Kinguin and G2A, which is where these deactivated keys were purchased.
In an email exchange with Eurogamer following Ubisoft's initial statement on the matter, Kinguin chief marketing officer Bartłomiej Skarbiński accused Ubisoft of having "no legal basis" for its action.
Skarbiński suggested Ubisoft and other big game publishers were battling against "demands for fair pricing of digital products worldwide", and ignoring "rights for reselling used digital downloaded games".
"The current case raised by Ubisoft is surely unfair towards the players," Skarbiński said.
"The banned game copies in question were acquired through licensed wholesale distributors and as such the origin of the keys is the publisher himself.
"From the gamer point of view its like going out to the store, purchasing a copy of the game, taking it home and suddenly a knock-knock on the door with Ubisoft representative taking the copy away - not even asking you as a paying customer to return it.
"We believe Ubisoft had no legal basis for its action. They did it just because they simply can. Kinguin of course is not going to challenge Ubisoft in court as we are not match up for these giants. We will continue to focus on customer's satisfaction and our customers know we have never let them down."
Of course, the revelation that the deactivated keys were bought from Origin using stolen credit cards and resold on third-party sites casts doubt on Kinguin's statement. And in an updated note sent to Eurogamer this morning, Skarbiński said those affected by deactivated keys should contact Kinguin customer support for help. He vowed to "help everyone affected by this unpleasant situation".
Kinguin isn't the only third-party website affected by recent developments. G2A, which works like an eBay for video game keys, has also been implicated as part of Ubisoft's game key cull.
Eurogamer had contacted G2A for comment, but failed to receive a response. Then, yesterday, the company issued a statement on Facebook, promising to compensate customers who've had their keys deactivated.
"G2A.COM will make every possible exertion to prevent this kind of procedures in the future and exclude merchants responsible for such incidents from the marketplace," the company said.
Sites such as Kinguin and G2A remain popular because they offer game keys much cheaper than official platforms, such as Steam, Uplay and Origin. You can pick up a Far Cry 4 Uplay key from G2A for just £25.12. The game costs £44.99 from Uplay.
Meanwhile, Ubisoft games Far Cry 4 and Assassin's Creed: Unity have been removed from Origin. An EA spokesperson issued Eurogamer the following statement:
"A number of activation keys for Ubisoft products were purchased from Origin using fraudulent credit cards, and then resold online. We identified the unauthorised keys and notified Ubisoft.
"If you are having trouble with an activation key, we recommend you contact the vendor who sold it to you for a refund. We strongly advise players only purchase keys from Origin or trusted resellers. More information on our policy is available here: http://help.ea.com/en/article/should-i-purchase-my-ea-downloadable-games-from-cd-key-sellers/
Will you support Eurogamer?
We want to make Eurogamer better, and that means better for our readers - not for algorithms. You can help! Become a supporter of Eurogamer and you can view the site completely ad-free, as well as gaining exclusive access to articles, podcasts and conversations that will bring you closer to the team, the stories, and the games we all love. Subscriptions start at £3.99 / $4.99 per month.