Days after Amazon promised to "put it right" for PS5 customers left with pet food, here's where we are now
"We have applied a £10 promotional credit to your account..."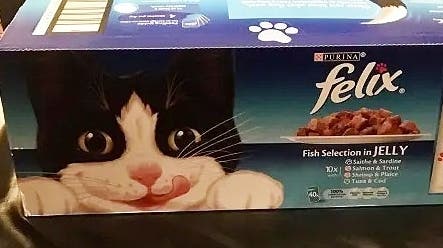 Last week, Amazon promised to "put it right" for every PlayStation 5 customer who did not receive the console they'd paid for, after many received alternative items or simply nothing at all.
Now, mid-week, we've checked in with some of those affected to see how things are going, and if Amazon has kept its word.
In short, no one I spoke to had seen their fortunes dramatically reversed. None of the consoles which customers believe were stolen have suddenly materialised, and there's no new PS5 stock on Amazon to try and order a replacement.
Everyone I spoke to has now been given a refund, though some are still waiting for the money to actually appear. Most have also been offered a small amount in the form of Amazon gift vouchers - generally around £10, though up to £50 in some cases, and £150 in a couple of examples.
A number of people told me they had declined their compensation, as Amazon still had £450 of their money and had not delivered the console they had paid for. Others said they had cancelled future Amazon pre-orders, and binned off Amazon Prime subscriptions.
At no point has Amazon ever accepted any of its PS5 pre-orders were stolen, or admitted to any wrongdoing on behalf of its warehouse staff or those driving its own Amazon-branded delivery vehicles.
While many have been given a small amount of compensation, it was initially granted only to those who had taken time to contact Amazon's customer support team. One affected customer, Eurogamer reader Dan Smith, told me that navigating Amazon's layers of customer service had been "like a video game in itself".
"First level of customer service - £5 promotional credit. Second level - £10," Smith said. "Honestly it costs more in time than the voucher is worth going that route. I did see a few people had been given £150 (one shared his email with me but asked I didn't share it publicly). I was specifically told by executive customer services twice they didn't offer compensation despite knowing others were being offered. All in all, seems like hush money depending on how persistent you were willing to be..."
Another affected customer, Lauren Barrett, told me that across four calls to Amazon through the weekend, the retailer gave multiple possible explanations for what had happened to their delivery - that a neighbour had taken it, that the driver had returned it to the depot, and that Amazon actually had experienced a "widespread problem" internally and would attempt to prioritise customers with new PS5 orders when possible.
"We're not sure we'd ever trust them with something like this again!" Barrett said. "There's been no cohesive response/resolution plan whatsoever. The lack of ownership that they've had any part to play in it just makes it more frustrating. Yet they let scalpers and bots buy 20 of them just to sell them on at three times the price. Hopefully this will signal a change in how people shop - I'm not holding my breath that it'll change the way Amazon do business!"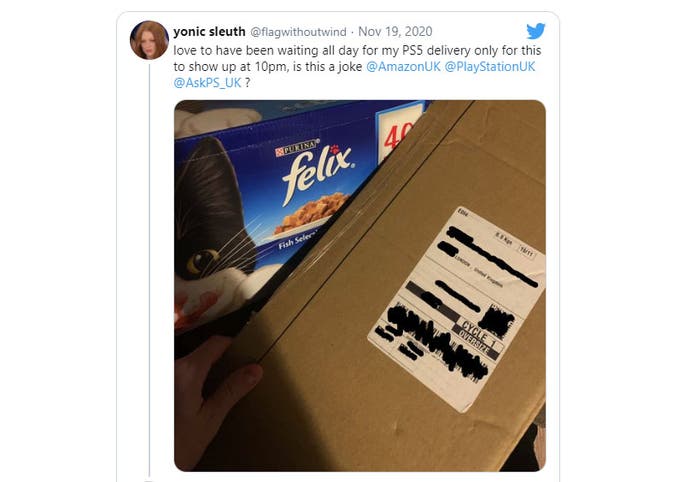 Jamie Al-Kadhimi, who last week told Eurogamer he had watched a courier drive off with his PS5, took the step of contacting the police.
Over the weekend, Al-Kadhimi was told by Amazon that his order had been found - returned to the depot - and that it would be with him within 48 hours. However, this soon transpired to be a further mistake, and was told to wait 48 hours again while Amazon investigated.
In the meantime, he handed cops CCTV footage of his driveway obtained from his neighbour's security camera to prove the delivery van holding his PS5 had visited his address, but that his console was never handed over. He then used his credit card company's own fraud facilities to force Amazon into returning his money.
Another affected customer also told me they'd been initially informed by Amazon their parcel had been found, only for this to turn out to be an "error". They wondered whether this was empty boxes being scanned back into a warehouse in an attempt to delay Amazon's own investigations.
Last night, Amazon sent out a blanket email to all of the affected customers I'd been speaking to with a fresh statement on what had happened, and perhaps - just perhaps - the suggestion they might be prioritised for future PS5 stock. For some, this was the first contact they had had with Amazon through the entire process. For others, it came after they'd already given up.
The email explains all affected PS5 orders would now be refunded (even if people declined a refund previously) and that there was a new £10 credit (which, again, seemingly there's no way to refuse). The promotional credit will be automatically deducted from the next eligible order placed.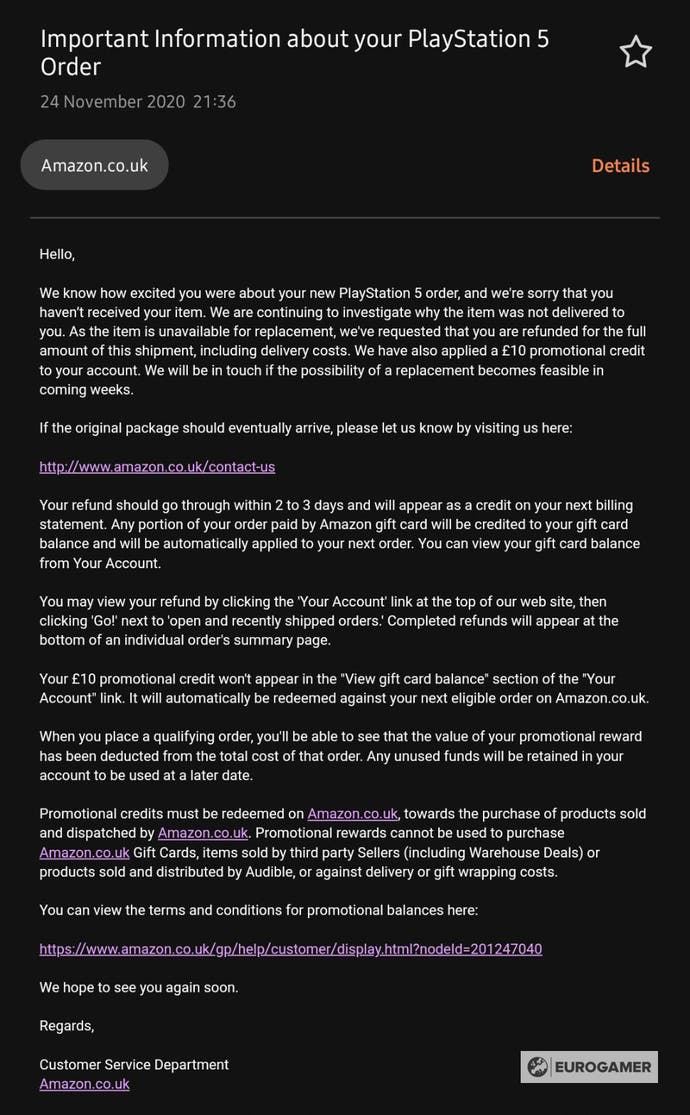 "We know how excited you were about your new PS5 order, and we're sorry that you haven't received your item," Amazon wrote in the email, as seen by Eurogamer. "We are continuing to investigate why the item was not delivered to you. As the item is unavailable for replacement, we've requested that you are refunded for the full amount of this shipment, including delivery costs. We have also applied a £10 promotional credit to your account. We will be in touch if the possibility of a replacement becomes feasible in the coming weeks."
That last line there seems to suggest Amazon may yet try to offer something for those hit by last week's issues - though it will also likely depend on how much stock Sony makes available to Amazon, and when this actually occurs.
This afternoon, Sony issued a statement via Twitter to say the PS5 was its "biggest console launch ever", and that demand was "unprecedented". It sounds like stock will continue to be hard to find for the foreseeable future, with no guarantee of more before Christmas. "We wanted to confirm that more PS5 inventory will be coming to retailers before the end of the year - please stay in touch with your local retailers," Sony said.
Nearly a week on, people affected by Amazon's issues remain without the console, and with only a glimmer of hope the retailer may step in to help them further down the line.
They have no answers as to how so many of their orders went missing, or who was responsible, or how much Amazon really knows.
Everyone seems to have given up hope of ever seeing the PS5 they paid for, which once sat in an Amazon box with their name on it. But they do have a £10 promotional credit.