Amazon PlayStation 5 customers report receiving toys, cat food, or simply nothing at all
UPDATE: Amazon acknowledges issue and pledges to "put it right".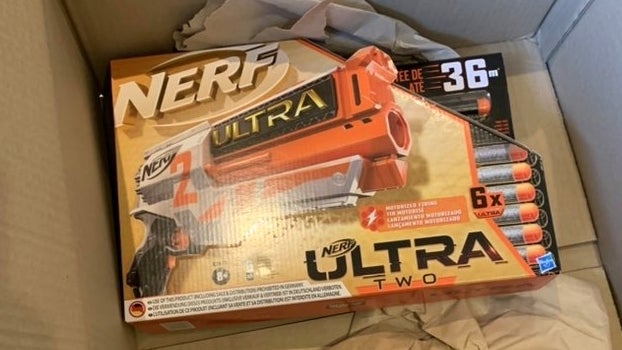 UPDATE 4.30pm: In a statement to Eurogamer, Amazon has acknowledged the widespread issues with its PlayStation 5 deliveries, and pledged it will "put it right" for every customer who gets in contact.
"We're all about making our customers happy, and that hasn't happened for a small proportion of these orders," an Amazon spokesperson told us. "We're really sorry about that and are investigating exactly what's happened. We're reaching out to every customer who's had a problem and made us aware so we can put it right. Anyone who has had an issue with any order can contact our customer services team for help."
Some customers we've spoken to have been asked to wait 48 hours to ensure their deliveries don't still turn up out of the blue, while others have been offered a £5 gift voucher.
---
ORIGINAL STORY 2.30pm: Imagine securing a PlayStation 5 for launch day, anxiously waiting for your console to arrive, then opening its box to find... a kitchen appliance instead. Or cat food. Or nothing ever being delivered at all, despite your order being marked as completed.
That's what has happened to a number of Amazon UK customers over the past 24 hours, in a situation which has left people trying to get a refund, and with PS5 stock severely limited, the task of finding a console all over again.
The first sporadic reports of the wrong items being delivered initially seemed too unlikely to be true - but they kept on appearing, late into last night, before the issue started to blow up more widely today. Additionally, within Eurogamer, we've now heard from friends and colleagues personally affected.
The wrong items included in each box are different, but the accounts are similar: a delayed delivery, then an Amazon box with clear tape rather than the company's usual branded seal.
Push Square managing director Anthony Dickens was one of those affected, alongside MTV journalist and presenter Bex April May.
Several people reported a courier van pulling up outside - as if to record delivery at a specific location - then zooming off. Here's an example of a complaint about this from someone who then still got their console - though only after reportedly confronting the delivery driver further down the road:
This morning I spoke to Amazon customer Jamie Al-Kadhimi, who told me how he and his brother had both bought PS5 consoles and organised them both to be sent to his house. As it wasn't his brother's usual delivery location, Amazon provided a unique code to ensure the delivery address could be only verified by his brother in-person. Jamie's order, as it was to his own home, did not qualify for this.
Jamie told me they tracked the courier carrying both consoles, though when the van arrived, only his brother's console was handed over. (For deliveries with a unique code, this must be entered for the courier to record the item as delivered.) The courier even attempted to take his brother's console back to the warehouse - saying the box was slightly damaged, and he could get him another one. Jamie's brother refused.
As for Jamie, who assumed the driver would pop back with his own console from his van... he's still waiting. The courier drove away and never came back.
Digital Foundry senior staff writer Will Judd had a similar issue - his order from GAME was recorded as delivered to a neighbour, though he says it was never handed over by the Yodel delivery driver who stopped there and then drove off again.
I spoke with another customer today with an experience similar to Will's, albeit again from Amazon. Both he and a friend were waiting for PS5 consoles in their local area and tracking their courier van. Both noticed an Amazon van pull up outside, then both saw their consoles marked as delivered, only for no actual delivery to be attempted.
Of course, the vast majority of people will have received their PS5 orders from Amazon yesterday fine - though Sony has yet to say exactly how many consoles it shifted here in the UK on day one. Many retailers have struggled, with GAME delaying sale of its remaining stock yesterday morning, and Currys having to call off its own sale completely after accidentally taking orders too early.
Still, it remains to be seen how Amazon can address the issues which have been reported over the last 24 hours. Eurogamer has contacted the retail giant for comment.