Dark Souls 2 out on March 14, PC version to follow
From Software explains the delay and the likelihood of next-gen versions.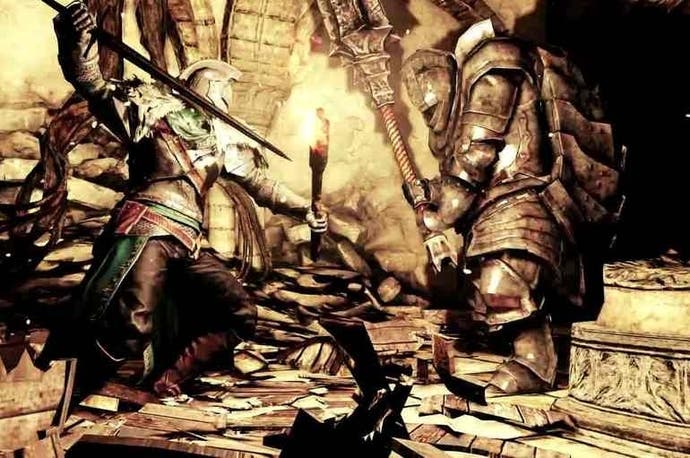 Dark Souls 2 will be released on 14th March in Europe and 11th March 2014 in North America on PlayStation 3 and Xbox 360, From Software announced at the Tokyo Game Show.
The PC version will follow closely afterwards, developer From Software said.
Game director Yui Tanimura explained the reasons for the PC delay to Eurogamer at a pre-Tokyo Game Show event at Namco Bandai's offices. "In terms of the PC version, how we make the PC version optimal in Dark Souls 2 we're still working on what options we allow players to have in order for players to customize the spec of the PC version," he said.
"Our goal is to release the PC version in the same window. For the PC version we're simply saying March - we're trying our best for PC and console. The reason we can't announce the specific date is we're working on more options on how to make the PC version optimal."
The first Dark Souls received a belated release on PC with the Prepare to Die edition, which ran with low resolution textures that were quickly fixed by fans. Tanimura believes that such problems won't recur with Dark Souls 2.
"With the first Dark Souls, the development team started work on the console version before the PC version, and because of that there were less options for the development team to make the PC version more optimal in terms of resolution and so on," Tanimura said. "With Dark Souls 2, the team's working on console and PC at the same time, so there shouldn't be an issue with how optimal it will be on day one."
Tanimura didn't rule out the possibility of PS4 and Xbox One versions of Dark Souls 2 appearing further down the line, and stated his desire to work with the next generation consoles. "Only existing consoles and PC are confirmed," he said. "I think it has to be decided for next generation consoles like Xbox One and PS4. My personal opinion as creator is that I'm really interested in next generation and I'm willing to make games for PS4 and Xbox One."