Cyberpunk 2077 enlists help of studio which built Dying Light PvP
It's to be a "long-term partnership".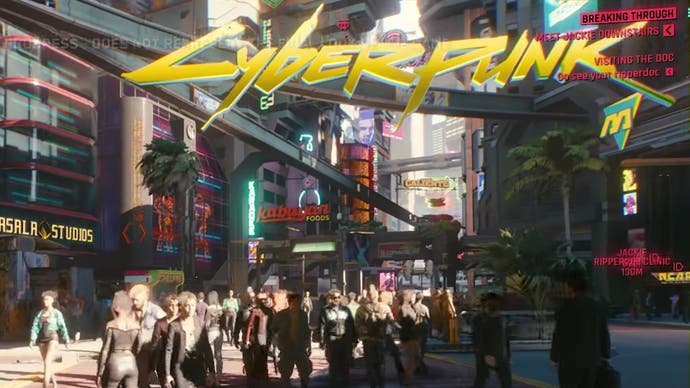 CD Projekt Red has announced a "long-term partnership" with a new Canadian studio called Digital Scapes, which I'd never heard of before now. But it's made up of developers from well-known studios: BioWare, Relic and Radical.
The long-term partnership begins with Cyberpunk 2077. "The Canadian partner studio will closely cooperate with CD Projekt Red on creating and optimising technological solutions for use in the development of Cyberpunk 2077," the press release said.
Exactly what those technical solutions are, we don't know, but Digital Scapes' previous work may provide a clue. The studio built the PvP invasion mode for Techland's Dying Light, Digital Scapes' LinkedIn blurb says, as well as "Dying Light's cloud-based online service which allows developers to collect telemetry data and tune the game in real-time".
Is this an inkling of some kind of Cyberpunk 2077 multiplayer, then? It wouldn't be the first time. CD Projekt Red hinted at possible post-release multiplayer for Cyberpunk 2077 when talking to Eurogamer at E3.
"We have multiplayer in R&D, but the game we're shipping to you, the game you're going to buy is the single-player experience," quest designer Patrick Mills told Wesley.
Wes replied: "So maybe multiplayer will come post-launch?"
Mills answered: "Maybe, no promises. Nothing at launch. At launch we're concentrating on the single-player game. That's what we want to give you."
The press release makes no mention of multiplayer, mind you - in relation to Cyberpunk 2077, Digital Scapes' previous work, or otherwise. But I wonder...
Nevertheless, it's notable to see CD Projekt Red looking for outside help. The last time it did that it was a very different company, and The Witcher: White Wolf, the failed console project in development at Widescreen Games, nearly knocked CD Projekt down for good. But today things are quite different.
Heck, even since The Witcher 3: Wild Hunt, things are different. Then, the studio was around 400 people; now it's around 800, and across multiple locations. Then again, Gwent and GOG are both large operations too.
Cyberpunk 2077 still has no release date.