When a Counter-Strike gambling site offers to rig a bet for a YouTube star
"We need the video ASAP. Just name the price."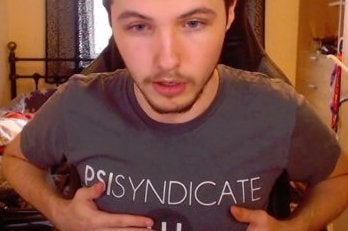 We've heard a lot this week about how Counter-Strike gambling sites can rig their bets for high profile YouTubers.
Well, here's how it looks.
Sites offer to fix results so that high profile YouTubers profit from the process. It makes for a more exciting video, and entices fans to try the sites themselves. Although, of course, for the viewers the odds will be different.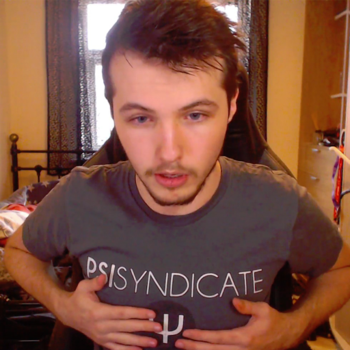 Earlier this week, 22-year-old British YouTuber Lewis "PsiSyndicate" Stewart raised eyebrows when he admitted that two videos he'd published showcasing gambling site SteamLoto.org had been fixed.
At the time, he had disclosed them as having been promoted - but he hadn't said that the results were set up. Still, the payment he recieved was visible on screen in the thousands of pounds worth of items he "won" - all of which had been organised ahead of time.
Stewart has now shared a series of emails between himself and SteamLoto with Eurogamer. In them, the site can be seen approaching Stewart with the idea of making the videos and rigging results.
"[I] had plans to make it legit," Stewart told me, "and again [the site's owner] was against that idea and wanted to rig it. Not that I'm a saint in all of this, but I guess it is just a common practice for website owners to be open and okay with proposing rigging."
In his confessional video, Stewart acknowledged what he had done was wrong - but said he had been approached multiple times with offers of this kind.
"I have TONS more," he said, speaking with Eurogamer.
In the case of SteamLoto, the site ignored Stewart's suggestion that the video could be made legitimately and simply replied asking whether he was in or not for their original plan: which would see the results rigged.
"Well," SteamLoto suggested to Stewart, "how about you make a video where you try to open like two or three restricted [CS:GO cases] and around two covert ones. And on your last attempt you get FT Dragon Lore (you'll keep it as payment)."
Stewart ended up with skins worth a whopping $3200 in exchange for just two videos.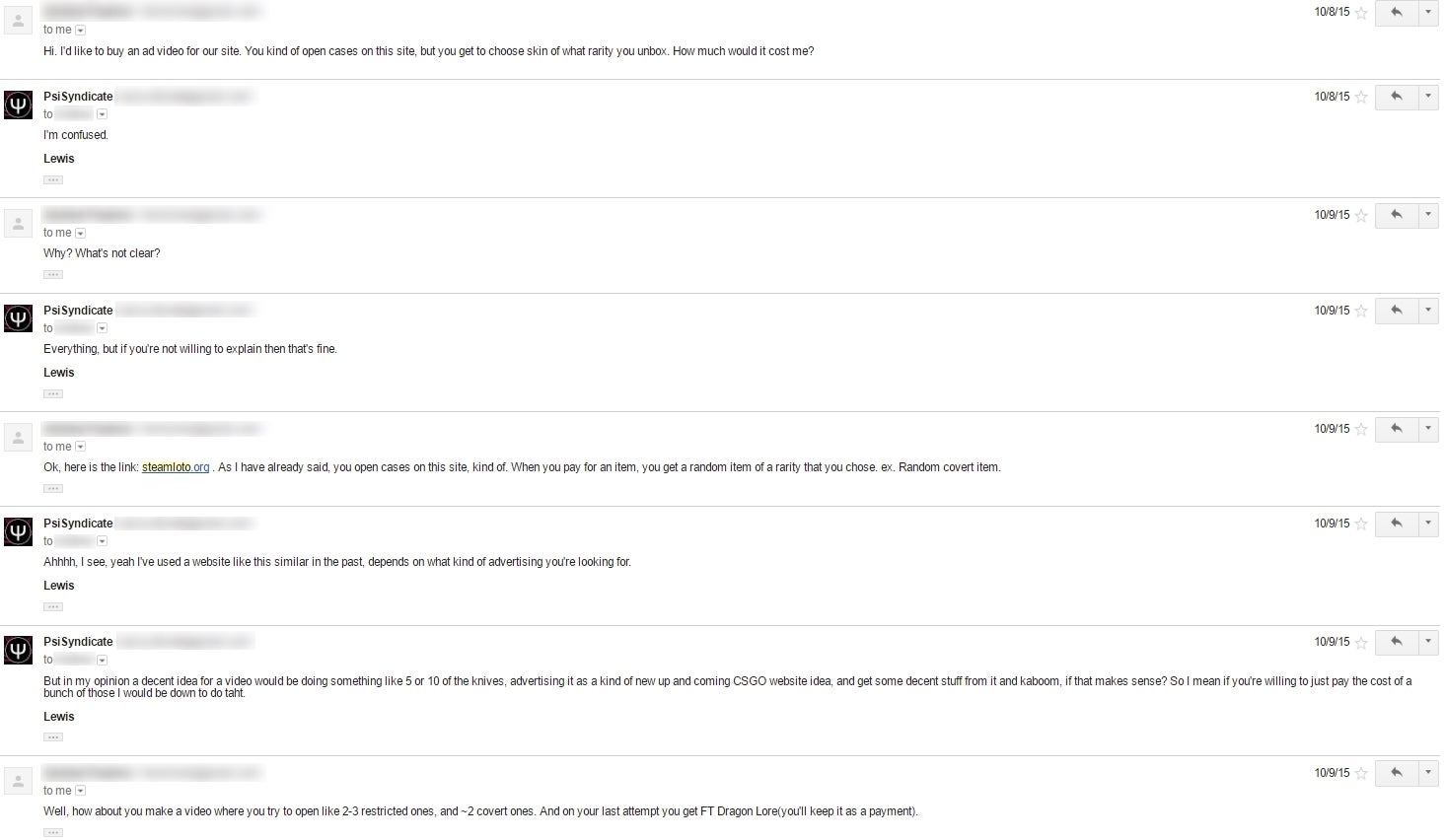 "You can see I offer this idea," Stewart said, "the dude just ignores and replies 17 days later saying LET'S RIG WHAT DO YOU WANT LET'S GO kinda thing."
So Stewart said yes, and the videos were made.
"I just wanted to do what they wanted me to do," he admitted to me.
Eurogamer has contacted SteamLoto for comment but has not received a response.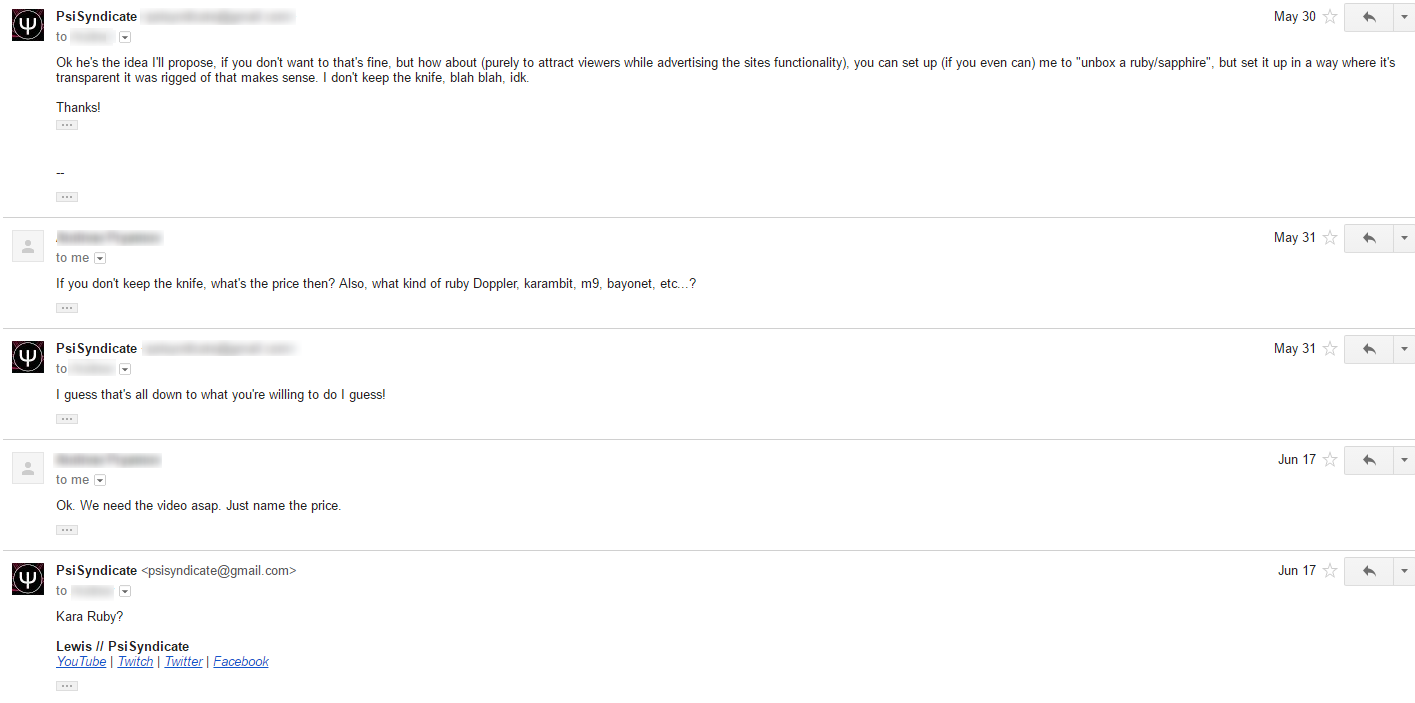 Stewart owned up to what he'd done following earlier revelations surrounding YouTube stars Trevor "TmarTn" Martin and Tom "Syndicate" Cassell.
Both had been discovered as the owners of a similar site, CSGOLotto.com, which operates in the same way was SteamLoto. Both had promoted the gambling enterprise without disclosing their ownership and had posted videos showing them winning lots of money. TmarTn hadn't even stated the videos were promotional at all, and had told his viewers he had simply been told about his own site by a friend.
Numerous questions remain, although the most pressing is whether the pair also rigged results. We have seen how it can be done. The question now is only if it was.
Trevor "TmarTn" Martin currently appears to be on a Twitter hiatus after pulling his own half-hearted apology video yesterday morning. It was only online for around six hours, during which time it was roundly mocked.
Tom "Syndicate" Cassell has said he will address the situation in the near future. We'll update again when he does.
The pair's site has now become embroiled in existing lawsuits seeking to get money out of Steam owner Valve they'd lost on gambling sites. Eurogamer has contacted TmarTn about this, and received the following reply from the star's legal representative:
"Given that there is litigation pending, no further public comments will be given on this matter. My comments will be contained in legal arguments to the court, at the appropriate time."
As for Stewart, he has already given away his winnings and plans on giving away the rest, along with some of his own money, in a stream to charity.
He insisted that, unlike other YouTubers, he presented his wins without promising that his viewers would enjoy the same results.
"I mention multiple times in my videos that there's a good chance YOU WON'T get my 'luck'," he concluded.
And, despite his new stance on avoiding rigged promotional work, the offers continue to roll in.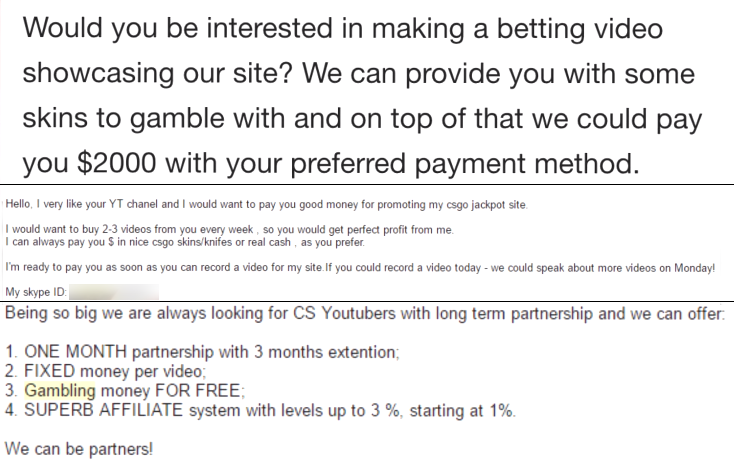 Stewart may be out of that game, but plenty of other YouTubers are still in.