CS:GO gambling sites can be "rigged" for YouTuber promotion, streamer reveals
"I'm not a big YouTuber so no one really f***ing cares."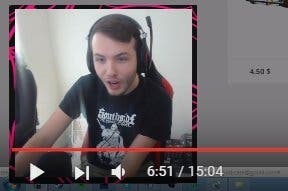 Yesterday, many were shocked to hear how two YouTube stars had promoted an online gambling site without disclosing the fact they were its owners.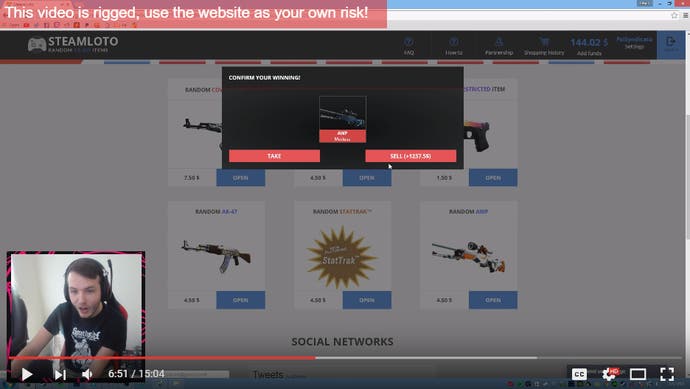 The reaction on YouTube, Reddit and in Eurogamer's own comments was pretty much unanimous. Looking at the evidence, it was hard to avoid the feeling that what Trevor "TmarTn" Martin and Tom "Syndicate" Cassell had done was wrong. Others went further, and pointed to the decidedly grey-area legal status of the situation as evidence of unlawful actions.
But there's the evidence that we know about, such as business records that show TmarTn and Syndicate do indeed own CSGOLotto.com, and then there's the suggestions that the waters are even murkier - and that beyond a simple lack of disclosure, the videos themselves may have been faked to show the pair gambling on their site and winning more often than is usually possible.
Today brings confirmation that gambling sites similar to CS:GO Lotto can be manipulated by their owners to give YouTubers an unfair advantage.
22-year-old British streamer Lewis "PsiSyndicate" Stewart - not to be confused with the main Syndicate - confirmed the fact in a confessional video he uploaded last night, where he revealed how two earlier videos of his had been "rigged".
Simply put, a gambling site named Steam Lotto paid the 22-year-old to make two videos showing him winning. The site also ensured Stewart would unpack two rare CS:GO weapons to make the whole thing look especially rewarding.
Stewart was left with rare items such as the Medusa and Dragon Lore guns worth $3200 - although he has said that he has since given most of it away after feeling guilty for what he'd done.
"This idea was brought to me by Steam Lotto, they proposes [sic] rigging in return for a Dragon Lore, I just fell right into it. The total takings were $3200 in skins," he explained.
"Everything I gained from videos I gave away to prove to people it wasn't rigged... but it was. I'm not saying I'm an angel," he continued, "I'm not. I am only human."
The video was intended to get the two paid-for video's existence off his chest, Stewart said, rather than expose any wrongdoing by other YouTubers. But the reason he was doing it now was because of the revelations around TmarTn and Syndicate's ownership and promotion of CS:GO Lotto.
"This could be the end of my YouTube career, probably not. No one's made one of these videos, but I'm not a big YouTuber so no one really f***ing cares."
Stewart has kept the videos which were rigged online - you can see them below - but has added a caption to them which advises viewers they were rigged.
According to Stewart, YouTubers regularly get offers of this kind. Just today, following the video's posting, he tweeted the following email:
"Trust me, these websites want to throw $1ks of skins at YouTubers," he said.
Eurogamer contacted Stewart this morning for further comment, but has not yet received a response.
"Maybe this is a wake up call for some," Stewart added during his video. "Rigging and non-disclosed sponsorships happen. Do not trust everything you see on YouTube.
"My advice is just avoid gambling/unboxings as a whole. I'd be $6k richer if I had, even if it's a small amount of money, it's a f***ing waste. The evils I talk about in this video are nothing more than lies. Lying isn't cool, but let's be honest, I could be worse, naming no names :)"
When he betted for real, Stewart said, he only got items in the hundred dollar range.
"That website is not an English one, but a Russian one," he concluded. "Not that all Russians are scammers, but everyone's had a bad experience with a Russian [site], right?"
If nothing else, all of the above suggests further investigation is needed into TmarTn and Syndicate's site, and how both men presented it on their respective channels.
One clip which has definitely raised eyebrows is of TmarTn quickly logging himself out of an account labelled CSGOLottoBot5, although it is impossible to draw any further conclusions.
Speaking to Eurogamer today, a representative of the UK's Gambling Commission had this to say:
"We are paying close attention to the growing popularity of virtual or in-game items (skins), which can be traded, sold or used as virtual currencies to gamble.
"If GB-based players are being invited to gamble with money or money's worth then this requires an operating licence.
"We don't talk about individual websites because it might unjustifiably harm the reputation of individuals or prejudice the outcome of any investigation that may, or may not, be taking place."