Classic space adventure Flashback is coming to Switch with a fancy retro Collector's Edition
Looks like a SNES cartridge.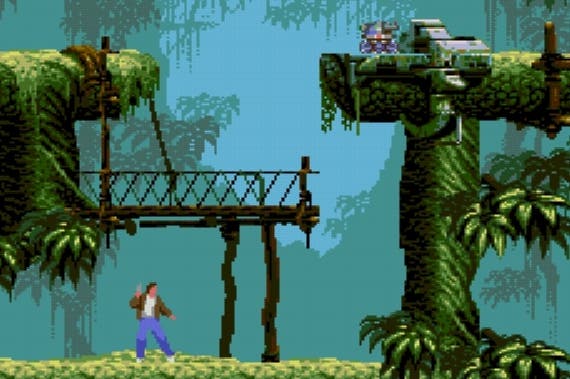 Publisher Microïds has announced that classic space adventure Flashback is heading to Switch on June 7th in celebration of its 25th anniversary.
Flashback, for those of a forgetful nature, or unborn at the time, was designer Paul Cuisset's celebrated cinematic action adventure that released on Amiga in 1992. It charts the space-bound escapades of Conrad B Hart, a young scientist that finds himself on Titan, a colonised moon of Saturn, at the start of the game.
"His enemies and kidnappers are snapping at his heels," says Microïds, "and he has to find a way back to Earth while warding off the dangers that beset him and unravelling a fiendish extra-terrestrial plot that threatens the planet..."
Maths fans might have spotted an oddity already, what with 1992 having happened 26 years ago. The newly announced Switch release is actually based on the Super Nintendo version, which released in 1993. To that end, it can be played it two modes: in its the original SNES guise, or in Modern Mode which contains post-FX graphics filters, remastered sound and music, a "rewind" function, and some handy tutorials.
If you really like Flashback, you can opt for the special physical Collector's Edition, featuring a metal case designed to resemble a Super Nintendo cartridge, albeit an American one. Also included are a copy of the game itself (naturally), a digital version of the remastered soundtrack, a manual inspired by the 1993 original, and a numbered metal card. A card!
For those with simpler tastes, Flashback will also release digitally on eShop come June 7th.