The strange origins of Flashback
It began as a Godfather tie-in, and over 20 years later Cuisset's classic is preparing a comeback.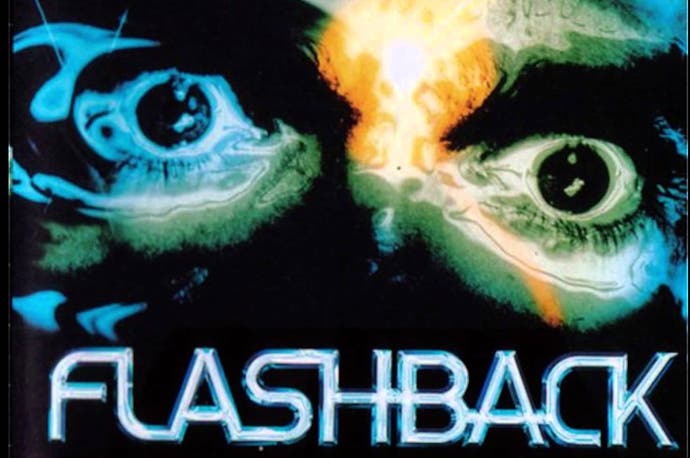 In the 90s, Delphine Studio was a developer defined by two brilliant Frenchmen. On the one side there was Eric Chahi, whose Another World was a game marked by dense, surreal imagery. It was Jodorowsky played as a slick side-scroller, an alien fever dream that retains its ability to stun over 20 years on.
On the other there was Paul Cuisset, a softly spoken veteran who channeled an obsession with cinema into his work. Adventure games such as Future Wars were obvious benefactors of a taste for pulpy film, while Operation Stealth's love of spy cinema was big enough for US Gold to haphazardly slap the James Bond licence on it. For his next game, US Gold would give Cuisset access to one of the most coveted properties in cinema.
"US Gold approached us at that time, and they had The Godfather license," Cuisset explains over a crackly phone line to Paris. "They wanted to make a game with this. So we started thinking about porting the story to the future. But we went quite far into the future - so far that finally they told us that the game was absolutely not The Godfather. But it was a good game, so..."
US Gold rejected the first pass (but Coppola perhaps should have taken note - it may well have been better than The Godfather 3) and Cuisset went about salvaging what was there. The basics, though, remained the same. "We changed a lot of things in the story and character to finally have something else. But at the beginning it was a game about the mafia in the future. The guy had to escape, and so on and so on - and finally it turned out very different."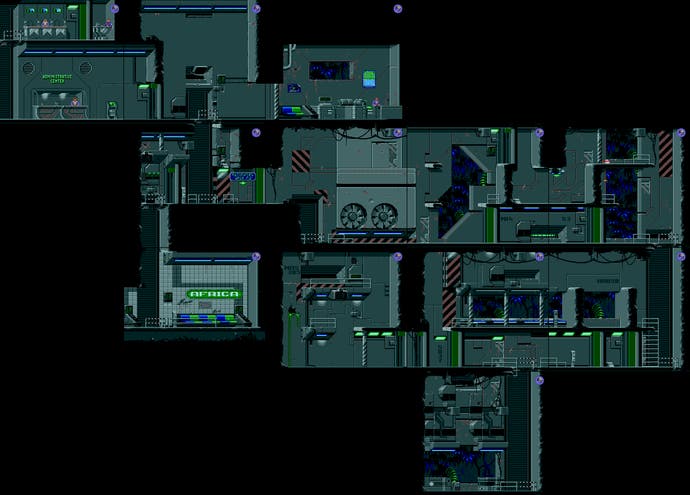 It became something different, but it became something great. With a few tweaks to the story and the design, what was once The Godfather became Flashback, one of the defining titles of the 16-bit era. Like its stablemate Another World it was a side-scrolling adventure that leant heavily on rotoscoped animation. "There were some games like it, like Another World, which was a bit before Flashback," says Cuisset. "We also had inspiration from Prince of Persia, but we wanted to have a different kind of universe with that kind of gameplay, with roll and shoot. That was quite different than what was out at the time."
And while The Godfather link may have been severed, there was still a wealth of cinematic influences in Flashback. "Total Recall of course was an inspiration. There was at that time a lot of films set in the future, like The Terminator, Back to the Future - that kind of realistic futuristic mood. That was all really the inspiration for the first Flashback. We had a lot of mixed inspirations from the movies at that time."
It's a formula that proved phenomenally successful, and Cuisset would go on to spend several years trying to recapture it. A sequel, Fade to Black, brought Flashback's hero Conrad Hart into a 3D world, but the execution wasn't wholly convincing. " I was disappointed at that time," says Cuisset. "We didn't manage to do exactly what I wanted to in the game. We had another project at the same time, and it was quite complicated. It was a time of transition, and having to learn new cameras because the game was 3D. There were so many changes, and we left a bit of the spirit of Flashback in that game, but it's very intense. It's another story, and it's very different."
"People were more interested in exploring a world rather than just entering that world and playing. Now we have so many worlds and so many things, and so many different types of worlds and types of gameplay."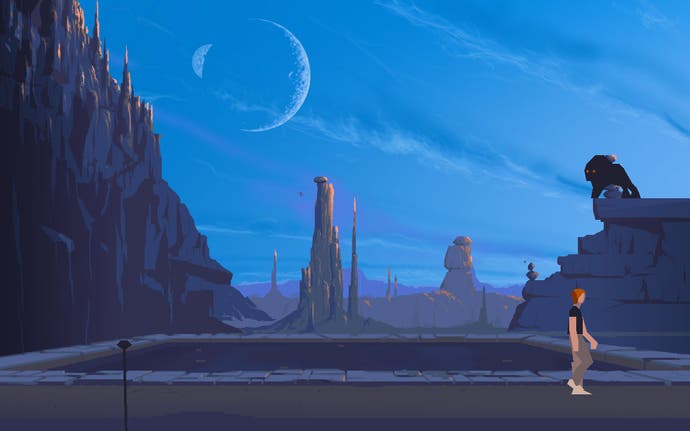 Cuisset's career since Flashback has, likewise, been somewhat lacking in spark. Whereas his former colleague Chahi took an extended sabbatical from the industry, returning in glorious style with 2011's From Dust, Cuisset's toiled away on less spectacular products. The most recent, Amy - the first product of Cuisset's VectorCell studio - was a spectacular flop.
"We learned a lot with that experience," reflects Cuisset. "When you create games there is a vision, and somehow the vision changes and people maybe don't see everything. It's disappointing, but you have to learn with each development. It was quite difficult for us. I hope that now we can correct all the mistakes that we've made before."
With a less than happy start to VectorCell's career, its next project is something more of a banker. But what's the appeal of returning to Flashback now? "I think it's been 20 years, so there is a real technology gap, and a real change between how we did the thing at the time and how now we do things, and it's really the opportunity to bring something new and take that kind of game and try and perfect it. It's really a challenge, but I like challenges, so..."
Cuisset's chosen to do things the hard way. Rather than following in the footsteps of the recent Another World revival ("Just having Flashback HD was not interesting for me. That's why I wanted to really change it, and try stuff, something different," Cuisset explains) the new Flashback ditches the original assets and is something of a radical remake. Told in pseudo 2D with a 3D engine, the absence of the slick visuals of the original is keenly felt. Cuisset himself doesn't miss them so much - and feels that the new version's the more faithful to his original vision.
"It was a long way, but I'm quite satisfied with what we have now," he says. "I had a lot of frustrations at that time because of the technical problems we had, so there were a lot of things that we missed at that time."
Watch on YouTube
It's not just the visuals that have changed, and bubbling under the new-look Flashback are new systems that help blunt the challenge of the original. The roll and shoot mechanic, once told in a buttery set of animations, is now expanded out to include aiming with the right stick. Elsewhere there are new gadgets that make the environment more readable, and an experience system has been transplanted under Flashback's once simple skin. They're necessary changes for a contemporary audience, says Cuisset.
"The public has changed a lot. The old public was used to gameplay that was more, or perhaps less assisted than now. And the interest in gaming has shifted. My feeling that is in the time that people like to understand what they find and what's going on. The interest of the gameplay was what happens and how.
"People were more interested in exploring a world rather than just entering that world and playing. Now we have so many worlds and so many things, and so many different types of worlds and types of gameplay. You just want to get on it and play and have pleasure. It's something different. People are maybe more impatient."
For fans of the original waiting on a true Flashback sequel, patience is a virtue acquired well over the past 20 years. Now that he's back in the world that made his name in 1992, is there any temptation to return once again to Conrad Hart, and to extend his story once more? "It's possible," he says. "I haven't really thought about it yet. I'm really concentrated on this one."
Right now, then, VectorCell's all about preparing Flashback for its return, and getting it ready for its August release. With a bit of luck and the right approach, maybe it's enough to resurrect a once brilliant world, and to restore a little glory back to Cuisset's career.