Cities: Skylines' upcoming Campus expansion is all about educational excellence
Out this month on PC.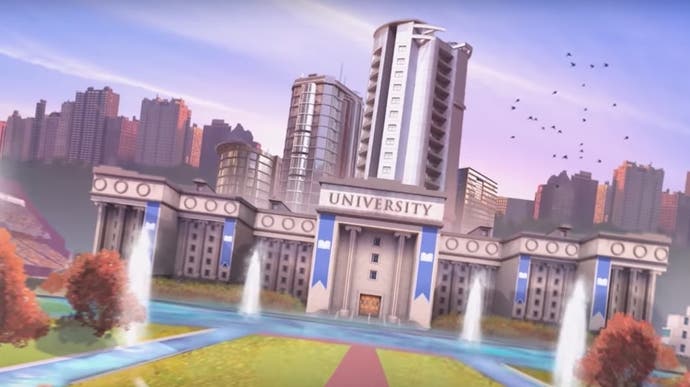 Developer Colossal Order's perennially popular city builder Cities: Skylines is going back to school in its latest expansion, Campus, which comes to PC on 21st May.
Campus, as its name suggests, is all about university life, and helps budding city builders raise their metropolis' status through higher education. Come the expansion, it'll be possible to create an area of your city exclusively for learning, with new tools enabling players to designate campuses as either Trade School, Liberal Arts, or University.
By attracting new students to your burgeoning educational establishment, and by creating Academic Works, it's possible to increase its reputation and unlock new buildings. These include nine unique faculties and special varsity sports arenas - the latter covering football, basketball, baseball, track & field, and swimming, with players able to manage teams (customising kits, or hiring coaches and cheerleaders) and sell tickets to the sporting events, even collecting prizes when wins happen.
Elsewhere, Colossal Order promises graduation ceremonies, seven new policies - including the likes of book fairs and for-profit education - and the ability to offer research grants to sponsor Academic Works. It's also possible to display scientific achievements in Museums, and the Campus expansion will feature five new maps.
It's admittedly not entirely clear how any of this feeds back into the wider fortunes of your city, and the myriad other systems in play within your urban sprawl, but publisher Paradox Interactive has laid out a schedule of daily developer events in the run-up to Campus' launch on 21st May, which should answer all lingering questions.
Campus will cost £10.29/$12.99 USD when it arrives on PC, and will be joined by a number of other paid DLC offerings. There are two new radio stations priced at $3.99 USD apiece - with Deep Focus Radio specialising in "Ambient and Lo-Fi" music, while Campus Rock Radio is a livelier affair - and there's a new Content Creator Pack too.
Known as University City, this features 36 low-density residential buildings, 32 low-density commercial buildings, and 15 props (including commercial signs and logos) designed to create that college town feel. This one will cost $4.99 USD on release.
Paradox also promises a couple of freebies in an update this month, including two new library buildings, a new yellow school bus, job titles in the citizen info panel, and new industry policies.