Cities: Skylines gets the eco-themed Green Cities expansion today on Xbox One and PS4
And a second season pass for 2019.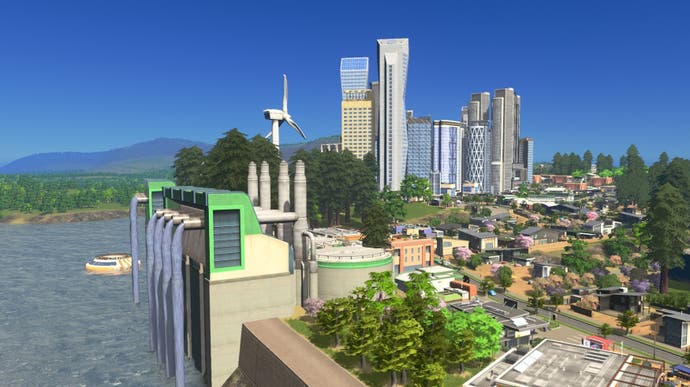 Paradox Interactive has unveiled its second season of content for Cities: Skylines on Xbox One and PlayStation 4, which begins today, January 31st, with the release of the Green Cities expansion.
This eco-themed addition to the city-building base game introduces new visual options, environmentally friendly buildings, organic stores, new parks, plus new services, scenarios and policy options. "Go completely green as the urban population grows," explains Paradox, "and create more diversified cities with new specialized zones, such as self-sufficient residential areas in the inner city or IT clusters for office zones."
The Green Cities expansion is available on its own for £10.39/$12.99 USD or as part of the aforementioned second season pass. Imaginatively known as Season Pass 2, this will eventually provide, as the year goes on, access to the Green Cities, Parklife, and Industries expansion, the European Suburbia content creator pack (which also releases today for £3.99/$4.99 USD) , and the Country Road, All That Jazz, and Synthetic Down Radio music packs.
Season Pass 2 costs £31.99/$39.99 USD, and is also included in the new Cities: Skylines 2019 Premium Edition for PS4 and Xbox One, which combines the base game and second season pass for £49.99/$69.99 USD. There's also the Cities: Skylines Mayor's Edition for consoles, weighing in at £64.99/$99.99 USD. This, as you've probably already surmised, includes the base game, Season Pass 2, and Season Pass 1. The latter, incidentally, gives access to the Snowfall, Natural Disasters, and Mass Transit expansions, the High tech Buildings and Art Deco content creator packs, plus the Relaxation Station and Rock City Radio music DLC.
Paradox also notes that today's Green Cities expansion will be accompanied by a free update on Xbox one and PS4. This will expand the base game for all players, introducing road modding, electric cars, overhauled noise pollution, plus a range of new decorative options, including parks and trees. PlayStation owners in the Americas are advised that all of the above has been delayed by a week in the region, and will now arrive on February 5th.