Check out the flashy Cyberpunk 2077 graphics card you can't buy
Green with en-V.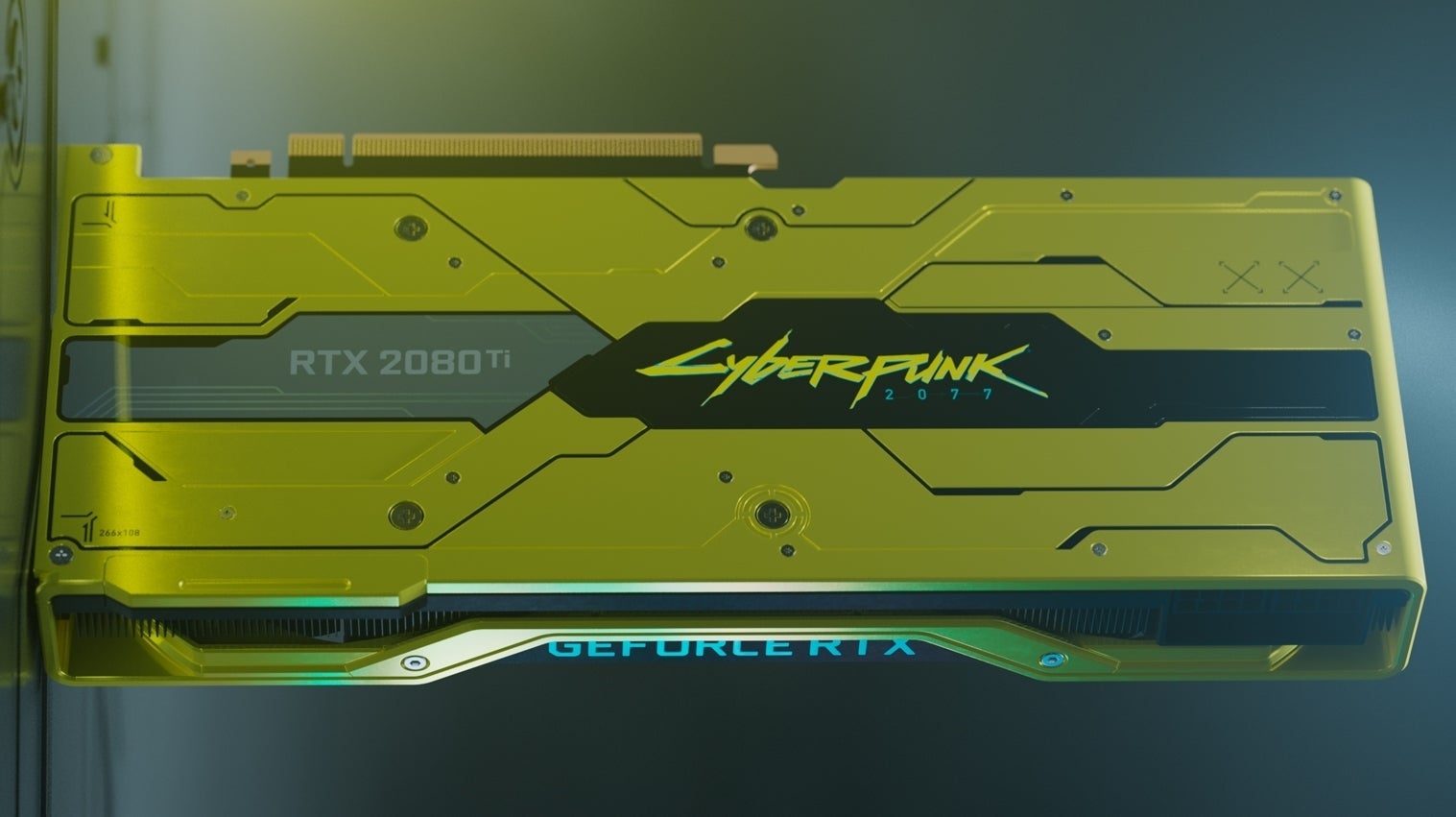 If it's too good to be true, it probably is - and that's certainly the case with the Cyberpunk-themed graphics card teased earlier this week, which will not be sold to consumers. Better hope your luck's in.
Named the GeForce RTX 2080 Ti Cyberpunk 2077 Edition, the card is a collaboration between Nvidia and CD Projekt Red, and has been designed with the upcoming game's art style in mind. It's bright yellow, for a start, and has some flashy neon blue bits on the side. Should go nicely with some RGB lighting.
Although it comes with a custom aluminium shroud and styling, this is basically the standard Nvidia GeForce RTX 2080 Ti with a repaint. Which, to be fair, is a very good card that will run Cyberpunk 2077 nicely when the time comes.
The bad news is that only 200 of these have been made in total - and the Cyberpunk 2077 Twitter account has been very busy informing everyone you definitely cannot buy the card. The first giveaway of 77 is being orchestrated by Nvidia, and requires entrants to retweet their video and "tag a gamer" with the hashtag #RTXOn, with both users entered into the draw for a limited edition GPU. Alternatively, you can enter by engaging with Nvidia's giveaway posts on Instagram and Facebook - and you have until 28th February to do so. If you fancy your chances, you can check out full terms and conditions on Nvidia's blog.
Introducing the GeForce RTX 2080 Ti Cyberpunk 2077 Edition.

We made 77 for our community.

Want one? Here's how:
1. RT this video.
2. Tag a gamer who is as excited as you about Cyberpunk 2077 in the replies with #RTXOn
3. If selected, you BOTH win these limited edition GPUs! pic.twitter.com/IG2BZZCZ6H

— NVIDIA GeForce (@NVIDIAGeForce) February 17, 2020
As 123 will remain after this giveaway, there will be other opportunities to try snagging a card - including a possibly charity auction - and the Cyberpunk 2077 Twitter account has rather cryptically said "this one is just the beginning". Whether that refers to more giveaways or further hardware collaborations remains a mystery, so for now I'll just be admiring this one from afar.